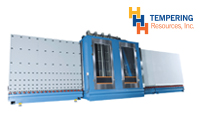 VERTICAL IG WASHER
ADVERTISEMENT As a fabricator, you know how essential glass washers are to the quality and output of your glass. Manage both quality and production easily with the 3-in-1 vertical washer from HHH Tempering Resources.
Featuring a fully automated system that detects and adjusts to glass thickness, technicians just need to get the insulated glass sheets ready and the vertical washer automatically:
Our vertical washer removes all particles and contaminants for a flawless insulated glass product. Take your glass fabrication equipment to the next level and inquire about adding the vertical washer to your IG line-up today. Visit hhhtempering.com/product/vertical-washer/ or call one of the HHH experts at 724-604-1824.