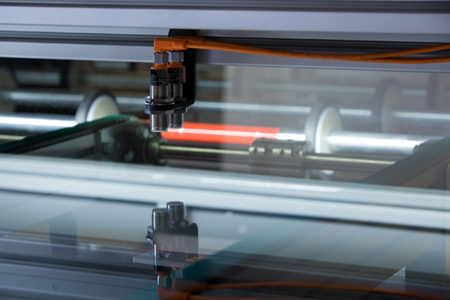 ADVERTISEMENT The kSA Inline Glass Breakage Detection System is a vision-based metrology system that determines Go/No-Go (Pass/Fail) conditions for every glass lite and panel it inspects inline during processing.
The system compares glass lites against user-defined parameters and tolerances in a master specification reference to identify defects such as cracks, chips, scratches, digs, and pinholes.
The custom frame enclosure houses a linescan camera, LED lights, and photoeyes.

The camera vision system captures images of the panels as they pass by the instrument on a conveyor.

LED lights illuminate the panels to help distinguish between defects and minor irregularities.

Photoeyes detect the leading and trailing edges of the panels to trigger the system to start and stop data collection.

High-resolution encoders trigger spatially-resolved linescans as the panel moves under the LED lighting, generating an image of the panel for processing and defect detection.

The CPU provides image processing and data storage capabilities.