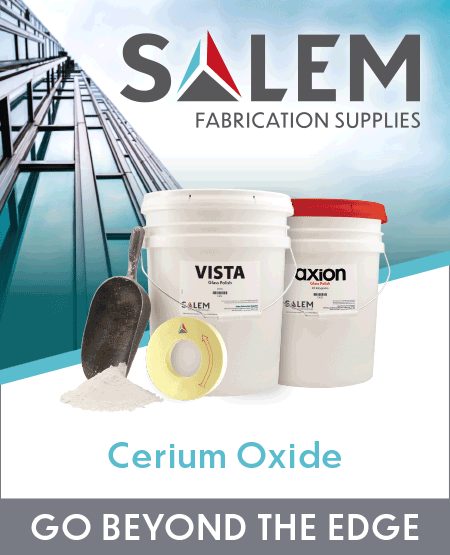 Salem Fabrication Supplies offers premium tooling and supplies that cover every aspect of the glass fabrication process. Our best-in-class polishing products include Axion and Vista cerium oxide polishing compounds and Vero and Status cerium polish wheels –all exclusive to Salem.
Axion is a high production grade white polishing compound that features consistent particle hardness and size, and a highly effective chemical supporting package. Vista is versatile, competitively priced and equally effective in both production glass polishing applications and glass cleaning in pre-silvering scrubs.
Our Vero and Status wheels are some of the best cerium polish wheels in the industry and are available in configurations to fit most production edging machines. The Vero wheel's unique composition of the polishing layer is very durable and achieves a high-quality polish. The Status wheel utilizes a unique porous resin bond structure matched with our high-level Status cerium oxide.
Join us at GlassBuild in BOOTH #5050 and see our full line of tooling and supplies. GO BEYOND THE EDGE.
Salem Fabrication Supplies is a division of Salem Fabrication Technologies Group, Inc. We Are 100% Employee Owned.