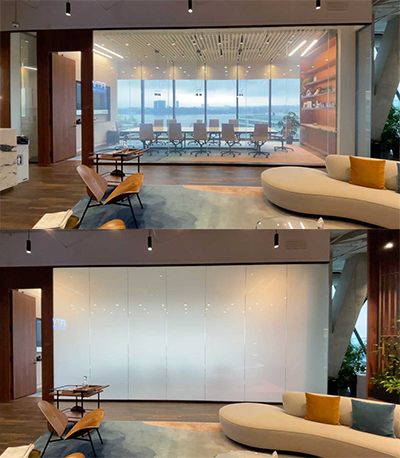 ADVERTISEMENT PriWatt Glass is electrically switchable privacy laminated glass for interior and exterior use
• Dynamic Privacy Control: A simple ON-OFF switch or a remote turns the Smart Glass from being frosted (opaque) to clear (transparent).

• Optimized Space: Replaces thick studded walls with thin partitions or section open floor plans with minimalist solutions. Creates high-tech conference rooms, private offices, wall dividers, windows, doors, etc.

• Flexible Design: Custom shapes and sizes can be created and multiple pieces can be joined together to create large switchable glazed panels or parCCons.

• Simple Installation: Switchable Glass can be easily installed as any regular laminated tempered glass. It can be installed by any certified glazier and connected to power by a certified electrician.

• Easy Cleaning: Unlike draperies, blinds, and shutters, glass collects only a fraction of dust, so cleaning is kept to a minimum. Turn it off and use a soR cloth and gentle soap. When done, ensure there is no water or soap leR on the glass or the edges.