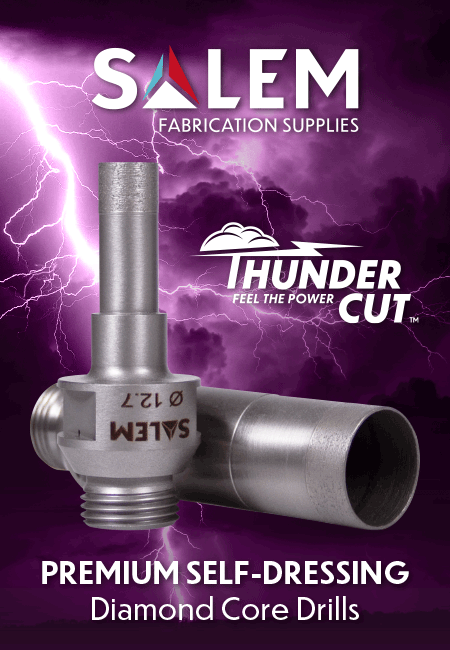 ADVERTISEMENT
Feel the Power of the Storm! Salem Fabrication Supplies has brought back our premium core drill line – the Thunder Cut. These new and improved high-speed drills offer self-dressing capabilities and an increased feed rate –up to 1.8 mm/s. They are designed for heavy industrial use on CNC and Forvet™ machinery and are available in both 75 mm and 95 mm overall lengths. Thunder Cut drills boast significantly reduced cycle times and have achieved 3x-4x the life expectancy of standard core drills. 
Glass fabricators, glaziers, IG/window manufacturers and more can count on Salem for high-quality tooling, service and support that keeps things running smoothly. Join us at GlassBuild in BOOTH #1931 and learn about our full line of glass fabrication products and more. GO BEYOND THE EDGE. 
800.234.1982 | info@salemftg.com | www.SalemFTG.com  
Salem Fabrication Supplies is a division of Salem Fabrication Technologies Group, Inc. 
We Are 100% Employee Owned.