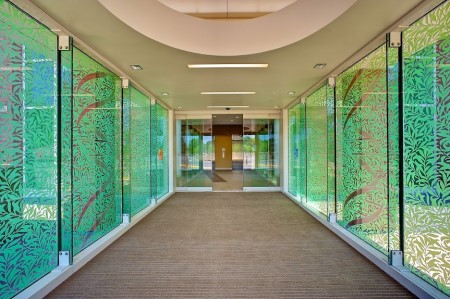 ADVERTISEMENT Acid-etch it. Backpaint it. Digitally print on it. Frit it. The interior design options are endless when you start with Starphire Ultra-Clear® glass by Vitro Architectural Glass.  
For virtually any design requirement, Starphire® glass creates brilliant interior elements from doors and partitions to shower enclosures and more. Starphire® glass contains 87% less green than "clear" glass, expressing colors and patterns in their purest forms. Whether you need vibrant color or no color at all, Starphire® glass delivers pure clarity in thicknesses up to 19mm. Even in heavy thicknesses, Starphire® glass transmits 90% of available visible light and maintains its signature azure blue edge.
Starphire® glass is about more than just good looks. It's easy to clean with anti-bacterial solutions, and available heat-treated and laminated for extra strength and heat resistance.
Starphire Ultra-Clear® glass is the world's purest glass — and the ultimate canvas for brilliant interiors. Accept no substitutes.