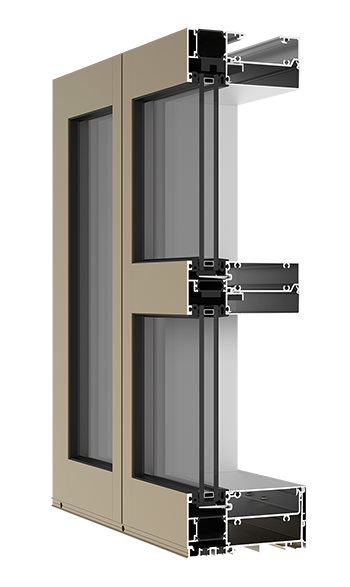 YKK AP's YWW 60 XT Window Wall is designed to meet the most stringent thermal requirements. Ideal for mid-to-high rise building applications, it accommodates higher structural loads and up to 12-foot mullion spans. 
It features a U-factor of 0.36 BTU/HR/SF with a COG of 0.29 with standard one-inch glass. Thermal performance is enhanced by 40 mm polyamide isostruts, along with YKK AP's patented ThermaBond Plus® technology. It offers:
Pre-glazed or field-glazed;
Inside or Outside Glazed;
Captured, 2, 3, or 4-sided SSG configurations;
Dual-finish capability;
Large glazing pocket to accommodate one-inch insulating glass or 1-5/16-inch insulating laminated glass for enhanced acoustical performance;
2 ½-inch sightline for pre-glazed and field-glazed options;
Fully re-glazeable from the interior or exterior, depending on the preferred configuration; and,
Minimally offset slab edge cover to mimic the look of traditional curtain wall, with room to insulate the area behind the slab edge cover to improve thermal performance.