2019 Glass Magazine Awards: At the Cutting Edge

The winners of the 2019 Glass Magazine Awards showcase cutting-edge design and engineering, next-level innovations, collaborative and creative problem-solving, exciting aesthetic possibilities and more. Winners boast everything from a striking wave-form façade in the heart of New York's downtown to a gravity-defying thin glass exhibit.
"This year we had a very inspiring field of nominees," says Ricardo Dominguez, owner, Jordon Glass Machinery, and Glass Magazine Awards judge. "Architects, contractors and glaziers continue to push the envelope of their imagination and curiosity. Their finished works capture and display their collective efforts, bringing to life beautiful structures that tell a story. For us in the industry, that story goes deeper than the finished project. The exterior aesthetics is but the capstone of the enormous effort, talent and engineering that each individual project took to get there. We marvel at the details."
"I have been judging for almost a decade and the advances in technology, creativity, engineering and installation as provided by the candidates this year blows me away," adds Terry Peterson, a Glass Magazine Awards judge and vice president of Novum Structures. 
The following pages present the impressive selection of 2019 winners, split into two categories: Projects and Products. To keep pace with industry innovation, Glass Magazine has revamped its competition processes and procedures, adding new awards categories to accurately reflect an evolving industry and altering the voting process for some categories. 
Glass Magazine once again relied on a panel of expert industry judges to vote for the Project award categories. In the Project awards, the competition showcased high-performance, innovative solutions by adding categories for green building, jumbo glass and protective glazing. A new category for Best Project Team highlights the continued need for collaboration on ever-more-complex projects. For the first time ever, the awards also highlight a Project of the Year that judges felt stood out from the rest. 
In the Products categories, Glass Magazine introduced new categories to better represent and recognize the entire supply chain, from manufacture to installation. The program also includes a new R&D award to recognize the months, and sometimes years, of work and testing that go into creating these exciting new tools and resources. 
This year, for the first time Product winners were chosen by readers. "The 2019 Glass Magazine Awards include impressive products, systems, equipment and more to serve all segments of the glass and glazing industry. Who better to determine this year's most standout products than those across the industry—from the field to the factory—who will be the ones to use these innovations?" says Katy Devlin, editor-in-chief.  
The 2019 Glass Magazine Awards ceremony will take place Sept. 18 in the Express Learning Theatre, Booth #4029, at GlassBuild America in Atlanta. 
The Judges
The Glass Magazine Awards are made possible by the industry judges who graciously lend their insights every year to this competition. This year's judges represent the multi-faceted nature of the industry, coming from all points along the supply chain, from manufacture and installation to design. In 2019, these experts reviewed 55 projects to determine winners in eight categories. The Glass Magazine editorial staff would like to thank the judges for sharing their time and expertise in this selection process.
---
Standout Projects
Project of the Year
Nordstrom Flagship Store, New York City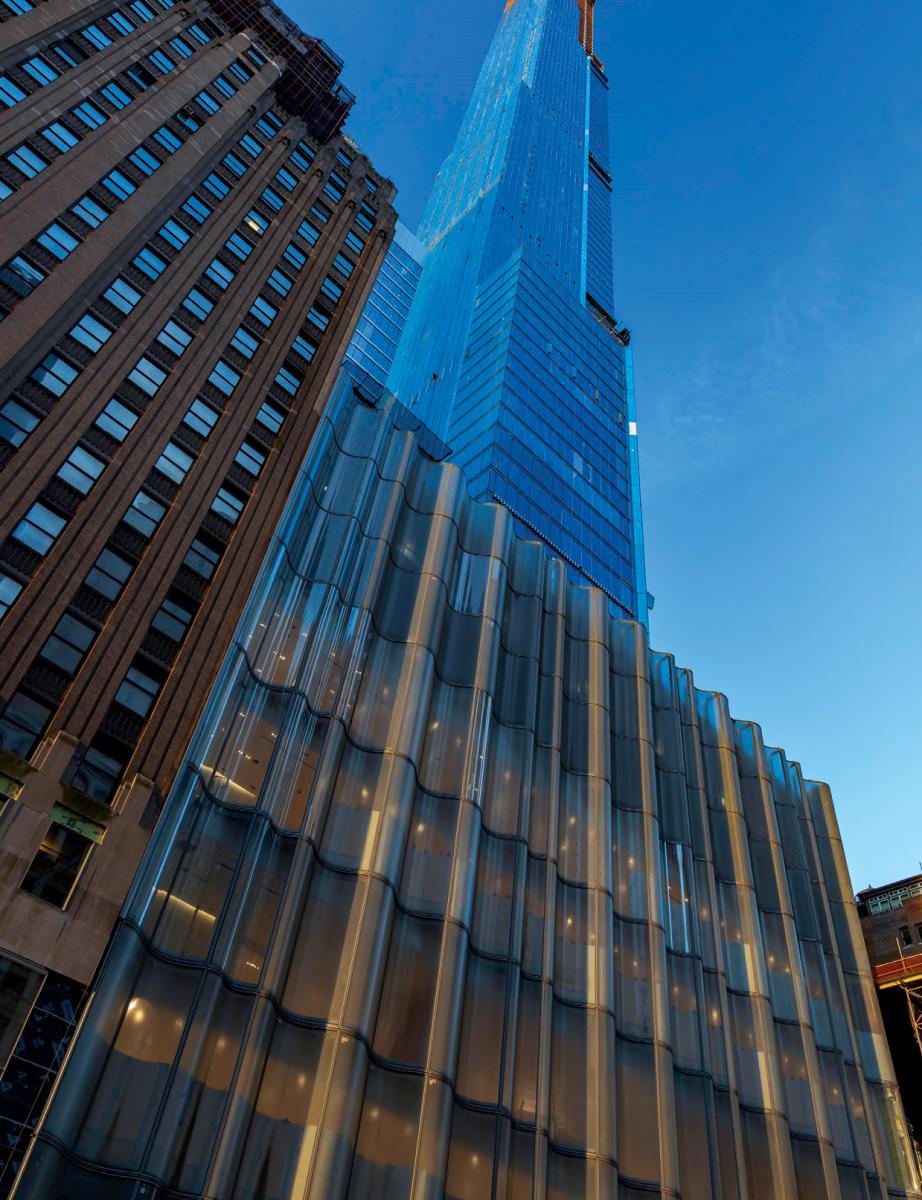 Permasteelisa North America Corp.
Nordstrom's new flagship store in New York City sports a sleek and stylish wave-form façade thanks to glazing services provided by Permasteelisa North America Corp. The innovative exterior will form the podium of the new Central Park Tower, which is still under construction. The impressive glazing captured the attention of Glass Magazine Awards judges, who selected the project as this year's inaugural winner of Project of the Year. Judges were asked to select a standout project that was the most impressive of all 55 nominees.  
"It's a masterpiece," says Glass Magazine Awards judge Diego Cuevas-Gomez, vice president of business development-North America, Onyx Solar. "Large glass sizes, very thick units, curved [insulating glass units] with ceramic frits ... all of them ingredients for a masterclass in glass fabrication. Great example of collaboration between fabricators Tvitec and Cricursa and a challenging installation for Permasteelisa on a highly visible project in the heart of New York."  
The complex façade consists of 254 curved insulating glass units, fabricated by Cricursa. The units are made from double laminated, hot-formed curved lites with PVB interlayers. Glass layers had a thickness of 10 millimeters, for both inner and outer, with a 12-mm air space. A ceramic frit pattern, applied on the No. 1 surface, was specially developed by glass fabricator Tvitec. 
Conceived by James Carpenter Design Associates, the waveform façade mimics the column modulation of the neighboring buildings, says Alexander Cox, marketing and communications manager-North America, Permasteelisa, which handled the façade installation. The curvature of the glass allows for mullion-less wall design despite the tall floor-to-floor heights required, and also provides spaces for store displays and shoppers. The soft ceramic frit applied to the glass allows shoppers inside the store to be visible, advertising the activity within, says Cox.  
While the curvature of the glass allowed for a mullion-less design, it also required some troubleshooting for installation, says Cox. Permasteelisa collaborated with German-based Wirth Gmbh, manufacturer of Oktopus vacuum lifters based in Germany, to develop a special curved manipulator with 54 suction cups to hoist the 16-foot-long IGUs, he says.   
"By all means impressive in so many areas," says Pete deGorter, vice president, DeGorter Inc. and Glass Magazine Awards judge. "Bent, laminated, insulated, ceramic frit and 8-foot by 16-foot panels … wow!" 
The Players
Best Decorative Glass Application | Exterior
Aquarium of the Pacific, Long Beach, Calif.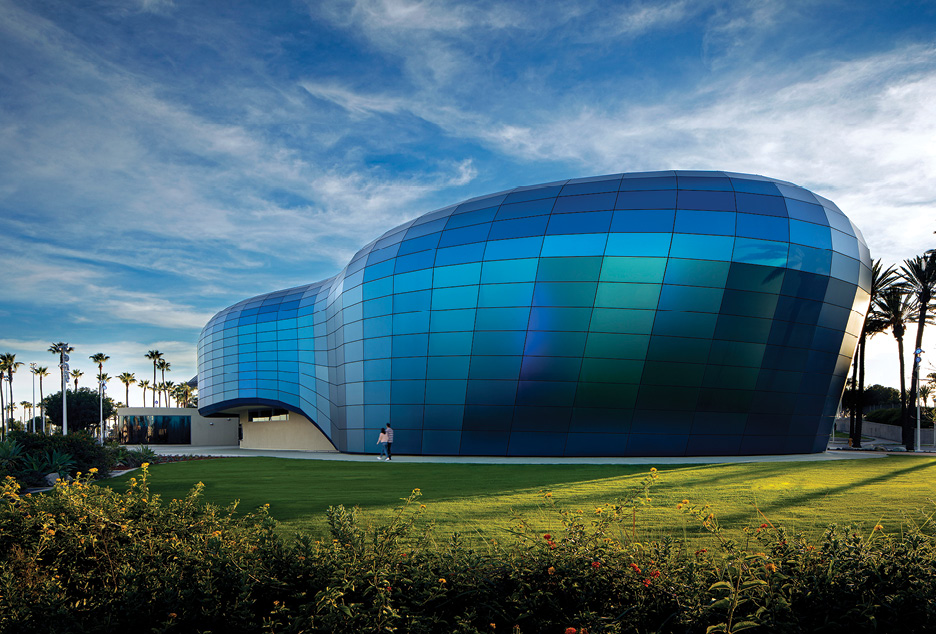 An ocean view greets patrons of the newly expanded Aquarium of the Pacific, thanks to a façade wrapped in reflective blue decorative glass, fabricated by Pulp Studio with interlayers from Kuraray America.
Glass was crucial to achieving the architects' design and visibility goals for the project, says Valerie Block, architectural marketing consultant, Kuraray. According to EHDD San Francisco, the architect, "glass was the only way to deliver the characteristics of depth, variability and luminosity," Block says. "In addition, the glass needed to be opaque in order to prevent visibility of the supporting structure, and non-reflective and non-transparent to promote bird safety."
Each of the 839 panels of laminated glass comprised three layers of SentryGlas, says Block. The innermost layer of glass incorporates a mirror coating to reflect the sky and the surrounding environment, resulting in slight color shifts between the panels. The blue ocean color was achieved with a blue body-tinted middle layer of glass, and an outer layer that is low-iron glass with acid-etch on the No. 1 surface to soften the reflectivity of the innermost glass layer, she says. Panels had a minimum thickness of ¾-inch for structural reasons.
The Players
Best Decorative Glass Application | Interior
BNA Nashville Airport Short Term Parking Garage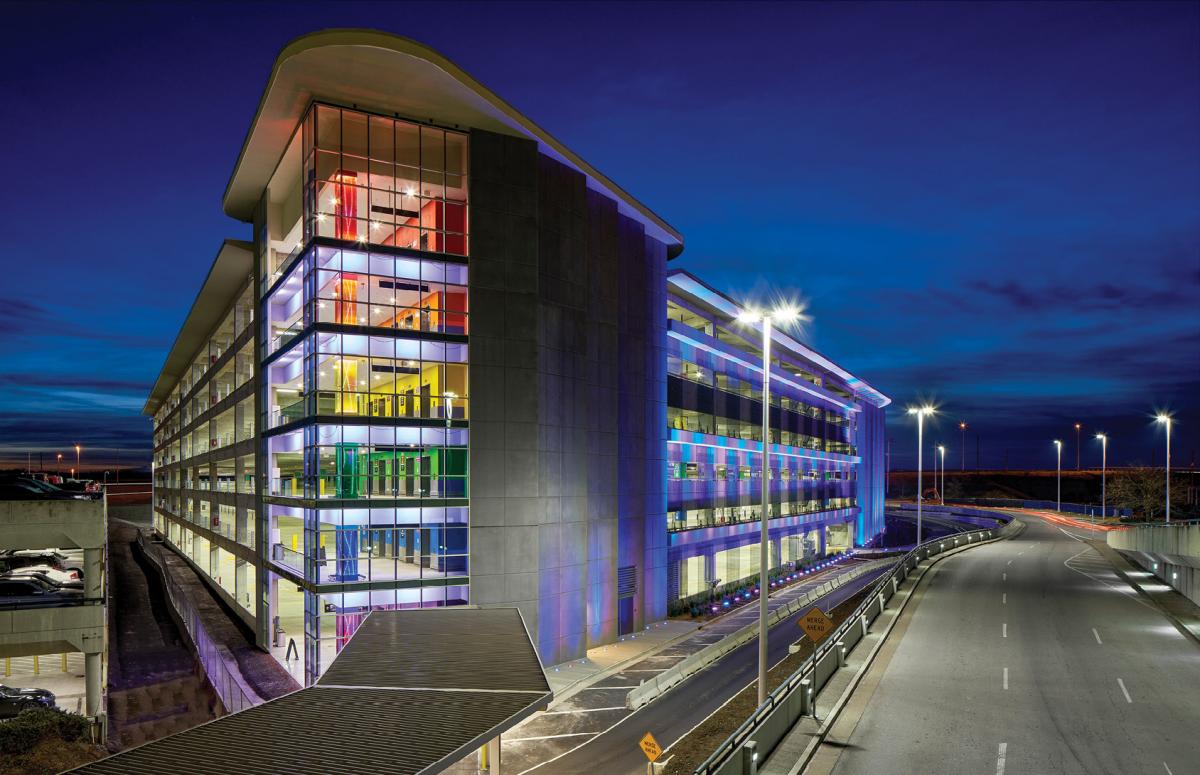 Moon Shadow Glass added a rainbow of color to BNA Nashville Airport's short-term parking garage with decorative glass pillars. Located on the six levels of the garage, the pillars, each a different color, are illustrated on all four sides with the flight and wind patterns for the airport. 
Designed by artist Ivan Toth Depeña, the project presented several challenges, including matching existing paint colors, as well as fabricating the glass so that the background metal remained hidden, but LED lights could shine through the semi-transparent images, says Kris Iverson, marketing manager, Moon Shadow Glass. 
"We worked close in hand with the designer and his team and our printer manufacturer to make sure we could get the clear, crisp vibrant colors and imagery the artist wanted, along with being able to maintain a certain transparency level. We also had to work with the AV lighting crew to make sure that the light didn't get lost or diffuse out through the colors and transparency levels of each of the colors," Iverson says.
The glass system is composed of full-color, semi-transparent Vitro, Starphire tempered laminated glass, mounted in an aluminum custom build frame system with a moving LED light display behind the glass.
The Players
Best Feat of Engineering
Gravity Exhibit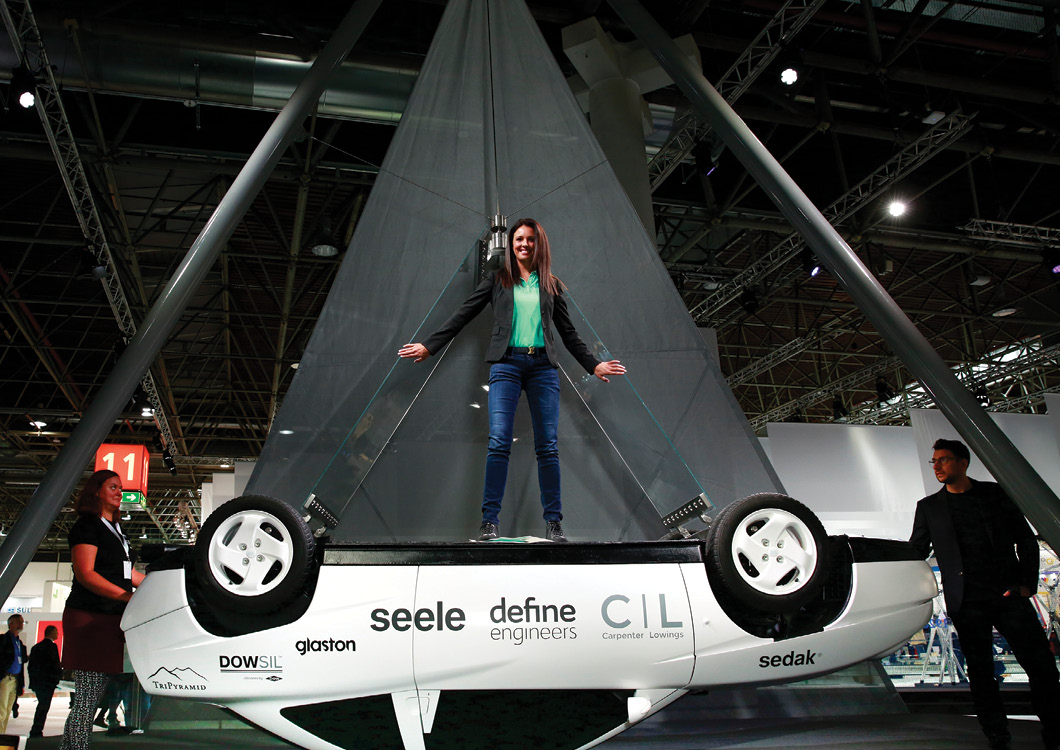 In "Gravity," an upside-down car, suspended on two sheets of super-thin glass, swings like a giant pendulum only inches from the podium below. This dynamic exhibit premiered at the 25th glasstec International Trade Fair held in October 2018 in Düsseldorf, Germany. 
The display features a transparent connection between the thin glass and stainless-steel brackets, achieved using Dowsil TSSA transparent structural silicone adhesive from Dow. The solution eliminates the need for mechanical fixing through the glass, allowing for a continuous glass surface, says Lori Floyd, global business communications manager, Dow. 
Achieving the feat was a team effort, she says, involving all team players. Define Engineers provided concept and engineering to the project, and ran a simulation called nonlinear transient dynamic FE analysis to capture the hanging and dynamic nature of the system, with the results used to design all components of the exhibit. After determining the amount of stress in the Dowsil layer, seele carried out structural performance tests to confirm the Dowsil TSSA's reliability utilizing samples of thin glass, ultimately determining a load capacity of 53 kilonewtons. 
The thin glass, which measured about 3.3 by 6.6 feet, was laminated and the metal stripes were bonded to the glass. Seele also prepared the car for the exhibit, which included designing and manufacturing the suspension points of the vehicle. 
The Players
Best Green Project
1701 Rhode Island Avenue, Washington, D.C.   
PCC Construction Components Inc.
Located in the heart of the business district in Washington, D.C., the newly renovated 1701 Rhode Island Ave. is a four-sided, glass and metal office structure scaling 104,000 square feet. The striking exterior features copper shingle cladding, vertical fins, and floor-to-ceiling energy efficient glass, all installed by contract glazier PCC Construction Components Inc.
The exterior glass façade from the first level to the penthouse is a thermally broken curtain wall with energy efficient glass, says Charlie O'Connor, project manager, PCC Construction Components Inc. "Meeting sustainability goals, by using all glass entrances, curtain walls, and punch windows instead of masonry, the building was able to achieve LEED Platinum," says O'Connor. "This glass being 100 percent recyclable helps with the regulation of heat and cold temperature and light use in the building." 
The energy efficient glass provided includes Viracon's VNE1-63 1-inch insulating units. MD Glass supplied low-iron monolithic door glass, and Bellwether Design Technologies provided 13/16-inch and 1 5/8-inch laminated, low-iron glass for the structural glass entrance.
The Players
Best Glass Interior
Hollingsworth Glass Stair Treads, Vancouver, Canada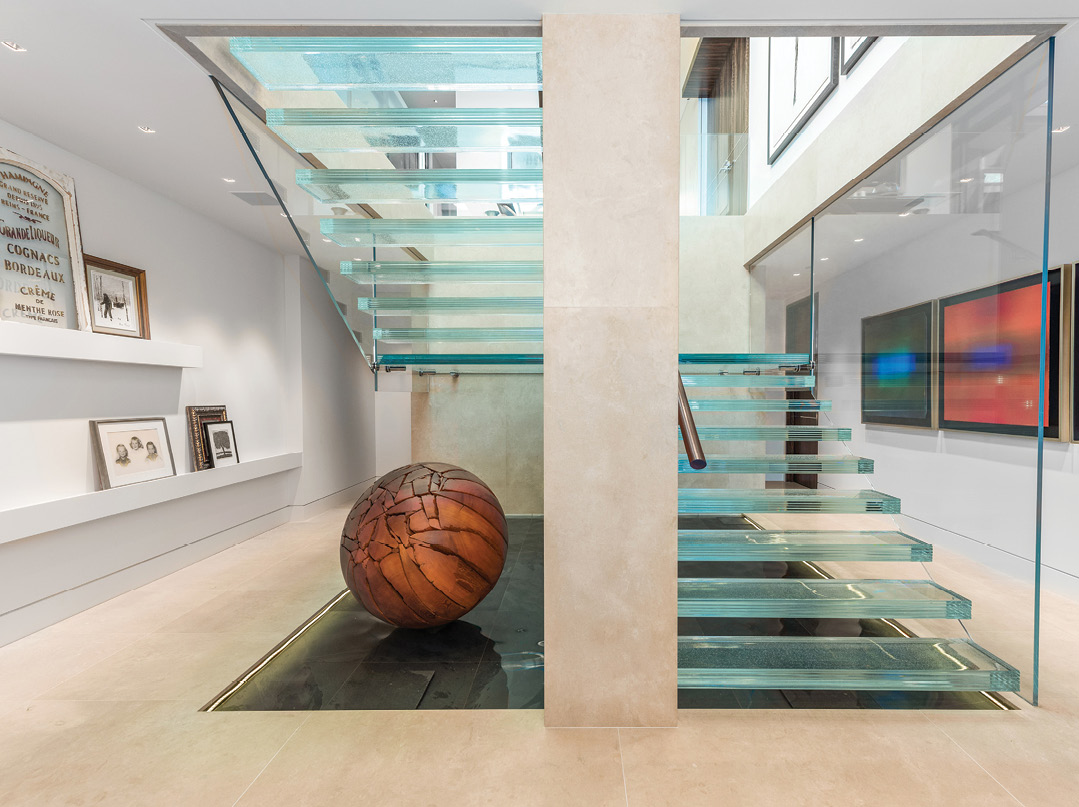 A custom home in West Vancouver, Canada, now features a near-floating glass staircase, courtesy of Nathan Allan Glass Studios. The unique glass project posed a few challenges for the team, says Barry Allan, owner, Nathan Allan, especially the floating nature of the glass, which is supported only on one side. 
"Typically, in glass staircase projects, glass treads are supported on at least two edges of the glass. In most projects, on all four edges. It is rare that a glass stair tread is only supported on one edge, especially when that one edge is a short edge," says Allan. "To actually have glass treads installed on one short edge is something which we at Nathan Allan have never seen, nor have we previously been asked to produce." 
The company's engineering team ultimately fabricated a multi-layered tread comprising six layers of tempered safety glass, three specialty laminated interlayers and two additional laminated interlayers for cast glass. 
The team also added "glass sandpaper," small particles of real glass, on both the walking surface, to prevent slippage, and on the bottom layer of glass, to enhance the sparkling effect created by light and allow visibility of the Koi pond beneath the staircase. 
The Players
Best Jumbo Glass Project
Denver Art Museum Welcome Center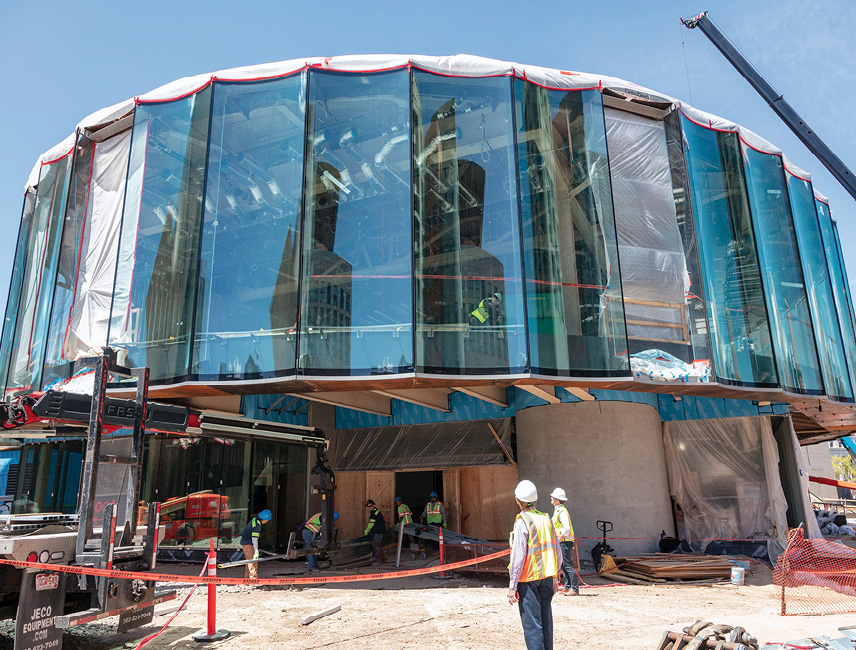 The bold façade of Denver Art Museum's Welcome Center showcases a feat of jumbo glass. Thirty-six curved jumbo glass panels, each measuring 8 feet by 26 feet, as well as 16 curved clerestory units, make up the structure's glass exterior. 
Installed by Harmon Inc., the jumbo glass and triple-ply laminated full height fins were supplied by Tianjin North Glass, with structural glass fin supports from Sentech Architectural Systems, running vertically on the interior. 
The project consists of some of the largest glass and largest curved glass installed in the United States, says Jacob Johnson, general manager, Harmon Inc., and this posed a few hurdles for installation. "Harmon used total station surveying equipment for the layout to ensure precise installation," he says. "CNC milled sheet metal templates were utilized around the entire structure to make the glass wall a perfect ellipse that would marry to itself. The biggest challenge to execute the design was to make the glass one piece vertically without any horizontal breaks."
The custom nature of the glass also required some troubleshooting. "Due to the large size and radius of the [insulating glass units], our procurement options were very limited," says Johnson. "If it had just been jumbo flat glass or the addition of one or two horizontal joints, then we would have had more vendor options available. In the case of Denver Art Museum, there is [a] very small group of glass fabricators that could produce the glass in a quality manner and have the proper equipment and experience to handle, fabricate and ship these types of glass units."
The Players
Best Project Team
CityPlace 2, Houston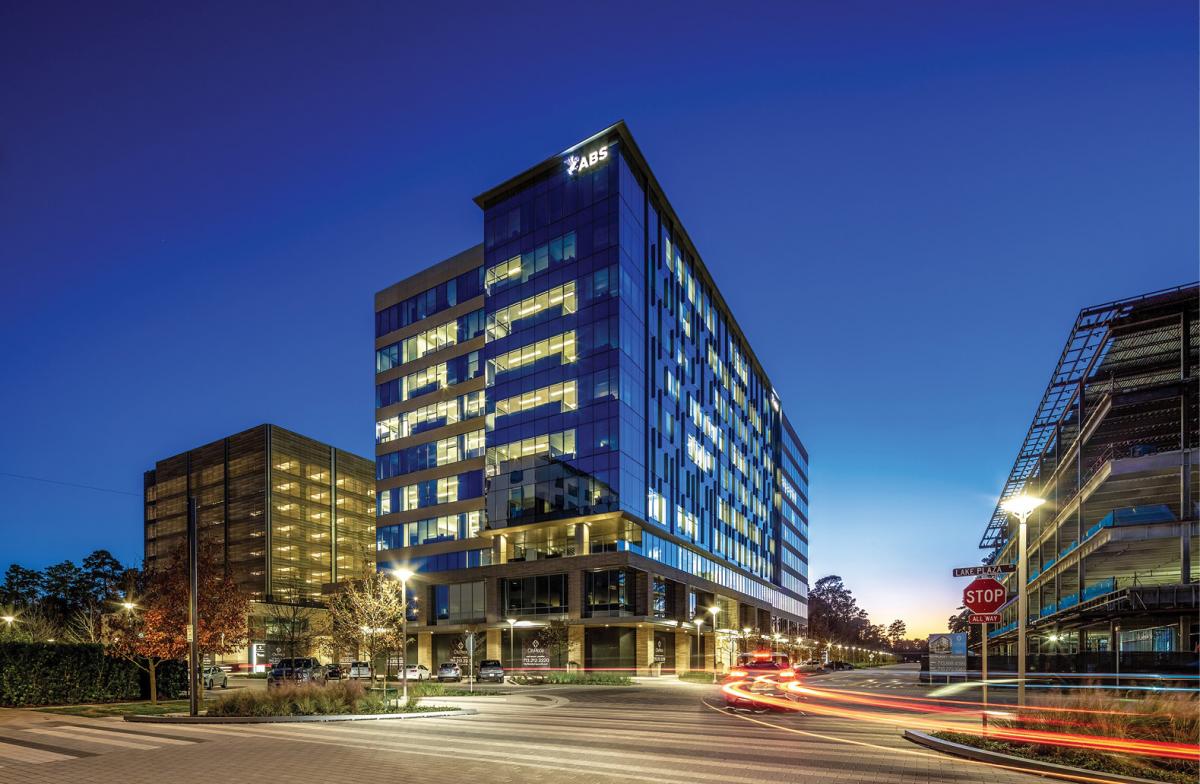 CityPlace 2, a new 10-story office building in Houston, presents a seamless look that belies the complex collaboration the project involved. Designed by Gensler Houston, the architects partnered with Kawneer Co. and the fabricator, Dynamic Glass, to deliver high-performing glazed solutions that provided a modern aesthetic, enhanced natural daylighting and offered spectacular views to the outside, says Colin Brosmer, vice president of sales, Kawneer. 
Collaboration was key, especially in the fabrication of the glass panels. "Though the building looks standard from afar, there are some areas where no two panels were the same, which delivered a challenge before fabrication," says Brosmer. "Brainstorming, planning, and collaboration allowed the build team to create accurate fabrication sheets for each panel and individual floor plans with unit numbers or tags, and relay information to all involved, a critical step in minimizing errors during installation."
Kawneer supplied its 2500 UT Unitwall System, with 8-inch extended face covers added to the north side of the façade. The company also provided its 1600 Wall System 5 curtain wall, and its 1600 SS curtain wall system. Viracon supplied 1-inch insulating glass, as well as ¼-inch clear VRE1-38 for vision glass, and ¼-inch clear VRE1-38 for the spandrel, with V933 Viraspan on the No. 4 surface. 
The Players
Best Protective Glazing Project
Salesforce Transit Center, San Francisco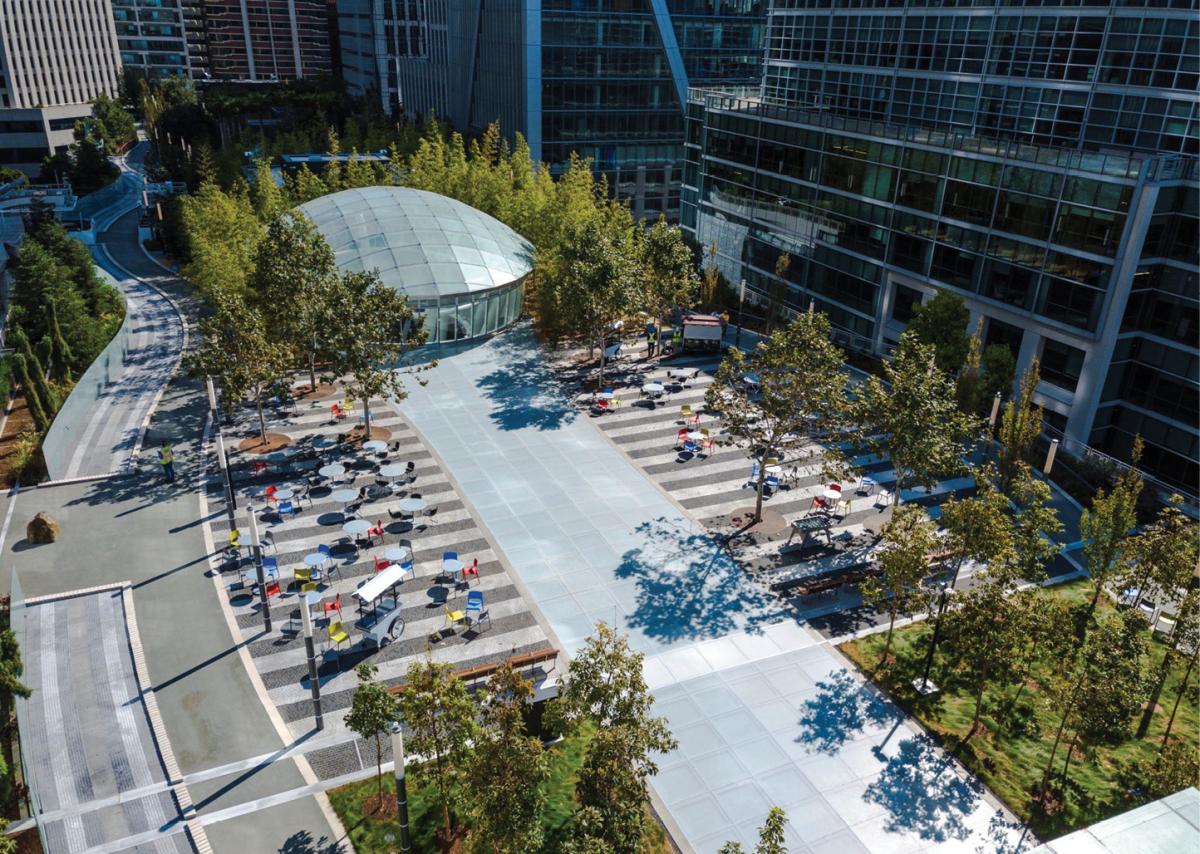 Greenlite Glass Systems
Vetrotech Saint-Gobain
Travelers can appreciate the daylighting in the new Salesforce Transit Center in San Francisco, thanks to the glass floor and skylight featured in the structure's grand hall. Greenlite Glass Systems Inc. engineered and fabricated the fire-rated systems, manufactured by Vetrotech Saint-Gobain, including an innovative walkable skylight.
The main challenge on the project, says Jeremy Nightingale, director of marketing sales, Greenlite Glass Systems, is that the product did not exist when architect Pelli Clarke Pelli laid out a plan for light-filled public spaces within the transit station. 
Partnering with Vetrotech, Greenlite supplied Contraflam Liteflam XT-120 for the project. Vetrotech supplied the fire-rated glazing unit and Greenlite engineered and fabricated the final assembly, which included multi-laminated glass and steel supports; Greenlite also commissioned UL/ULC testing, weather and durability testing by Intertek. The system is also blast rated and seismic rated, as well as EPD and HPD certified. 
The Players
---
Innovative Products
Product of the Year
Best Glass or Glass Component Product
SuperClear 45-HS-LI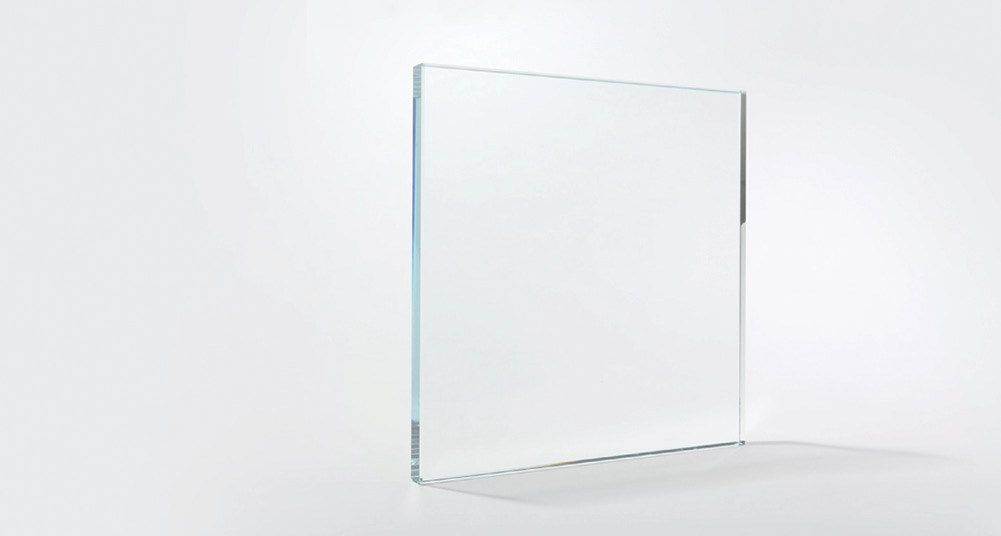 SuperClear 45-HS-LI fire-rated glass from Safti First, is recognized as the Product of the Year, receiving the most votes from an industry-wide public vote. The glass is an optically clear, fire-rated glass that provides an alternative to traditional ceramics, according to company officials. 
The low-iron glass product is suitable for all 45-minute applications with hose stream, says Diana San Diego, vice president of marketing, Safti First. Manufactured in the U.S. for faster lead times, SuperClear 45-HS-LI can be used in standard hollow metal frames, vision kits and GPX Framing by Safti First. The product represents the first innovation of its kind for fire-rated glass in about two decades, says San Diego.
SuperClear 45-HS-LI is a game changer as a monolithic glass product that meets fire, hose stream and safety requirements without wires, tints, films or laminates, says San Diego. "[In the past] designers accepted expensive, brittle, imported ceramic products because it was the only option available," she says. 
The product is rated at 90 VLT with a high STC 37/35 OITC rating for sound attenuation and is listed and labeled by UL and Intertek for large sizes in 45-minute doors, sidelites, transoms and openings. Insulating, obscure, decorative or filmed make-ups are also available. Applications include schools, hospitals and wherever a 45-minute rating is required. 
Best Innovation for the Factory
Click-Fit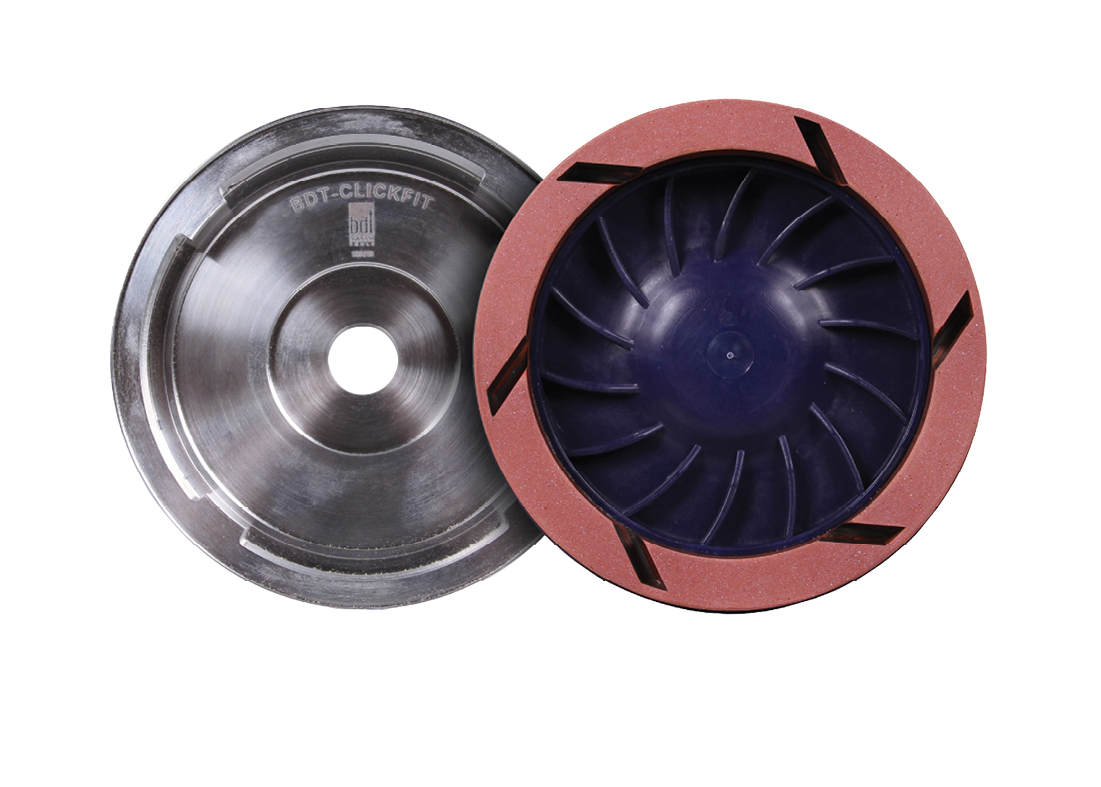 Salem Flat Glass & Mirror 
Bovone Diamond Tools
The Click-Fit from Salem Flat Glass & Mirror and Bovone Diamond Tools optimizes time and inventory for fabricators. Used in the pre-processing of flat glass in both grinding and polishing applications, the product, a revolutionary cup wheel mounting system, allows any fabricator to utilize a universal mechanical connection by installing an adapter to each spindle, says Ashley Price, director of diamond tooling, Salem Flat Glass & Mirror. Once the adapter is in place, any wheel type can be connected to any make or model machine using the patented universal locking technology. By doing so, inventory for different machines can be reduced, says Price. 
"With traditional type cup wheels, multiple tools are needed to replace the wheels on a machine," she says. "With the Click-Fit system, there is no need to remove any bolts, but just a slight quarter turn to lock the wheel into place and/or remove it. Operators tend to struggle with wheel changes; now it's an easy one- to two-minute process." 
Best Framing System or Component
YWW 60 TU Thermally Broken Window Wall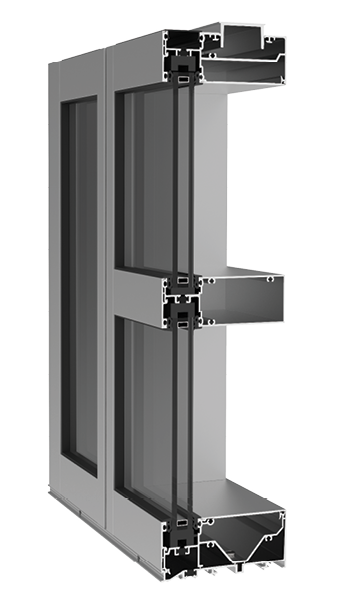 YKK AP America's new YWW 60 TU thermally broken window wall system allows for design flexibility and adapts to unique, forward-thinking designs, like that of curved buildings, says Steve Schohan, marketing communications manager, YKK AP. 
"In today's design world, a strong economy of scale and lower cost is critical," says Schohan. As a "system that can provide for multiple options, like slab edge covers, mullions, and stick-built or shop-glazed approaches, the YWW 60 TU has been designed to meet almost any window wall design need."
YKK AP's window wall mirrors the look of curtain wall from a building's exterior, while providing high thermal and acoustical performance, he says. "Whereas curtain wall is installed in front of the slab, window wall is a slab-to-slab application. This provides more control over thermal and acoustical performance, particularly in mid-to-high-rise residential and multifamily applications where energy performance and acoustics are valued," says Schohan.
Best Innovation for Installers
LogiKal with Enhanced CNC Connection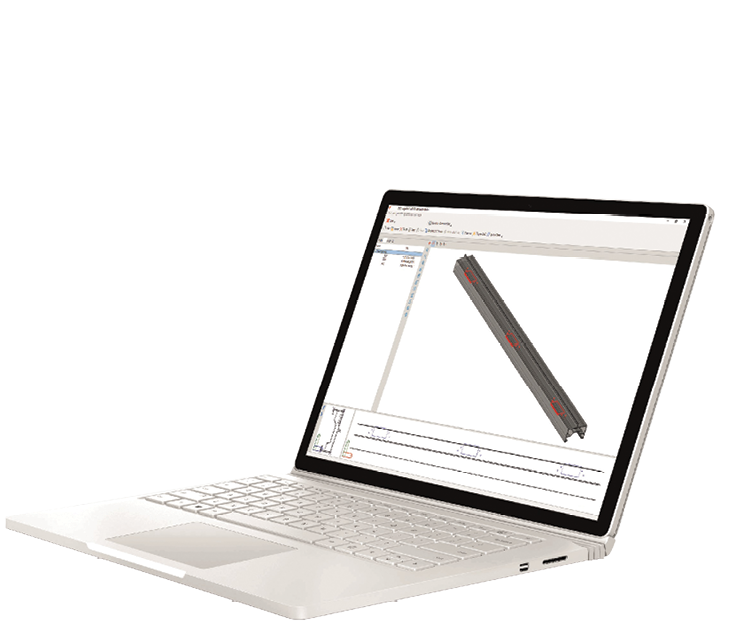 Orgadata USA Inc.'s updated version of LogiKal, its software designed for window, door and curtain wall manufacturers, includes an enhanced ability to select CNCs and auto-stop saws, says Josh Rudd, general manager, Orgadata. 
The enhanced LogiKal CNC with cutting module allows LogiKal users to steer a wider array of CNCs, auto-stop saws, and other automated machinery for the industry. This new incarnation of the software helps users streamline production on the factory floor, says Rudd. 
"LogiKal's ability to steer automated equipment with its CNC module greatly reduces manual keying of fabrication locations, leading to increased efficiency, increased through-put and fewer errors," he says. "All of the above better utilizes [a company's] existing employee base at a time when labor is very tight."
Best Hardware Product or System
Ascent Windscreen System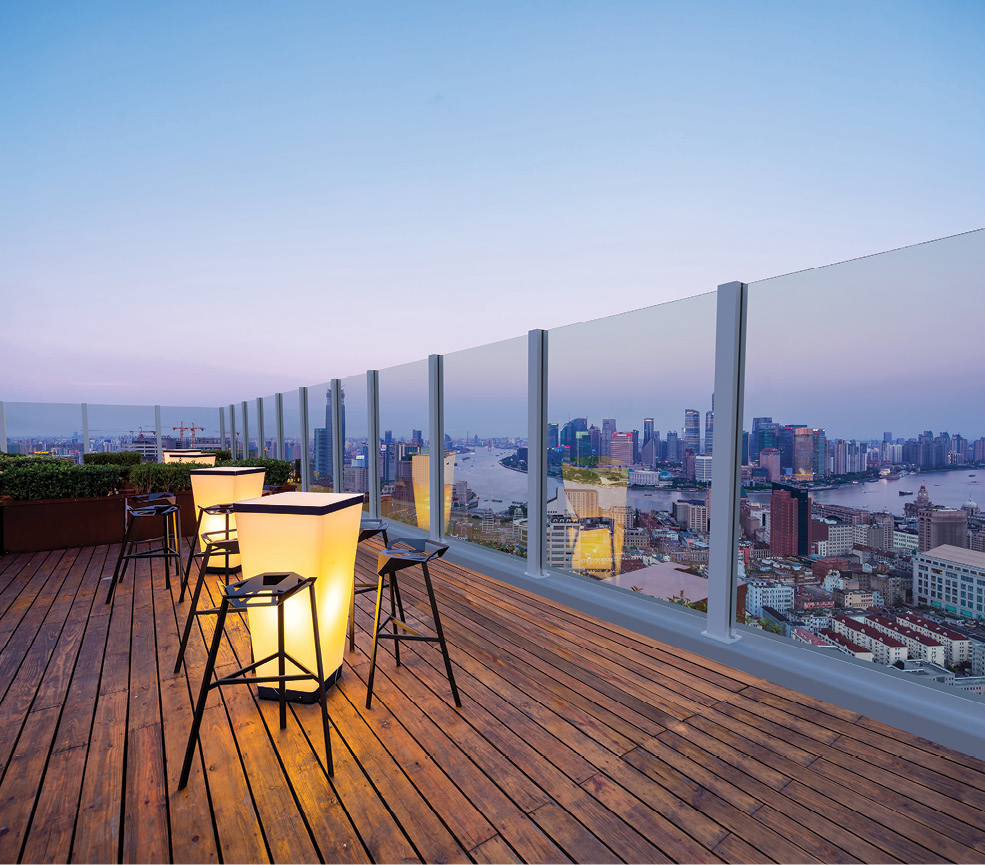 "Ascent marks Trex Commercial Products' bold entry into the windscreen market," says Dan Stachel, vice president, Trex Commercial Products. The innovative, easy-to-install, post-supported glass system features ½-inch laminated glass with aluminum posts and steel stanchions, he says. Designed to withstand up to 80 pound-per-square-foot wind loads, the system is a solution for protecting outdoor pools, dining areas, balconies and terraces at almost any elevation. 
Unlike traditional glass windscreens that require installers to lift large panes of glass and slide them in from the top of the post system, Ascent glass panels are installed from the front, an approach that significantly reduces installation time, which can help keep a project on track, Stachel says. Additionally, the product's snap-fit aluminum posts make for quick, safe and easy assembly. 
For each project, the Trex Commercial Products team conducts a thorough review of applicable codes and regulations and provides a fully engineered system that meets project specifications and requirements, Stachel says. 
R+D Award
51 STC Acoustical Glass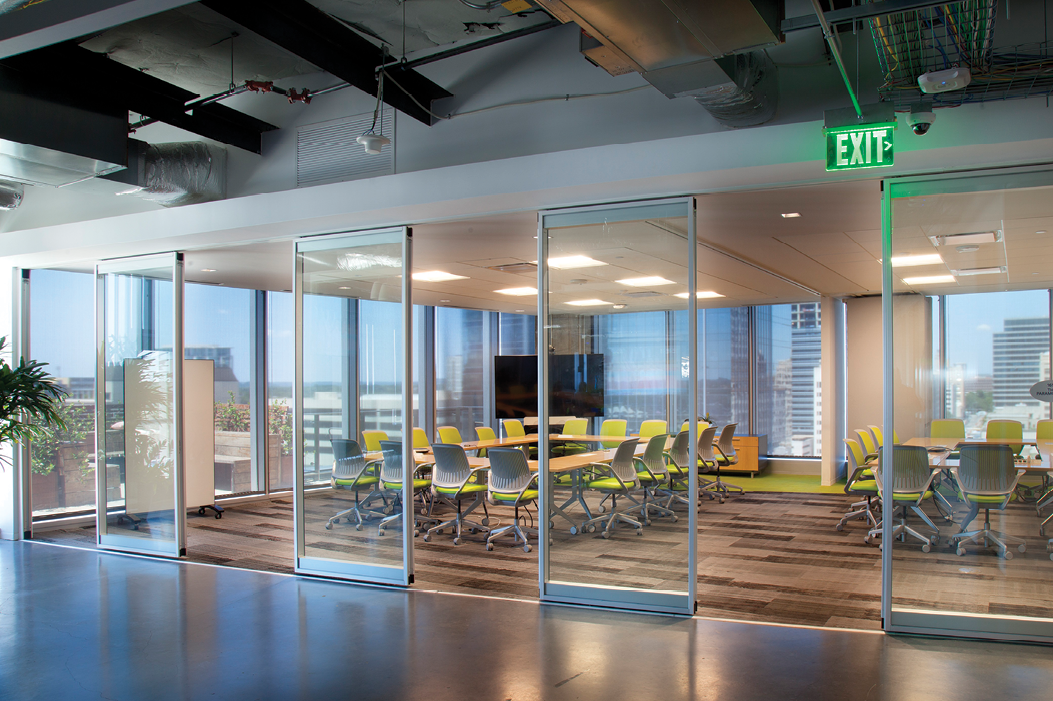 Fresh architectural solutions are made possible with the sound-control and design aesthetics of Modernfold's new 51 STC acoustical glass panel, designed for the company's Acousti-Clear movable wall system, according to company officials. 
"The innovative, exclusive 51 STC rating now available for acoustical glass empowers a range of new possibilities, transforming the way creative designers consider movable glass walls within a variety of spaces requiring space flexibility and sound control," says Bryan Welch, managing director, Modernfold Inc.
To develop the product, the Modernfold Engineering team worked with many interlayer companies to generate and test glass configurations and make-ups, all in order to achieve an industry-leading acoustical glass product for the company's glass movable wall system, says Welch. Through these many product and sound tests, the team was able to achieve a 51 STC acoustical glass panel.
---