5 Decorative Glass Trends to Watch
How to keep up with demand for larger sizes, more vibrant colors, bird-friendly products and more
New design trends in the decorative glass market call for larger sizes, custom designs, vibrant colors, new inks, multi-functional products and more. Successful glass fabricators keep a close watch on emerging trends, track relevant changes in codes and standards, and implement factory best practices to meet higher expectations and more stringent requirements.
The National Glass Association has a range of technical task groups working to develop industry resources to help fabricators navigate the emerging trends across the decorative glass market. Working with leaders from the NGA task groups, this article presents five top trends in decorative glass, with best practices, market trend information and details on relevant NGA resources. To learn more about the NGA's technical and advocacy activities, or to get involved, contact membership@glass.org.
Virginia Glass Products (task group chair)

AGC Glass Company

Fenzi North America

Glass Coatings & Concepts LLC

Goldray Glass

ICD High Performance Coatings

Kensington Glass Arts Inc.

McGrory Glass Inc.

Schilling Inc.
Tips for Fabricators
Ensure a glass coating is developed and approved for glass as a substrate. Never use paints intended for use in other applications, such as home exteriors or vehicles, on glass.

Make certain the coating manufacturer approves and warrants the intended end-use application.

Consider environmental factors that might come into play, such as temperature, humidity, or proximity to chemicals or radiation. Discuss any concerns with a coating supplier.

Make sure the installation will comply with all component manufacturers' recommendations and requirements.

Fabricate the coated glass according to the coating manufacturer's recommendations and requirements.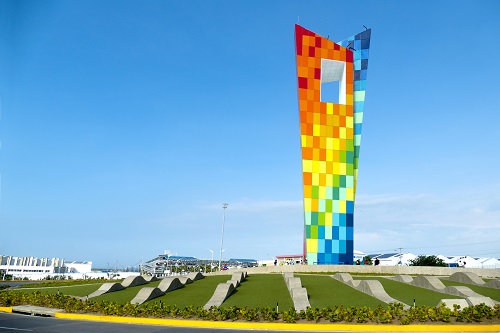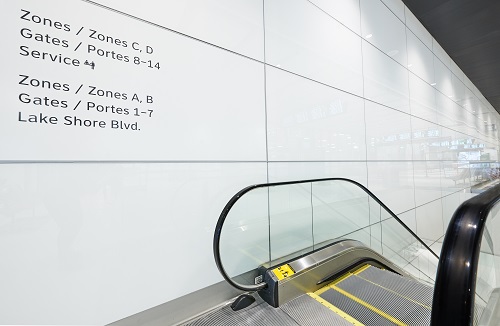 Goldray Glass (task group chair)

AGC Glass Company 

Dip-Tech, a Ferro Company

Glass Coatings & Concepts 

ICD High Performance Coatings 

McGrory Glass 

Schilling Inc. 

Walker Glass
Tips for fabricators
Be precise.
"Colors need to match. Samples need to match production. And, each piece off the line needs to meet the first and last piece off the line. Brand sanctity is key. If a logo has a certain red, that red needs to be matched within the minimum threshold of perception. There is no room for variance and no room for skewing light, dark, green, blue, red or yellow."—Jim Gulnick, Vice President & Director or Operations, McGrory Glass.
Build a mock-up with accurate lighting.
"During color approval process, make a full-scale mock-up of the entire system early in the process to observe onsite (if possible) with appropriate lighting. If it's an outdoor application use sunlight. If it's an indoor application, use the lighting it will be subjected to indoors. This will help determine expectations."—Tim McGee, sales manager, Glass Coatings & Concepts.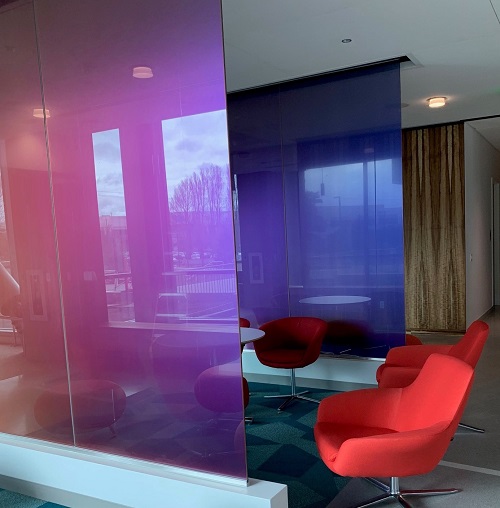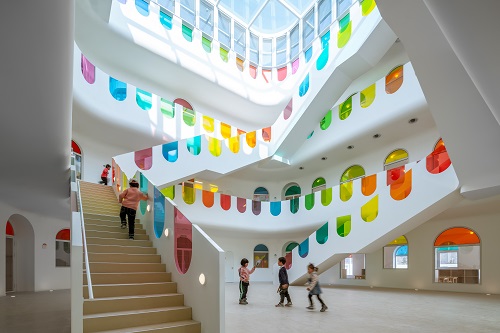 Resources
Fabricator Considerations for Large Glass Products, Joint NGA/FGIA document (pending final approval).
Guardian Glass (task group chair)

Eastman Chemical Co.

Fenestration & Glazing Industry Alliance

Garibaldi Glass Industries Inc.

Glass & Mirror Craft LLC

Kuraray America Inc.

McGrory Glass Inc.

MGI McFarquhar Group Inc.

North Glass

Oldcastle BuildingEnvelope

Pilkington North America Inc.

Tristar Glass Inc.

Viracon Inc.

Vitro Architectural Glass

Vitrum Glass Ltd.

Woodbridge Glass Inc.
By the Numbers
64%
Sixty-four percent of 2021 Top Glass Fabricators are able to process some type of large-scale or jumbo-sized glass.
2
North American float glass manufacturers launched two jumbo coating lines in recent years to meet demands of the large-sized glass market. In 2018, both Guardian Glass and Vitro Architectural Glass launched jumbo coating lines—Guardian's in Carlton, Michigan, and Vitro's in Wichita Falls, Texas.
Tips for fabricators
Start gradually.
"Start with lower-volume projects to prove out capabilities. This will help flush out obstacles and allow the fabricator to adapt prior to taking higher-volume projects."—Jon Griggs, senior field service engineer, Guardian Glass.
Consider factory restrictions.
"Fabricators should insure there is adequate room to move the glass about the plant to avoid accidental breakage. Equipment (cranes, suction cups, storage racks, etc.) should be sized properly to facilitate the large sizes. Washers, tempering ovens, laminating lines and autoclaves, insulating lines, and even quality control should be carefully evaluated for large glass."—Vaughn Schauss, manager, Technical Consultancy Americas, Kuraray America Inc.
Increase quality control.
"When fabricating these large panels, there is an option of using tinted float glass, frit, paints, inks, coatings, films or interlayers to create colored glass. … A change in thickness, uniformity of coverage, pinholes, creases or folds are all 'watch-outs' for fabrication that require more rigorous attention as the overall size increases."—Julia Schimmelpenningh, industry technical leader, Customer Applications and Support Lab manager, Eastman Chemical Co.
Practice safe handling.
"We need to ensure our teams have the proper equipment to safely handle large glass throughout the production process, from handling, tempering and laminating to packaging and shipping."—Rick Wright, technical services director, Oldcastle BuildingEnvelope.
Conduct mockup reviews.
"Conducting these very detailed reviews assures the glass meets the required design performance, such as: glass deflection, structural load and sightline requirements."—Wright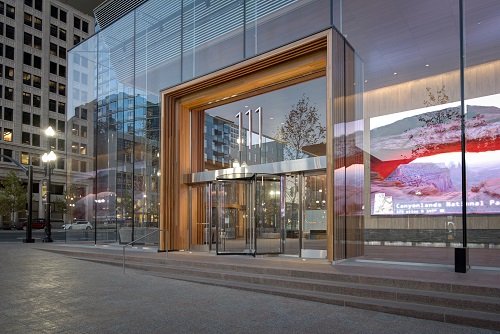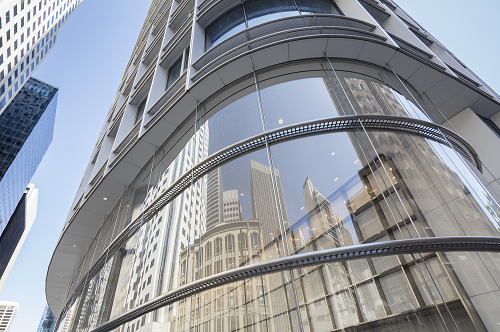 Walker Glass Co. (task group chair)

3M

AGC

Dip-Tech, a Ferro Company

Eastman Chemical Co.

Glass Coatings & Concepts LLC

Guardian Glass

ICD High Performance Coatings

Kuraray America Inc.

Madico

Manko Windows

Oldcastle BuildingEnvelope

Pilkington North America Inc.

Tristar

Trulite

Viracon

Woodbridge Glass
Walker Glass

3M

Eastman Chemical Company

Fusion Ceramics

Goldray Glass

Kuraray America Inc.

McGrory Glass

Pilkington North America

Sage Glass Inc.

Trulite

Vitro

Vitrum Glass
By the Numbers
42%
of 2021 Glass Magazine Top Glass Fabricators supply bird-friendly glass.
2x4
Bird collisions can be avoided if markings on glass are no more than 2 inches apart horizontally and 4 inches apart vertically. This has become known as the 2x4 rule. "Although a bird won't see the glass itself, it recognizes a pattern of obstacles (markers) too tightly spaced for it to fly through," Dancause says.
Market challenges
Need for education
"The first challenge to overcome is a general lack of awareness around bird-safe glass. Building professionals may not be familiar with these solutions, especially when it comes to the newer technologies. Bird-safe glass goes beyond the kinds of clear glass with coatings that the industry is accustomed to."—Dancause
Cost concerns
"This is a value-added product, so building owners and general contractors want to see some clear advantages before incorporating it into their budgets. Faced with this concern, we point out the risk of fines, bad press and even lawsuits against building owners who flout local building legislation designed to protect birds."—Dancause
Lack of nationwide standards
"We do not currently have a national standard to reference for consistency across our industry. … To solve for this issue in the short term, I would encourage architects and spec writers to seek out local building codes for bird-friendly glass and clearly outline the product requirements in the project specification."—Rick Wright, technical services director, Oldcastle BuildingEnvelope.
Shortage of test data
"There is the shortage of good test data for various glass options, including silk-screened, acid-etch and UV coatings. This is a result of building product manufacturers having very limited ability to perform bird-friendly glass testing with actual birds."—Wright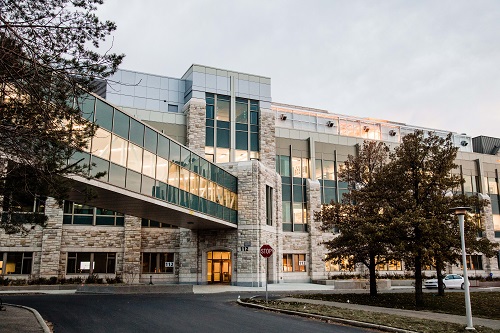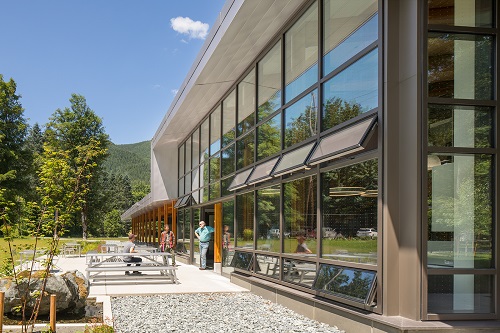 Digital Printing
By the Numbers
5% and growing
"Today about 5 percent of glass processors around the world print digitally, and we expect the numbers in the next 5 years to increase to 8-10 percent following the introduction of the automotive and appliances industries to the advantages of digital printing."—Yariv Ninyo, head of business development, Dip-Tech, a Ferro company.
What's next
Mass production
"In recent years we've been seeing increasing demand for digital printers that support mass production. … Digital printers are becoming much faster, providing an industrial solution that helps reduce labor and costs while increasing productivity."—Ninyo
New inks
"[We're seeing] demand for advanced inks that provide solutions for decorative glass that is also practical and sustainable."—Ninyo
First-surface printing
"The next industry trend is printing on the first surface of the glass unit. This brings in a new set of considerations to be evaluated. For instance, what is the effect of exposure of the print to the exterior environment? We need to consider how print on the first surface is affected, fading from the sun and discoloration from pollutants."—Panning