Begin with the Finish
Resilient finishing trends for architectural aluminum products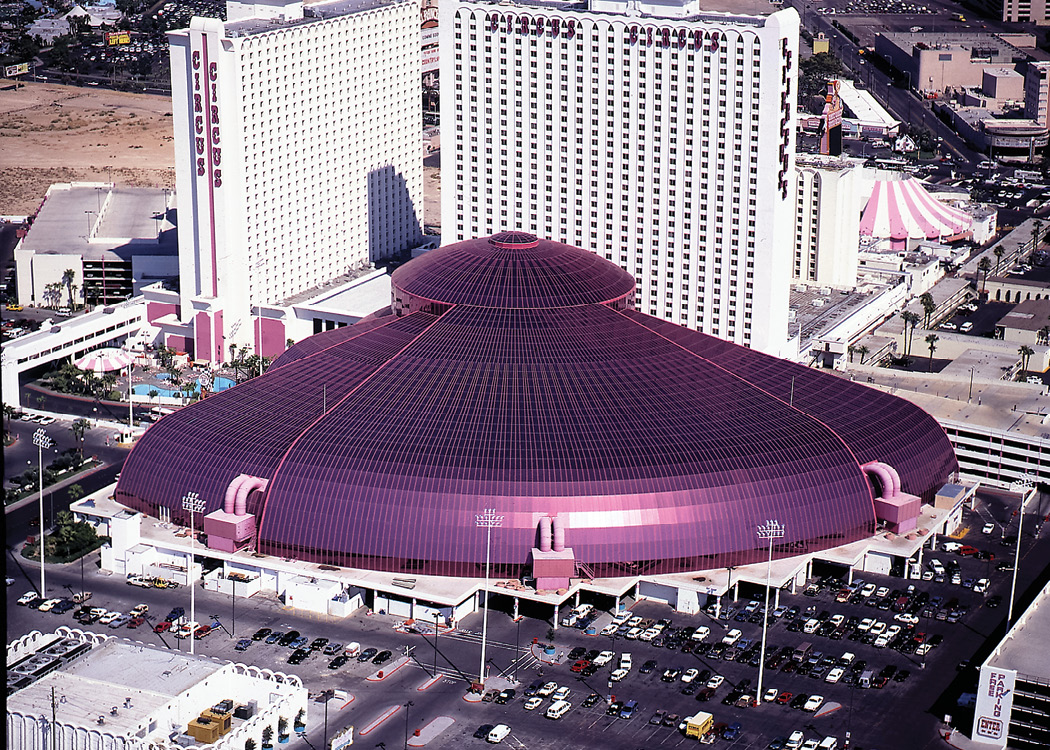 Above: Circus Circus Hotel & Casino, Las Vegas, courtesy of Super Sky Products Enterprises LLC
Resiliency conveys more than sustainability or rigidity. It communicates adaptability, flexibility, preparedness and endurance. It carries great relevancy for today and the future of commercial building projects. For aluminum architectural products on these buildings, that resiliency begins with the finish. 
5 Resilient finishing trends in architectural aluminum
1. Protective integrity
Whether specified as liquid coatings, powder coatings or anodize, the finish provides a protective layer for the aluminum. This finished surface shields against the elements—water, wind, heat and salt, as well as from pollution and continuous use. For spaces with high traffic and high visibility, antimicrobial architectural coatings are trending as interest grows in enhancing finishes to protect against stain- and odor-causing microbes.
2. High-performance durability
Ensuring the expected performance and durability, AAMA 2605 for painted coatings and 611 for anodize are the industry-leading specification standards for high-performance architectural finishes on aluminum products. Finishes applied to these standards resist chalk, erosion and salt spray and deliver exceptional color retention.
Neutral and earth tone colors typically retain their original appearance longer than bright colors. White, cream and brown paint colors, and bronze and clear anodize remain the most-requested colors for products such as cladding, column covers, sunshades, light shelves, doors, and window, storefront and curtain wall framing.
3. Environmental responsibility
A greater awareness of buildings' environmental impact strengthens the trend for properties to meet green standards, guidelines and certifications. Those concerned for sustainable construction and energy-efficient operation also have an increased interest in occupants' well-being.
Recently, this trend has led to a more transparent examination of buildings' material selection and indoor air quality, including volatile organic compounds. Powder coatings and anodize finishes do not contain VOCs. Because liquid paints use solvents, environmentally responsible finishers apply these coatings under quality-controlled, enclosed conditions to safely contain, capture and destroy the VOCs within their facilities.
The Living Building Challenge "Red List" catalogs materials with VOCs and other potentially harmful chemicals. Products, including at least one finishing provider's anodize offering, that are verified as Red List Free can earn the Challenge's highest level of Declare Label. This Label is recognized by the LEED Rating System, the International WELL Building Standard, the EPA and others.
4. Longevity
With proper application, installation and maintenance, architectural aluminum finishes can last for decades, reducing the need for repair or replacement. To demonstrate confidence in their finishes and processes, some finishing providers are seeing a trend where manufacturers, contractors and owners are requesting warranties of up to 10 years or more.
5. Recyclability and circularity
Architectural aluminum products often are manufactured using secondary billet with recycled content exceeding 60 percent. Supporting this environmental and economical option, finishing providers have improved techniques to hide some of the imperfections inherent to recycled metal. After its useful life on a building, the finish can be removed and the resilient, infinitely recyclable aluminum can be reused as part of a strategic cycle to maximize existing resources.
Selecting durable, high-performance finishes for architectural aluminum products contributes to creating greater value, appeal, usefulness and more resilient buildings.