Demystifying ADA Compliant Entrances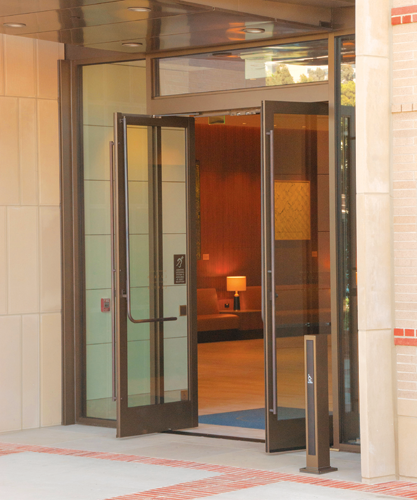 The UCLA Luskin Conference Center features multiple enhancements to optimize accessibility. Pictured is the CRL-U.S. Aluminum Balanced Doors with 10-inch ADA bottom rails and low energy power operators.
According to the Americans with Disabilities 2010 report, approximately 30.6 million Americans have difficulty walking and need either a wheelchair, cane, crutches, or walker to get around. This is a significant portion of the population, which is why accessibility is a critical component to every new construction project.
The Americans with Disabilities Act was established by the U.S. Department of Justice to ensure equal opportunity for individuals with disabilities in areas that include commercial facilities, transportation and public accommodations. When it comes to commercial facilities, the 2010 ADA Standards for Accessible Design sets forth accessibility requirements for new commercial construction. If these requirements are not met, the outcome can limit or exclude someone with disabilities and even put them in harm's way.
It's very important for contract glaziers to familiarize themselves with the fundamental components of an ADA-compliant entrance system. Doing so will allow companies to prevent inaccessible doorways, possible injury, and costly redesigns.
This article can act as a guide to help glaziers avoid common accessibility errors that include: door hardware that is placed too high or is too difficult to operate; inadequate maneuvering clearances; and threshold obstructions that can hinder passage. Companies also should be sure to work with an experienced door systems manufacturer that understands ADA Standards.
For more detailed information, see section 404 of 2010 ADA Standards for Accessible Design, which can be viewed and downloaded at ada.gov.
Clear width
The ADA mandates that at least 60 percent of all commercial building entrances be accessible to the disabled. Access should be provided at the structure's primary entrance for greater convenience. Regardless of the door type, the clear width of the opening must be 32 inches minimum and 48 inches maximum. This is measured from the face of the door, opened at a 90-degree angle, to the stop of the frame. Keep in mind that standard door hardware typically extends 4 inches off the door. This hardware cannot protrude the clear width opening within the required 90-degree angle. In these instances the door must open to a minimum of 105 degrees to accommodate the hardware. If an opening is more than 24 inches deep, it will require a minimum clear width of 36 inches.
Thresholds
Entrance thresholds must be ADA compliant. If newly installed, they cannot exceed ½ inch in height. For existing thresholds, their height must not exceed ¾ inch. Above a height of ¼ inch, all threshold edges must be beveled at a slope no steeper than 1:2. Observing these conditions will prevent canes or crutches from getting caught on the threshold, and will offer unhindered passage for individuals on wheelchairs.
Maneuvering clearance
Sufficient maneuvering clearance must be provided at all doorways. Without a clear level area adjacent to a door, it would be very difficult for someone in a wheelchair or other mobility device to open the door and pass through.
Maneuvering clearances are calculated according to the path of approach and the direction to which the door swings. For doors that open inward, an 18-inch maneuvering clearance is required to one side. Both sides of the door must have a clear level area unless the door is only used in one direction. For more detailed information, see section 404.2.4 of the 2010 ADA Standards for Accessible Design manual.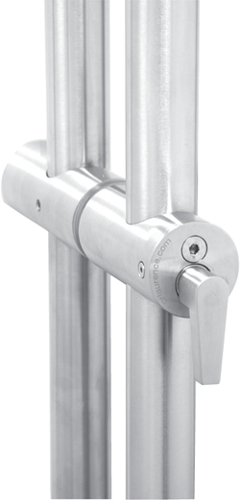 The CRL Locking Ladder Pull with ADA Thumbturn meets the requirements set out in the 2009 edition of ICC A117.1: (404.2.6 Door Hardware). This requires that handles, pulls, latches, locks, and other operable parts on accessible doors have a shape that is easy to grasp with one hand and does not require tight grasping, pinching or twisting of the wrist to operate.
Door hardware
About 19.9 million people in the United States have difficulty grasping and/or lifting objects, according to the Americans with Disabilities 2010 report. This is why selecting the right door hardware is imperative to achieving an ADA-compliant doorway.
Door handles, pulls and levers must have a shape that is easy to grasp with one hand and does not require twisting of the wrist or more than 5 pounds of force to operate. Acceptable designs include ladder pulls, U-shaped handles and lever-operated mechanisms.
Traditional round doorknobs are not accessible because they involve tight grasping and twisting to operate. All door hardware must be mounted between 34 inches and 48 inches from the floor. In addition, door hardware cannot protrude more than 4 inches from the surface of the door.
Push force and closing speed
Accessible doors should be easy to push open and give people with disabilities sufficient time to pass through. ADA Standards specify that the continuous force required to push or pull open an interior door (hinged, sliding or folding) cannot exceed 8.5 pounds. This does not apply to the initial force needed to overcome the inertia of the door. There are some exceptions, however. In California, for example, the maximum is 5 pounds.
The ADA requires that doors with closers take a minimum of 5 seconds to close from an open position of 90 degrees to 12 degrees. This range is commonly known as the closing sweep of the door. Doors with spring hinges should take at least 1.5 seconds to fully close from an open position of 70 degrees. These mandates help ensure that those with disabilities have ample time to safely proceed through an entryway.
Door surfaces
As set forth by the ADA, swinging door surfaces within 10 vertical inches of the floor must be smooth on the push side for the full width of the door. This prevents canes, wheelchairs, and walkers from getting caught on projections found on the door's surface. Kick plates can be installed, but any gaps or cavities they create must be capped. Sliding doors are exempt from this rule, as are tempered glass doors without stiles whose bottom rail is tapered to 60 degrees.
Considerations for exterior doors
Aluminum storefront doors. All aluminum storefront doors must have a 10-inch bottom rail. Tapered glass stops can be used on doors without a bottom rail or 10-inch kick plate. As previously described, the goal is to prevent wheelchairs or canes from getting caught on the bottom of the door.
Balanced doors. When balanced doors are pushed open, pivoting arms cause approximately two-thirds of the door to swing outward and one-third to swing inward. This permits wind and stack pressures to assist, rather than hinder, door operation. In addition, spring tensions and closing speeds can both be adjusted. This, along with power operator options, makes balanced doors ideal for ADA applications.
Terrace doors. The ADA requires that all terrace door thresholds not exceed a ½-inch in height. They must also have a 10-inch smooth bottom rail. If installed on balconies, the doors must open outward.
Considerations for interior doors
Framed doors. A 10-inch bottom rail is not needed on framed doors under the condition that the doors instead have a 4-inch bottom rail with top edges that are tapered to a 60-degree slope.
All-glass entrances. Type A patch-fitted doors meet all ADA requirements as the door retains the mandated clear, uninterrupted surface. Type BP patch and rail doors only require a 4-inch bottom rail with top edges that are tapered to a 60-degree slope. The same applies to Type P rails.
Sliding doors. Sliding doors do not require a smooth bottom surface in order to be ADA compliant; however, they still need to adhere to the maximum push force specification of 5 pounds. Automatic doors and ADA compliance
Auto assist doors. Auto assist doors are opened using a button clearly marked with the handicap symbol. The button must be placed outside of the door swing area to avoid injury. If adjacent walls are present, a handrail is required to negate the pinch zone. Once the button is pushed, the door must stay open at a 90-degree angle for 5 seconds. After that, it must take 5 seconds for it to fully close.
Fully automatic doors. These types of doors come in sliding and swinging configurations. Unlike auto assist doors, fully automatic doors feature infrared sensors that detect obstructions. The doors thus stay open until an individual with a disability has passed through. They are the most accessible and ADA-compliant doors available. If the automatic door is the swinging type, and is adjacent to a wall, a handrail is needed to provide protection from the pinch zone.
Door automation is not required by the ADA, but is recommended because it solves several compliance issues. For example, installers can bypass having to meet ADA standards for door hardware type, maneuvering clearance, and push force. It's also important to note that automatic doors can be used in conjunction with non-ADA exterior doors, though each state has unique requirements. Auto assist and fully automatic doors are ideal for exterior applications because a common access complaint is that exterior entrance doors are difficult to open. This is often due to wind force and the resting weight of the door.