Divided by a Common Language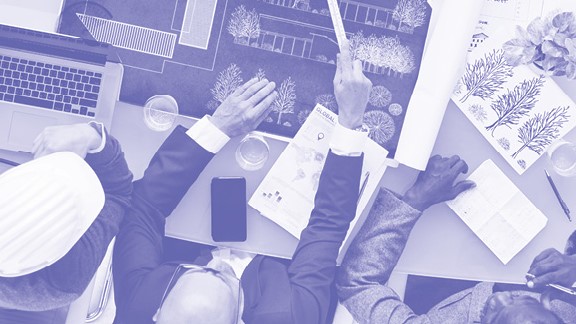 It could be said that participants in the façade design and construction community are divided by a common language. These key players—architect, owner, general contractor, glazing subcontractor, consultant, manufacturer and academic—operate in silos, often not seeming to speak the same language when communicating with each other. There is frequently confusion when trying to understand each other's perspectives.
Peter Weismantle, director of Supertall Building Technology at Adrian Smith + Gordon Gill Architecture and board member of the Façade Tectonics Institute, asserts, "It is always hard to talk the other person's 'language,' but we all need to do our best to walk in the other person's shoes." And to walk in their shoes, it is important to understand what every participant really cares about, and what drives their actions.
The architect
At the risk of over-simplification, the architect's focus is to bring to life their vision for the building, knowing that the delivered result will be their legacy. "The hardest thing from the architects' side to get across is that the building will stand for years, decades or even longer. After the heat of the moment passes, we will all be judged by what remains," says Weismantle.
Architects also must know something about everything in the building—mechanical systems, structural systems, roofing, lighting, façade systems, etc.—since they are responsible for bringing the entire building design together. Some like to say architects are "a mile wide and an inch deep" in terms of building systems knowledge. That typically means it is unlikely for them to have deep expertise in the façade, at least not to the extent of a façade contractor, or glass and fenestration fabricator or materials supplier. Typically, they turn to trusted subject matter experts to support them and reach out to those who can effectively connect with their needs. Often, they engage façade consultants, but they too need support on the details from the experts in contract glazing, and glass and fenestration fabrication and material supply.
The contractor
General contractors focus on budget and schedule, with incentives for saving costs often driving their needs and actions. While the glazing subcontractor cares similarly, they also focus on managing risks associated with installation logistics and quality, fenestration performance and durability, and call-backs. Many glazing contractors agree that project risk is becoming increasingly concentrated with them, being pushed down from the architect and GC through expanded responsibility for design, and up from their warranty responsibilities for façade products and installation. 
Communication with the architect is often the cause of much frustration for the subcontractor, and, according to Mic Patterson, ambassador of innovation and collaboration at the Façade Tectonics Institute, "Some façade contractors regard the architect as their enemy." This drives more adversarial communications, which tend not to deliver win-win outcomes, keeping those contractors away from the table during the design phases, and creating a vicious cycle of poor communication, inadequate façade specification, manufacturability challenges, and compromises on budget and vision.
The owner/developer
Owners and developers desire a durable, low-maintenance building that meets their needs for indoor environmental quality to attract and retain staff and generate high lease rates. And for developers, cost is always a driver.
"Communication gaps manifest in strange ways, like when the façade contractors sell façade systems as zero-maintenance systems. To the façade contractor, that means 'it's good until it isn't,' and then you replace it—i.e. it is not maintainable. To the owner, it means they bought a durable, no-maintenance product," says Patterson.
The fabricator
Glass and fenestration fabricators, and material suppliers, of course want their products used in projects; but like glazing contractors, they also want to ensure that the products specified are fit for purpose. For example, will specified products simultaneously meet fire, structural, safety, energy, daylighting, acoustic and aesthetic requirements? And, importantly, is it feasible to manufacture? Often the architect's vision of acceptable visual quality related to, for example, distortion, pane-to-pane coating uniformity, or anisotropy, is not consistent with manufacturability constraints.
Those potential disconnects need to be identified up-front in the specifications to avoid bad outcomes. 
Frequently the glazing contractors, and even more so the glass suppliers, are kept at a distance by the architect and general contractor until too late in the design process rather than being recognized as a vital part of the design team, with important subject matter expertise. 
According to Matt Kamper, head of contract sales and estimating of Woodbridge Glass/Werner Systems, mechanical, structural and electrical trades are always in the room with the architect early—at the concept stage—but rarely is the glazing contractor invited. The mechanical subcontractors often set the stage for envelope performance and mechanical system design.
At-a-distance or limited communication can lead to inappropriate façade assumptions early in the design process, leading to difficulties in delivering on the design intent, and increasing project costs later in the process, which can also drive value engineering of the glazier's scope and compromises on the architect's vision.
Break down the silos
Recognizing the architect as an important client, not a foe to be fought, is key to success for glazing contractors and fabricators. Taking the time to learn the architect's vision and the challenges they are facing will help facilitate the dialogue and identify win-win solutions. It will also position those who are successful in building these relationships to gain a much-needed seat at the table in the early concept design phase of projects, creating virtuous cycles of successfully delivered high-performance façades, happy owners, architects and contractors, and repeat business opportunities.
Taking advantage of opportunities to interact and develop relationships with the many players in the community is a key tactic in learning to bridge the communication gap with architects, consultants, owners and general contractors.