DraftingMarketplace.com
R&D Award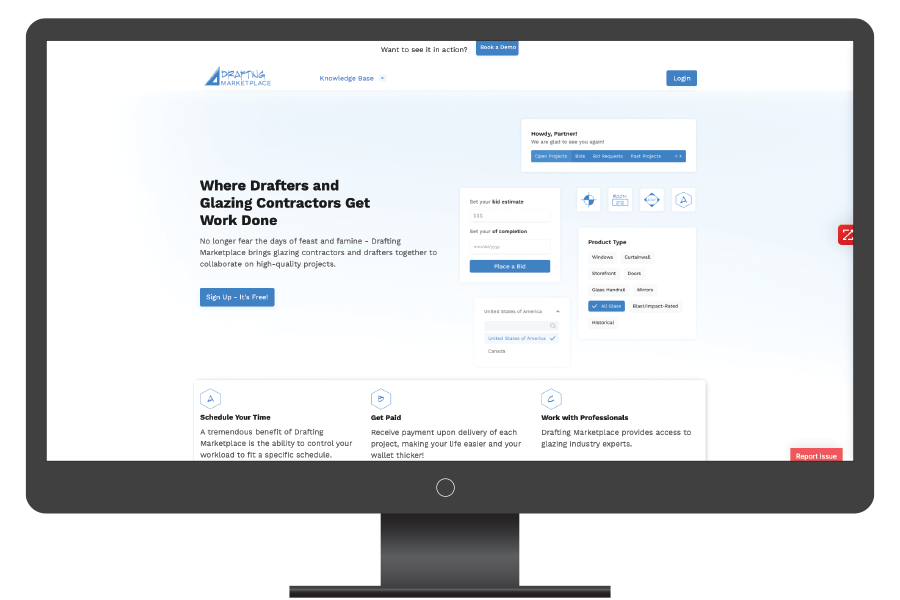 This year's "R&D Award" winner  has a unique origin story. Brandon Bellegarde combined his software and marketing expertise with the 20 years of drafting experience of his lifelong friend Tyler Faulk to create DraftingMarketPlace.com. The online platform is  designed to make sourcing quality shop drawings faster and easier.
The platform was created in response to Faulk's frustrations with the daily challenges of being a drafter in the glass industry. To provide better tools, the pair sat down with their team to prioritize the challenges they wanted to solve. "We then began developing programmatic solutions, using the minimum viable product and scrum approach to software development," say Bellegarde and Faulk. "Once the base product was developed, we began the beta test phase that lasted around two years."
To use the tool, glazing contractors post projects—containing quotes, architectural drawings, hardware schedules and other information—on the platform. Then drafters bid for the opportunity to complete the shop drawings. As glazing contractors receive bids for their projects, they individually review each drafter and their bid to determine the drafter or drafting company best suited for the project.
They continued to beta test the platform with drafters and glazing contractors across the country, until they released it to the public at Glassbuild 2022. "We conducted interviews, collected feedback and modified designs along the way until we had a product we were comfortable releasing to market," they say.