Dynamic companies navigate a changed economy
Short-term changes become long-term adaptations in the 2021 Top 50 Glaziers report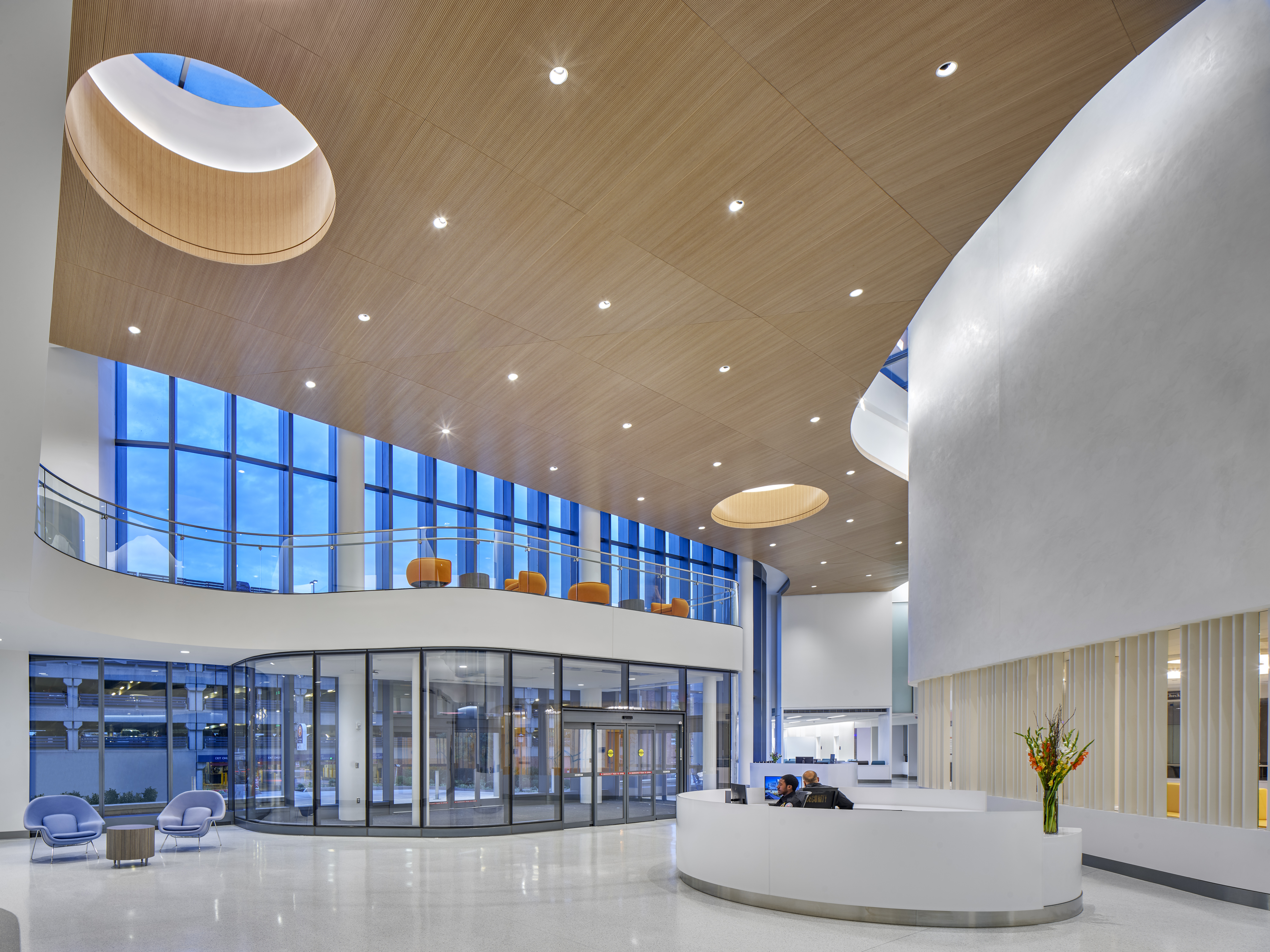 Above: The University of Virginia Health System in Charlottesville, Virginia, recently underwent a major expansion project. 2021 Top 50 Glazier Pioneer Cladding and Glazing Systems was the glazing contractor for the project, from architect Perkins and Will and general contractor Skanska USA. Pioneer handled design, fabrication and installation of glazing systems for the expansion.
Last year's report found Top 50 Glaziers toward the start of the pandemic, confronting new impacts on labor and the economy. A year on, short-term changes have become long-term adaptations, as businesses continually adjust to life and work with COVID-19. 
"The coronavirus has obviously had a major impact on our economy, and I believe we'll feel the ripple effects of this for a while," says Ryan Woodruff, vice president of Egan Co./InterClad. "It will take some time for our economy to recover as once-viable markets become obsolete and new markets emerge."
Like many industries, construction faces a slowdown on many fronts, and uncertainty in the future. "We feel that the pandemic will have a lagging effect on our industry," says Joseph Marshall, president, Midway Glass & Metal Installers Inc. "We are seeing a growth in the bidding process but a slowdown in the awarding process of real estate owners to construction managers."
"Continued requirements to adapt to ever increasing market challenges whether staff safety, scope and schedule of projects and supply chain concerns before they materialize, sets a dynamic playing field with more need for planning than ever before, and we continue to adapt," says Bill Wilson, vice president of Business Development, Kensington Glass Arts Inc.
The Top 50 Glaziers survey and report, now in its 29th year, offers a comprehensive look at the realities facing the glass and glazing industry in North America. It presents industry performance data, identifies leading headwinds, and tracks market and product trends. And it presents a ranking of leading U.S. glazing firms.
The 2021 Top 50 Glaziers survey and report
Projects from the Top 50 Glaziers
Sales facts
53%
Glaziers reporting increased competition for projects in 2020 compared to 2019
42%
Companies reporting lower bid levels in 2020
65%
Companies reporting a backlog of a year or more
Sales + Capacity

Total gross Sales for Top 50 Glaziers 2010-2020

Above: Total gross Sales for Top 50 Glaziers, 2010-2020 (in billions), shows a decline from $3.8 billion in total sales in 2019 to $3.1 billion in 2020
Top Glaziers Struggle with Decreased Sales
Last year's Top 50 Glaziers Report saw glazing companies grappling with the first months of the pandemic. This year, glazing companies report diminished sales for 2020, falling from $3.8 billion in total sales in 2019 to $3.1 billion in 2020. Fifty-three percent of reporting companies posted 2020 sales that were lower than 2019, compared to 40.4 percent of companies in 2019. 
Despite sales decreases, companies' backlogs show some health, as a majority, 65 percent, reported having a backlog of a year or more. 
Unsurprisingly, reported profit margin and bid levels sharply decreased in 2020. Thirty percent of responding companies reported lower profit margins in 2020 compared to 2019, when only 16 percent reported lower margins. Similarly, 42 percent of respondents said bid levels were lower in 2020, a stark increase from the 2 percent of companies reporting lower bid levels the previous year.
Last year's report did not analyze growth by region, given the instability of the market at the time. Responses collected this year were mixed regarding which geographic markets showed the most growth in 2020. A plurality of glaziers, 24 percent of respondents, selected the Northeast as the top region for growth in the past year, and the same number said it would be the top region in 2021. Respondents attribute its growth to several reasons, including an increase in health care spending, the development of Amazon's second headquarters in Arlington, Virginia, and a growing multifamily market.
Survey results suggest that the Southeast and West may also be growth areas. Thirty-seven percent of respondents ranked the Southeast first or second for growth in 2020, with another 37 percent saying the same for the West. Thirty-six percent of respondents ranked the Southeast in first or second for growth in 2021. 

Market + Investment
The market segments that Top 50 Glaziers work in showed little change in 2020. The office segment, despite uncertainty over building trends in future, made up 31 percent of work for Top 50 companies in 2020, only slightly down from 33 percent in 2019. Retail and hotels trended predictably low, considering how the pandemic has affected those market segments. 
Companies make capital investments    

Fabrication equipment 69%
Software 60%
Handling Equipment 55%
Trucks  55%
Looking at products, 40 percent of companies say they fabricate curtain wall in-house. Challenges in bringing fabrication in-house included quality control and material sequencing, as well as procuring the necessary labor. Only a few glaziers, 9 percent, said they fabricate glass in-house; for those that did, respondents reported fabricating a range of glass types, including heavy tempered glass, insulating glass units and mirror.
Companies work with specialty glass products

Ballistic or bullet-resistant glazing 71%  
Curved or bent glass 55%            
Jumbo glass 53%           
Electrochromics 50%           
Bird-friendly glass 42%             
Glass stair treads or floors 29%            
BIPV 13%           
VIG 0%            
Other specialty glass 16%           
Survey responses also suggest the continued growth in specialty glazing, as a majority of responding companies reported working on projects with specialty glass products. Curved and bent glass, as well as jumbo glass, represented a majority of respondents' answers; 42 percent of respondents also selected bird-friendly glazing, suggesting the continued growth in this product type.
In terms of project delivery, nearly all respondents participated in design assist during 2020. Meanwhile, only 56 percent said they participated in a more traditional design-bid-build project during the year, indicating continued movement toward more collaborative design processes. 
Companies continue to invest in software, with 60 percent of respondents saying they purchased software systems in 2020. Respondents reported using a range of software for the manufacturing floor and office, including AutoDesk products and Bluebeam.

Labor + Challenges
Though increased vaccination has encouraged many in the industry that 2021 will see an easing of the pandemic's restrictions, a majority of respondents reported major impacts in the past year from the pandemic, and 56 percent of respondents say COVID-19 will be a major headwind in 2021.
Top-reported pandemic effects

Decrease in sales 55%
Labor issues 55%
Supply chain issues 50%
Decrease in revenue 43%
Layoffs 29%
Survey responses show the varied fallout of COVID throughout the year, from the instability of labor to a disrupted supply chain. While a minimum of companies reported closing locations, about a third reported layoffs, and over half reported a decrease in sales and labor issues as major difficulties.
Companies anticipate the challenges ahead

Economic slowdown 73%
Coronavirus  56%
Supply chain  46%
Labor shortage 44%
Lead times 44%
Scheduling 20%
Growth in pre-contract work 20%
More complex curtain wall designs 15%
Other 10%
Half of respondents also reported supply chain issues as an impact, and 46 percent of respondents said it will continue to impact the industry into 2021. "Material prices are fluctuating and are expected to impact old bids as well as new ones," says Jon Clark, director of sales at SPS Corp. "We're already seeing an increase in cost for commodity items essential to our products," says Ray Crawford, president, Crawford-Tracey Corp. 
Labor issues have, of course, only been exacerbated by the pandemic, and glaziers and field labor remain the positions most difficult to fill, according to a majority of respondents. Training labor is companies' major issue, after recruitment, say respondents, with a significant majority, 81 percent, reporting in-house training programs and training with an experienced employee.
 
Industry facts
68%
Companies reporting glaziers & field positions as the most difficult to fill
36%
Companies that report more difficulty finding workers past year
52,000
Estimated number of glaziers working in U.S.
Industry Benchmarks
Source: Occupational Employment Statistics Survey, published May 2020, from the Bureau of Labor Statistics.
There are an estimated 52,000 glaziers working in the United States and the field is poised for growth, according to the U.S. Bureau of Labor Statistics. In the next decade, BLS anticipates the occupation will gain more than 2,000 additional jobs, growing about 4 percent. 
Despite the growth outlook, overall construction employment took a hit during COVID-19, falling 10.9 percent in April 2020 alone. While the industry recuperated some of those losses in the remainder of 2020, employment levels remained below pre-pandemic levels in 44 states as of March 2021. 
"Most states are still far from recovering the construction jobs lost a year ago. The overall economy is recovering, but huge price spikes and ever-lengthening delivery times threaten to set construction back further," according to Ken Simonson, the chief economist for the Associated General Contractors of America, in a March 26 AGC release. 
The List
Now in its 29th year, the Top 50 Glaziers industry ranking has the distinction of being the longest-running glass industry ranking. Companies on the list are ranked by gross sales, and submitted to Glass Magazine editors by survey. For those companies that did not submit sales, editors have estimated sales volume based on independent sources to determine the most accurate industry ranking. 
It is only with industry cooperation that Glass Magazine can continue to compile the most accurate list of leading industry glaziers. If your company belongs on this list, or you want to update its information, contact Norah Dick, associate editor, at ndick@glass.org. 
Over $200 million
1. Harmon Inc. | Bloomington, MN            
2. Enclos Corp. | Eagan, MN            
3. W&W Glass | Nanuet, NY            
4. Benson Industries | Portland, OR            
$100-200 million
5. Crown Corr Inc. | Gary, IN            
6. Yuanda USA Corp. | Chicago            
7. Binswanger Glass | Memphis, TN            
8. Massey's Plate Glass & Aluminum | Branford, CT            
9. Flynn Group of Companies | Toronto            
10. Permasteelisa North America* | Windsor, CT            
11. Steel Encounters* | Salt Lake City, Utah            
$50-100 million
12. Dynamic Glass | Houston            
13. Pioneer Cladding and Glazing System | Mason, OH            
14. TSI Corp. | Upper Marlboro, MD            
15. Giroux Glass | Los Angeles            
16. Above All Store Fronts | Hauppauge, NY            
17. Cherry Hill Glass Co. | Branford, CT            
18. Architectural Wall Systems | Des Moines, IA            
19. SPS Corp. | Apex, NC            
$20-50 million            
20. Egan Co./InterClad | Brooklyn Park, MN            
21. Tepcoglass LLC | Dallas            
22. Ranger Specialized Glass Inc. | Houston            
23. Haley-Greer* | Dallas            
24. Karas & Karas Glass Co.* | Boston            
25. Ajay Glass Co. | Canandaigua, NY            
26. Kensington Glass Arts Inc. | Ijamsville, MD            
27. Alexander Metals Inc. | Nashville, TN            
28. National Enclosure | Ypsilanti, MI            
29. Crawford-Tracey Corp. | Deerfield Beach, FL            
30. Lafayette Metal and Glass | Hauppauge, NY            
31. RynoClad Technologies Inc. | Ontario, CA            
32. ACE Glass | Little Rock, AR            
33. Metropolitan Glass Inc. | Denver            
34. H.J. Martin and Son | Green Bay, WI            
35. seele Inc. | New York City            
36. Denison Glass & Mirror Inc. | Denison, TX            
37. Key Glass Inc. | Bradenton, FL             
$20 million and under
38. 8G Solutions | Kansas City, MO            
39. AFI Glass & Architectural Metal Inc. | Poughkeepsie, NY            
40. Horizon Glass & Glazing Co. | Denver            
41. AAC Glass Inc. | Hayward, CA            
42. Forno Enterprises Inc. | Trout Creek, NY            
43. Specified Systems Inc. | Canonsburg, PA            
44. Pikes Peak Glass and City Glass Co. | Colorado Springs, CO            
45. Glazing Concepts Inc. | Corona, CA            
46. Synergi LLC | Elkridge, MD            
47. Element13 Facades | Denver            
48. Aurora Glazing Solutions | Vancouver, BC            
49. Midway Glass & Metal Installers Inc. | Carlstadt, NJ            
50. O'Nan Glass & Window | Lexington, KY 
*Company information, including gross sales, is an estimate and is not confirmed by the company. 
More 2021 Top Glaziers Report
The Digital Edition of Glass Magazine contains additional information about companies on the Top Glaziers list and additional survey results.