Exit Planning and Succession IV - Four Generations Strong
DeGorter family prepares to bring fourth generation into long-term family business leadership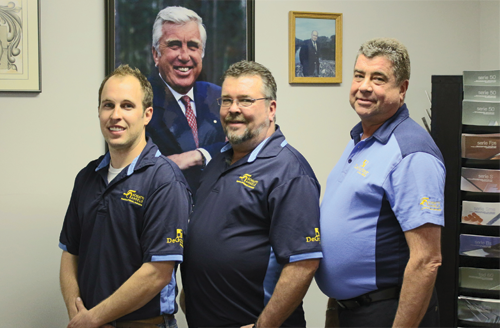 From right to left, Dan, Peter J. and Peter "Pete" DeGorter, current management of DeGorter Inc., stand in front of a photo of John DeGorter, the company's second-generation owner. Pete will be the company's fourth-generation owner. He says of his decision to remain in the industry: "[I've seen] first-hand the hard work needed to run a successful business. But I also [have seen] that hard work gave my family freedom a lot of others didn't have. I am working hard to provide not only for my family, but also for the families that work with [us]. I want to keep this opportunity for four more generations of DeGorters."
The DeGorter family is well aware of the unique business history of its company DeGorter Inc. Currently preparing to shift partial ownership to the fourth generation, the DeGorters are one of only a handful of U.S. family business owners to hold sole ownership for so long—nearly 100 years.
"We have just started the process again to value the company and determine the best way to make the next transfer, to the fourth generation," says Peter J. DeGorter, company president, of the current succession process. "I feel excited that we are having our fourth generation involved and are still a force in this industry."
While the company is still in family hands, its structure looks very different than at its founding. In 1922, Daniel DeGorter founded DeGorter Inc. as a glass and glass products import company. By 1969, he had grown the company to be one of the largest glass importers in the United States, at which time Daniel's son, John, took over the company. Due to the rise in domestic glass production, John saw a need for high-quality fabrication equipment, and transitioned the company into a fabrication equipment and service business, which it continues to operate successfully under the third generation of DeGorters today.
Succession
The original transfer of DeGorter Inc. from Daniel to John occurred over time through gifting of stock, until John became the sole stockholder and 100 percent owner of the company. After this transfer of ownership took place, John began to gift portions of his share to his spouse, Denise DeGorter, who eventually became the majority stockholder. Eventually, as John's sons, Dan and Peter, entered the business, John gifted shares to the two of them to transfer partial company ownership. By 2009, all company stock had been gifted and split between Denise, Dan and Peter, who currently own DeGorter Inc.
This transfer was discussed among legal counsel, an accounting firm and the current company owners. "The method of transfer was mutually agreed upon by careful evaluation of the financial implications and the desire to divest ownership," says Peter.
Currently, Peter and Dan are working with the family's fourth generation leader, Pete DeGorter, Peter's son, preparing him for ownership through training in all aspects of the business. Peter and Dan are also in financial discussions to determine what will be most advantageous to all parties involved, seeking recommendations from legal counsel and tax advice from company accountants.
"Pete is going through the same process as Dan and I did, when John ran the company," says Peter. "We are training him … not only from a management point of view, but also the mechanical, financial and technical aspects of how the business works."
Currently inventory manager, Pete has worked in the parts and services area of the company to learn how the machines function and what parts are used in maintaining the machines, and was taught how to read mechanical and electrical schematics the minute he came on board, says Peter.
While it is important for the DeGorter family to thoroughly train any new stockholder to have all the necessary knowledge and skills to run the entire operation on their own, it is equally important to ensure interest in the business and the industry. The DeGorters left the decision to come into the family business up to each individual family member, including Pete.
"[Pete] went to the University of North Carolina to study business and international marketing, to assist him in becoming the president in the near future, [but] coming on board was his decision, which he made after his second year of college," says Peter.
Exit plan
With the fourth-generation succession process underway, Dan and Peter have begun to consider how they will exit from DeGorter Inc. It still makes sense for the family to maintain sole ownership into the next generation; however, the DeGorters have considered and tried other options over the years, including a partnership. "The reason why we prefer to keep it in the family is, one, we maintain complete control over all aspects of the business and, [two], it allows us to pass on accumulated wealth to the family," says Peter.
With this in mind, the two are planning to gradually exit from the business over the next eight to ten years, in order to benefit from the company's increased value for a more comfortable retirement. This timeline also allows current company owners to oversee a smooth transition, including the transfer to the fourth generation.
"Our goals are to have DeGorter Inc. and its subsidiaries maintain reputation, and to allow the new ownership to move it in the direction that they feel will be most beneficial for their goals."
Family Business Succession Quick Facts
More than 30 percent of all family owned businesses survive into the second generation.
12 percent of family-owned businesses will still be viable into the third generation.
Three percent of all family businesses are operating at the fourth-generation level and beyond.
By 2017, it is estimated that 40.3 percent of family business owners expect to retire, creating a significant transition of ownership in the United States. Less than half of those expecting to retire in five years have selected a successor.
Even though nearly 70 percent of family businesses would like to pass their business on to the next generation, only 30 percent will actually be successful.
Of primary importance among family firm owners is transferring not only their financial wealth, but also their values, to subsequent generations.