Frameless vs. Framed
Installation considerations for interior glass wall and door systems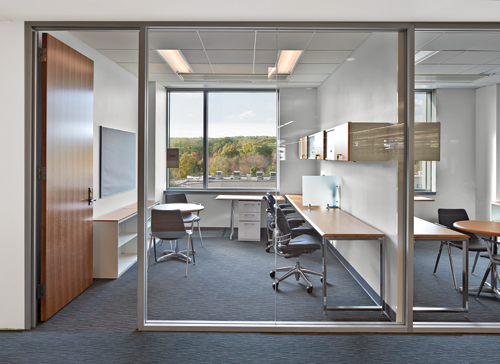 A framed interior glass office enclosure, Dorma's Interior Pure Enclose Office Front with a wood door.
The rising costs of renting and maintaining office space, the decreased need for room to store paper files and documents, a surge of telecommuting opportunities, and other technological and economical adaptations have altered the environments in which we work. Within office buildings, professionals' personal space has shrunk from an average of 250 square feet per worker 10 years ago to 175 feet or less today. That means less elbow room and less privacy.
Luckily, there's a viable solution to counter those ill effects in space-deprived offices: glass. With glass office fronts and walls, workspaces can feel much larger than they actually are. By providing a light-filled, open space even when windows are a few aisles across the room, glass gives clear lines of sight that help facilitate collaboration among team members.
When choosing interior glass doors and walls, one of the first decisions should be whether or not the framing should be visible to the occupants of the space.
Frameless
Frameless glass gives a workspace a simple, unifying elegance, and both pivot or swing door configurations will enable an installer to adapt the design to nearly any application.
Sliding doors for office fronts, small conference rooms, and other limited spaces deliver an elegant look with transparent sightlines. By using a sleek top track and a simple u-channel to support the bottom of the panel, an installer can keep the frame out of sight, allowing for a smooth transition between the office and the space outside. Additionally, an installer can mount the track overhead to the ceiling, recessed in the ceiling, to the outside of a wall, or directly to the surface of a fixed piece of glass.
Consider hidden rollers that operate on a compact track when opting for traditional sliding operation for a glass door in a frameless installation. That will offer the benefits of both versatility and durability and create a sophisticated, minimalist opening.
With interior automated doors, silent operation is almost always a requirement. Selecting closing mechanisms that control and regulate closing speed will help prevent the distraction of the sliding door slamming, or opening and closing too quickly.
As with sliding doors, pivoting doors in frameless installations must also adhere to many of the same project requirements. Manufacturers provide hardware such as patch fittings that blend with the metal track and powerful door closers that can be hidden in the floor or ceiling to ensure a clean look.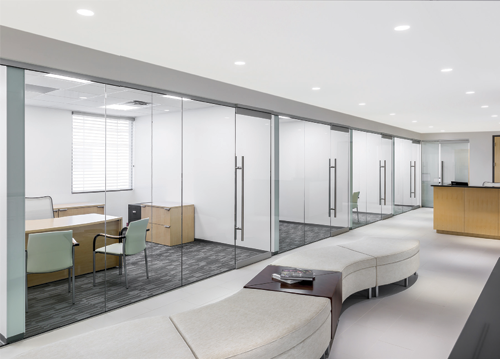 A frameless glass office enclosure with Dorma's DRS Tapered Rails, RTS88 Overhead Concealed Closers, Dri-Fit Glazing System and TG 9387 Pulls.
Framed
Framed designs provide transparency, while reinforcing glass with fully framed panels. They typically offer a higher level of security and sound mitigation than frameless designs. Consider framed installations for spaces that require greater sound control, such as office fronts and medium to large conference rooms. With metal channels at the floor, ceiling and walls, framed systems effectively dampen sound transmission and add structural definition without disrupting sightlines.
Framed glass wall systems with pivoting doors provide the aesthetic appeal of glass walls with the benefits of full framing. In situations with uneven floors that make installing glass walls difficult, full framing makes an effective solution. As in frameless installations, framed installations allow for doors to be designed to swing freely, or closing devices can be concealed in the ceiling or floor to control pivoting doors.
Consider glass panels fully framed in metal for enhanced privacy. They add rigidity and offer greater sound protection while preserving clean lines of sight. The door's edge should rest in a brush-lined channel built into the frame post. Fully framed installations also help eliminate gaps between the panels themselves and between the panels and the surrounding structure.
For applications where even more sound attenuation is required, such as when a conference room is next to private offices, consider fully framed, demountable, double glass panels. This approach simultaneously provides openness and security by pairing transparency with high levels of sound protection. It also opens other possibilities. Owners or designers can choose to incorporate solid panels of laminate or marker board with glass, or use them on their own to create an even more private space.
The fully framed demountable panels can be up to 10 feet tall, and can be assembled as demising walls in numerous configurations. Best of all, with minimal expense and disruption, they can be reconfigured to meet new requirements as the needs in an office space change.
Once the decision is made to use a framed or frameless installation, the project team can discuss other options, including: pivot or sliding doors; automated or manual operation; and standard or designer glass.