Go Unitized
Top considerations for curtain wall prefabrication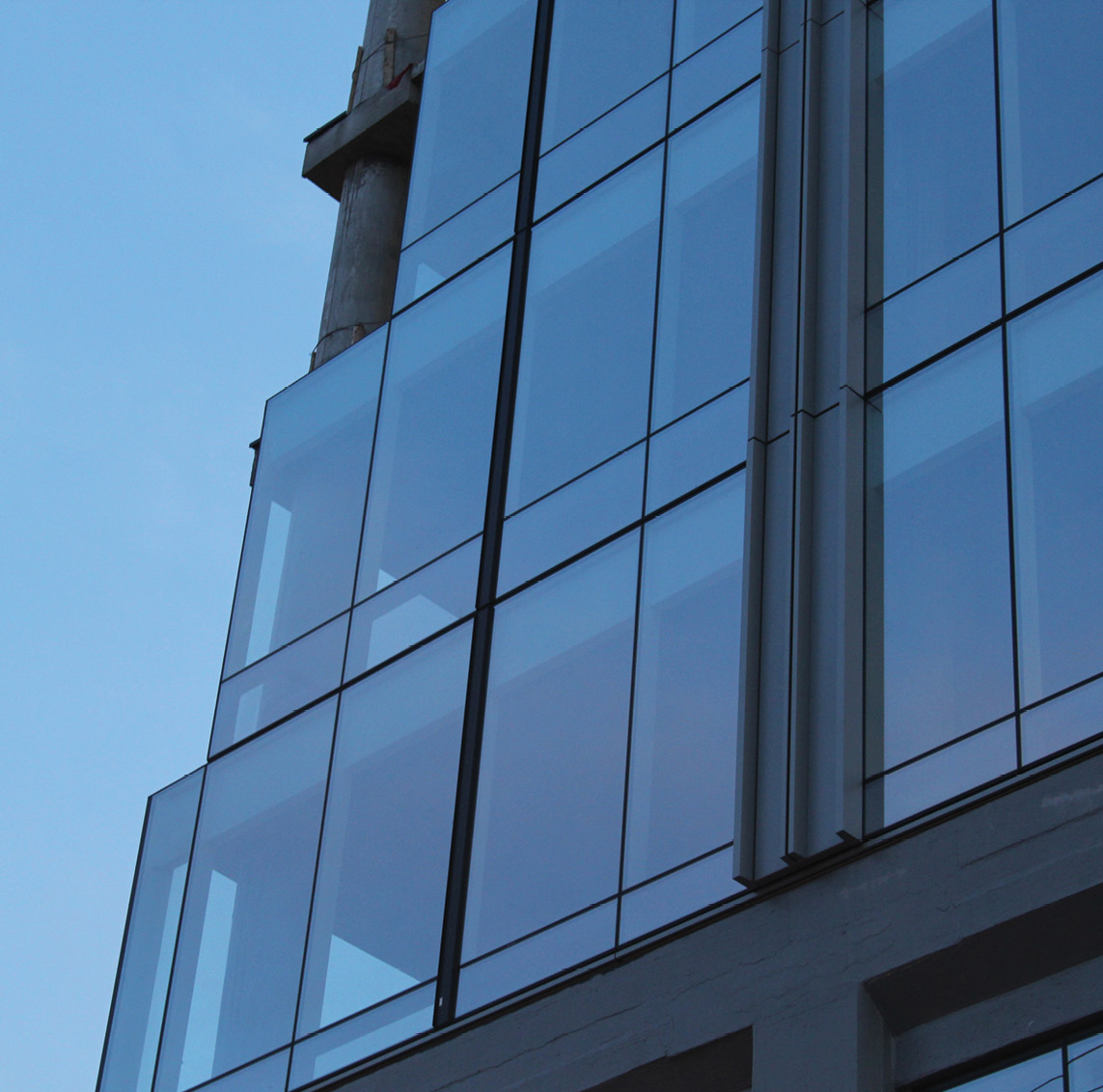 A unitized glass curtain wall system with vertical aluminum fins being installed on a commercial office building in Rockville, Maryland.
Pivoting a façade business from one that stick-builds to one that prefabricates offers financial and strategic advantages that could benefit any size company. While moving to a prefabricated or unitized model requires up-front investment, it offers the long-term benefits of lowering project cost, risk, installation time and schedule duration.
Façade contractors can prepare for the future of construction by implementing technologies that drive prefabrication, developing the ability to work with diverse façade materials, and becoming integrated players in the design process.
Technology 
A key starting point for façade contractors looking to move into curtain wall prefabrication is understanding the technologies that drive offsite construction. Whether it is BIM Modeling for design and coordination, 3D printing for mockups and testing, thermal imaging for energy performance, or robotics and CNC systems for fabrication, there are many technologies companies can consider as they develop their strategies. Companies that effectively implement these and other technologies into their supply chains will be best positioned to win large projects.
Glazing-in everything
The industry has entered an era of integrated façade systems, with many different elements pre-glazed into curtain wall assemblies. Everything from metal panels to stone, precast, terra cotta, wood, exterior shades, or even exterior lights, are being designed as integrated parts of unitized curtain wall systems. Because of this trend, it is critical that manufacturers take the time to understand how these different elements impact material interactions, thermal properties, and building waterproofing, and develop standards to attach them to their glazing systems. By developing the ability to work with a diverse range of materials, façade fabricators can position themselves as industry leaders.
Pre-designing the process 
As building envelope design responsibility continues to shift toward manufacturers through delegated design packages, it is going to become more critical to have the capability to prefabricate curtain wall systems. The more façade elements that are glazed into a curtain wall, the more important it is for the manufacturer to be brought onto a project early, especially when the owner wants to award the façade to a single source of responsibility. By fostering in-house engineering and design capabilities, façade contractors can prepare to be brought in as early partners during the design, giving them the opportunity to leverage prefabrication to positively impact a project. 
Creating future success
Getting a building envelope completed and weather-tight is one of the most critical paths on a project. Façade contractors with the capability to prefabricate their systems will increasingly give themselves the opportunity to achieve that goal faster and have a competitive advantage in the industry. By adopting cutting-edge prefabrication technologies, developing the skills to work with diverse materials offsite, and preparing to partner in the design process, façade contractors can position themselves for future success.