Health + Safety
How glass protects occupants, promotes wellness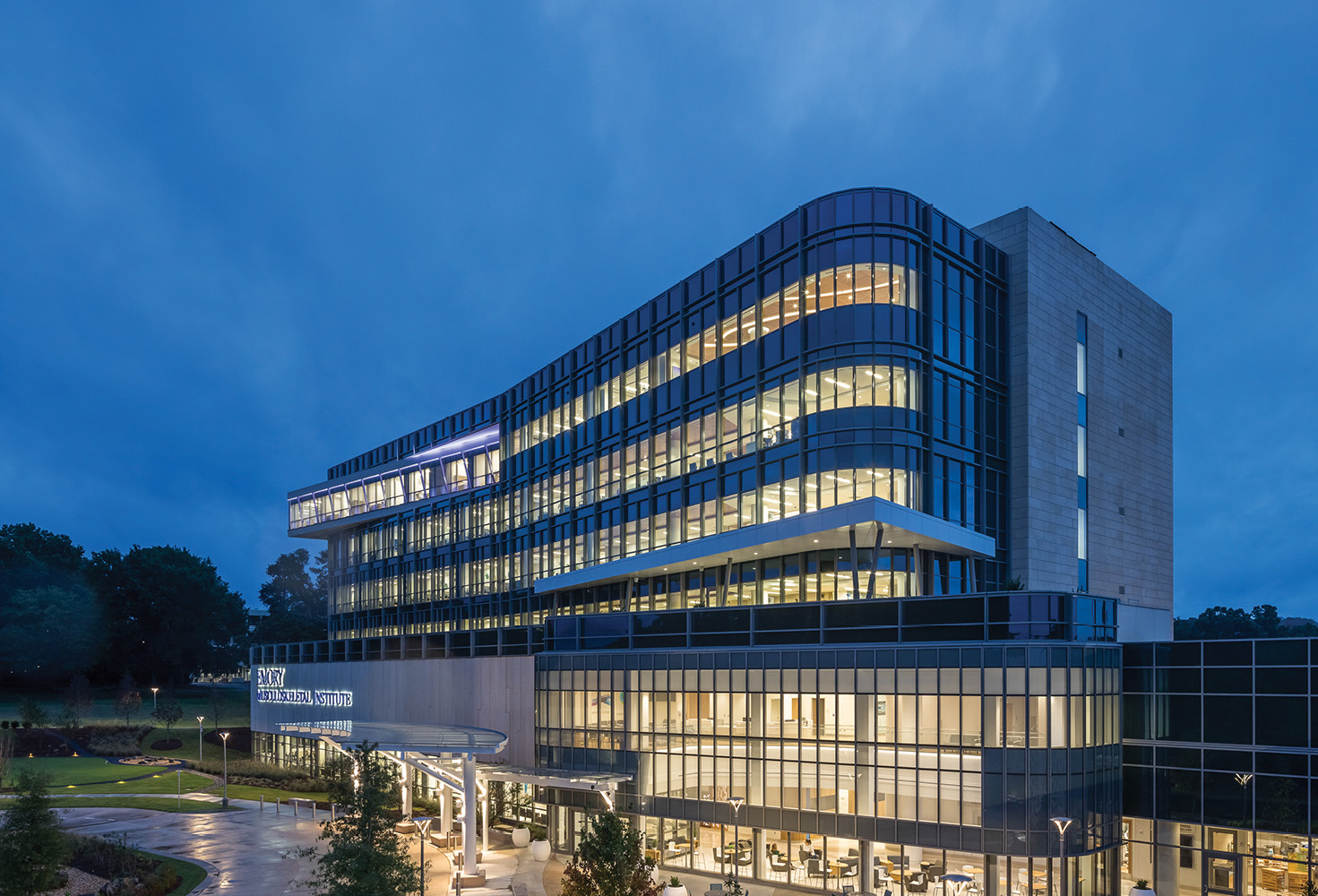 Above: The Emory Musculoskeletal Institute in Brookhaven, Georgia, was designed to be a patient-centered facility. According to officials from YKK AP America, the project was designed to meet LEED Gold certification and features a range of sustainable solutions, including sensor lighting, automatic tinting dynamic glass, indoor monitors that trigger increased fresh air flow in and an app that allows touchless entry, elevator calls and adjustment of thermostats and lighting, making high-touch areas more hygienic or avoidable. 
 

YKK AP America supplied its thermally broken YCW 750 XT and YCW 750 XT IG curtain wall system for the project. SageGlass provided the electrochromic dynamic glass, and Glass Systems was the glazing contractor for the project.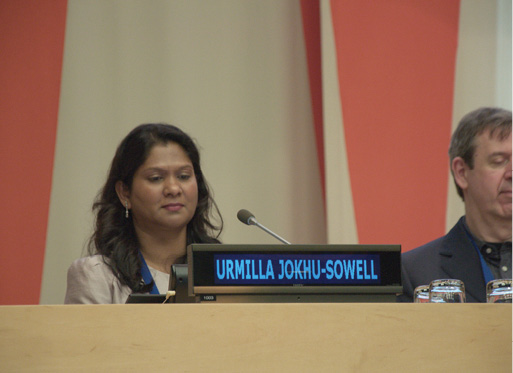 Building design with ample access to natural daylighting and views has been found to support occupant cognitive function, physical health and psychological well-being. Daylighting helps with mental health, focus, happiness, improved sleep and reduced depression. And glass is essential to meeting design goals and creating a healthy built environment. 
However, architects and owners look to glass and glazing to do even more for building occupants. Increasingly, glass is being relied upon to protect occupants against natural disasters and man-made threats, and to prevent wildlife, such as birds, from colliding with buildings.
This article outlines how glass improves lives for building occupants, contributing to human health and safety where people live, work, heal and play.  
Productivity
Numerous studies show that access to daylighting and quality views in a building provides better learning, faster healing, higher employee productivity and higher retail values. Students achieve 5-to-14 percent higher test scores and learn 20-to-26 percent faster when classrooms have access to daylighting. Workers in daylit office buildings are 18 percent more productive, and store owners have found out that they can enjoy a 15-to-40 percent increase in retail sales when their storefront has access to daylighting. In addition, a new study published in December suggests that daylit buildings may reduce the risk of children developing myopia.
Mental function
People who work with a view of the outdoors have 10-to-25 percent better mental function and memory and can process information faster than their colleagues without views of the outside. For surgical patients in hospital rooms with views of the outside environment, there is a 22 percent decrease in pain medication and their hospital stays are 8.5 percent shorter than those patients with rooms without an external view.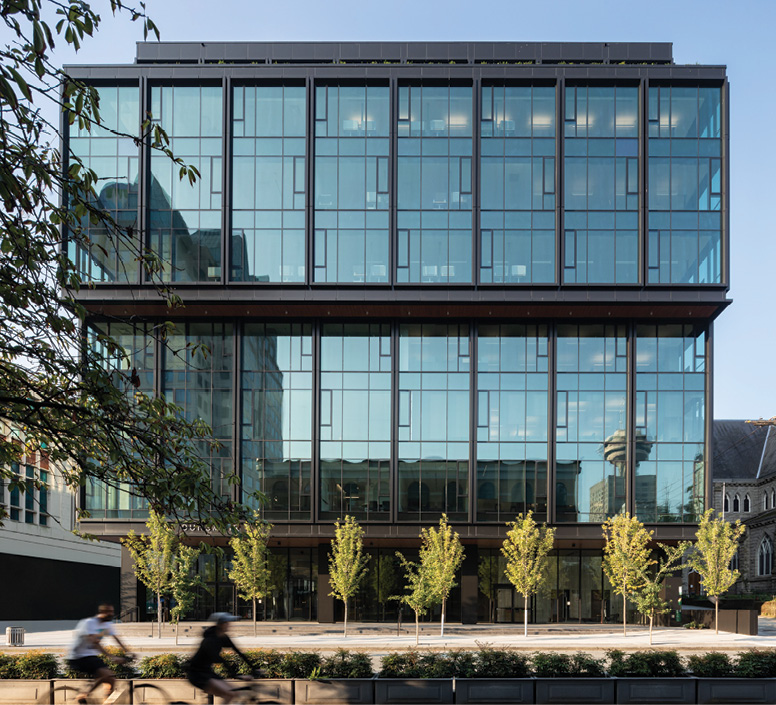 Thermal comfort
Glass brings light into buildings while keeping the weather out. High-performance window systems can dramatically improve occupant comfort: they have lower heat loss, less air leakage, warmer window surfaces that minimize condensation while also allowing less noise from outside into the building. Optimized window design can reduce energy consumption in our homes by 10 to 50 percent. In commercial buildings, well-designed window systems can reduce lighting and heating and cooling costs by 10 to 40 percent.
Acoustics
The world health organization lists noise as one of its top three pollutions along with air and water. Noise can cause short- and long-term health problems such as sleep disturbances, cardiovascular effects and hearing impairments as well as affect our ability to learn and perform at work. Properly designed and retrofitted windows and doors help reduce sound transmission by up to 90 percent.
Ventilation
Humans spend about 90 percent of their time indoors. Indoor concentrations of pollutants are often two to five times higher than typical outdoor concentrations. Indoor concentrations have increased in recent decades due to high-performance building design with increased air tightness and increased use of synthetic building materials. Air pollutants are linked to adverse health effects such as irritation, fatigue, respiratory diseases, heart disease and cancer. Conscious material selection and proper building ventilation can help prevent "sick building syndrome." Glass is part of the solution to improve indoor air quality.
Operable windows can be included in building design strategies for natural ventilation. Natural ventilation uses pressure differences to move fresh air throughout buildings. Fresh air is needed to alleviate odors, provide oxygen for respiration and to increase thermal comfort.
Views
Biophilic design is based on the concept that humans desire to be connected to and surrounded by nature. Feeling a connection to nature can have various psychological benefits, including improved attention and focus, stress recovery, better mood, increased productivity, and improved well-being. Glass is often featured in biophilic design allowing occupants to maintain a connection to nature while indoors. Glass facilitates views of nature outside and allows light to enter to support plants or trees growing inside the building.
Protection
Protective glass and glazing save lives in the event of hurricanes, tornados, fires, seismic events, floods and more. For example, impact-rated glazing systems can stand up to hurricane-force winds and debris, protecting people and interiors. While fire-resistant glazing systems provide a safe path for exit in event of a fire.
Security
Glass also protects occupants against man-made threats, from bomb blasts to active shooters. Of recent note are advancements from the glazing industry to address school and building security. The architectural glass industry supports the implementation of school security design strategies, including security windows, in model building codes. In active shooter events, windows can be the first line of defense, slowing down an attacker when installed as security glazing resistant to forced entry, allowing more time for schools to enact emergency plans and for first responders to arrive.
Wildlife protection
Glass is not only beneficial for humans, but it can also protect wildlife. The glass industry has produced glass to protect birds and marine turtles alike. Bird-friendly glass, in particular, has gained attention and adoption in recent years. An estimated 365 to 988 million birds are killed each year due to collisions with reflective surfaces of buildings. Bird-friendly glass, which features markings or coatings visible to birds, can prevent collisions and loss of wildlife. 
Editor's Note: This article is based on Urmilla Sowell's presentation, "Buildings and Health," delivered in December at the United Nations headquarters in New York City to recognize the closing of the UN's 2022 International Year of Glass. Learn more about IYOG and the National Glass Association and watch the original presentation by Urmilla Sowell below.
Resources

For additional information on the essential role of glass in promoting human health, safety and wellness, access the following resources and technical papers from the National Glass Association:

Visit glass.org/ondemand-webinars for related videos, including:

The NGA continues to develop additional resources to address the essential role of glass in promoting occupant health through several task groups. A task group of volunteers is currently in contact with researchers studying the physiological impacts of light on human health and the implications of glazing.
 

Volunteers from the following NGA member companies are leading industry efforts through the task group.

3M
Agnora
Birch Point Consulting
Eastman Chemical
Guardian Glass
Intertek
Kuraray
Northwestern Glass Fab
NSG Group/Pilkington
Oldcastle BuildingEnvelope
Technoform
Walker Glass
Vitro Architectural Glass