NGA 75th Anniversary
Growth and evolution throughout decades of change in the North American glass industry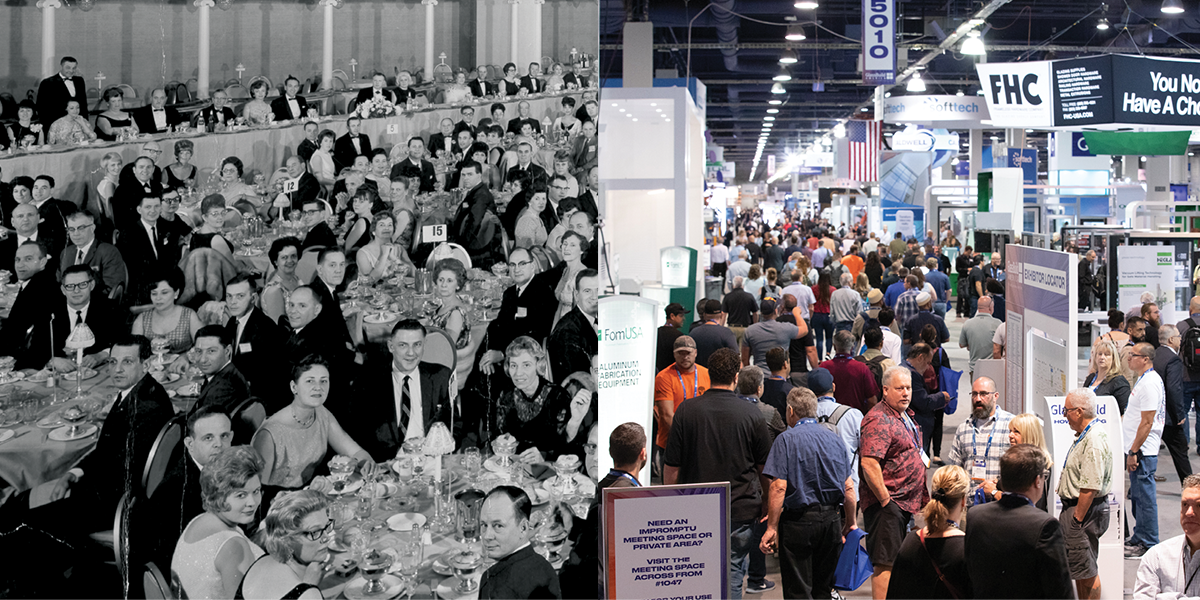 Above: The National Glass Dealers Association at the 16th Annual Convention and Trade Show in New York, 1966, at left. At right, the show floor for NGA's 2022 GlassBuild America: The Glass, Window & Door Expo.
Becoming a prevalent association
In 1948, Israel was founded, and President Harry S. Truman was re-elected in a surprise defeat over Thomas E. Dewey. Cleveland won the World Series and baseball great Babe Ruth died. New York City's JFK Airport, initially called Idlewild Airport, opened.
In 1948, U.S. non-agricultural employment reached roughly 45 million, compared to more than 156 million non-farm workers today. In 1948, the unadjusted median home value was $12,328, and total new construction averaged $1.5 billion per month, compared to nearly $1.9 trillion spending rate in June 2023, according to data from the U.S. Federal Reserve.
And in 1948, the National Glass Association was founded, originally as the National Glass Dealers Association. The group held its first meeting in Dayton, Ohio, with 18 glass dealer members. In 1984, the association changed its name to officially become the National Glass Association.  
In the 75 years following the NGA's founding, the organization became the largest trade association serving the architectural glass and metals industry. The NGA merged with the Glass Association of North America in 2018 and now includes more than 1,800 member companies representing contract glaziers, full-service glass companies, fabricators, manufacturers, suppliers and more. "Since the merger with GANA, the NGA has evolved to be the dominant voice and advocate for the fenestration industry," says Bill Sullivan, president/CEO, Brin Glass Co.
75 years of change
The glass industry "Then and Now" from NGA members

 
The global glass industry has transformed in the previous 75 years, marked by numerous step changes in product and process development that have shaped the industry into what it is today, and the NGA has evolved along with it. "History teaches us the industry has constantly changed and evolved over decades, and so, too, have our trade associations," said Rod Van Buskirk, now-retired president of Bacon & Van Buskirk, at the time of the NGA's merger with GANA.
Several notable industry developments since 1948:
Curved jumbo glass, Salesforce Tower, New York. Photo courtesy of Guardian Glass

Float glass. The NGA was founded four years before Sir Alastair Pilkington invented the modern float glass process, and more than 10 years before float glass production would be put into practice. In 1948, glass manufacturers continued to use a rolled glass process, in which molten glass was fed through continuous rollers, grinders and polishers. Glass made through this process supplied glass for the iconic skyscrapers of the early 20th century.
Unitized curtain wall. A significant development in the evolution of curtain wall technology is the contemporary unitized systems, which are modular prefabricated systems, and have become increasingly common since their development in the 1960s. They are highly sophisticated building assemblies, often custom-designed for the application. They are engineered to accommodate demanding loading conditions that include complex building movements, high wind speeds, missile impacts, seismic movements, blast events and load transfer to the building structure.
Sealed insulating glass. The oil crisis of the 1970s resulted in building energy-efficiency requirements, including demand for sealed double-pane insulating glazing units. The technology was first patented in the 1930s. Further energy efficiency can be realized with coatings such as low-emissivity coatings.
Multifunctional systems. Today's curtain walls must support themselves and transfer any imposed loads to the structure; handle thermal expansion and contraction; provide air and water resistance; insulate to reduce heating, ventilating and air-conditioning requirements; and adjust to building frame movements due to wind load or seismic events.
Performance drivers. Building energy-efficiency concerns bring a sharper focus on facade thermal performance, air infiltration, solar control and the lifecycle considerations of embodied energy. Acoustic performance is a major concern as residential glass towers propagate in dense urban environments. Climate change and the escalation of storm frequency and magnitude introduced the concept of resilience to the building dialogue.
Geometric complexity. The expansive planar orthogonal surfaces of modernist architecture have given way to undulating freeform curves and gemlike facets. Materials that better accommodate these forms—for example, fiber-reinforced polymers, glass fiber-reinforced concrete, and cast and stamped metals—are finding broader use in façade construction.
An evolving mission
Over the years, the NGA has continued to shift its mission to meet the changing needs of the industry. Today, the association is dedicated to elevating the image of glass as a safe, healthy, sustainable and inspiring building product, while also advancing the industry as a viable, thriving and exciting career path. Its four strategic goals: educate, promote, advocate and workforce development.
"The NGA has moved … to [become] a powerhouse industry educator and advocate. Collectively, the NGA allows the industry to focus our attention on items that matter and can benefit all involved, so it's great to see the development," says Kyle Sword, business development manager, NSG Group.
To meet the industry's evolving demands, the NGA has stepped up its education and advocacy activities, particularly in recent years. The association launched Glass and Glazing Advocacy Days in 2022, a two-day annual event that brings NGA and industry leaders to Capitol Hill to meet with congressional members and government agency officials. The NGA was a pivotal voice in the United Nation's 2022 International Year of Glass, a year-long celebration of glass' essential role in society, culminating in a program at UN headquarters in New York City. And the association has continued to develop technical materials and resources to educate the industry on best practices in glass.
"We are a complex industry and explaining the nuances of how our product is made, is used, and how we create value is extremely important," says Sword.
"The NGA is such a wealth of knowledge and an amazingly collaborative space," says Lori Ann Benish, general manager, Enclosures Unlimited Glass Co. "It gives a voice to the industry as a whole, representing all the various niches equally. Being a part of the NGA helps to bring legitimacy to your business and gives tools such as training and technical resources to stand behind your products. It is an invaluable resource in today's educated consumer market."
Recognizing 75 Years

NGA started the year with a rebranded logo. It has continued celebrating its milestone anniversary with pop-up celebrations at NGA events, exclusive content looking back at the glass industry's past 75 years, and special offers for NGA member companies and the industry each quarter. Check out how the NGA is celebrating

 

75 Years in Photos