NGA Resources for Glaziers & Installers
12 Technical Resource Downloads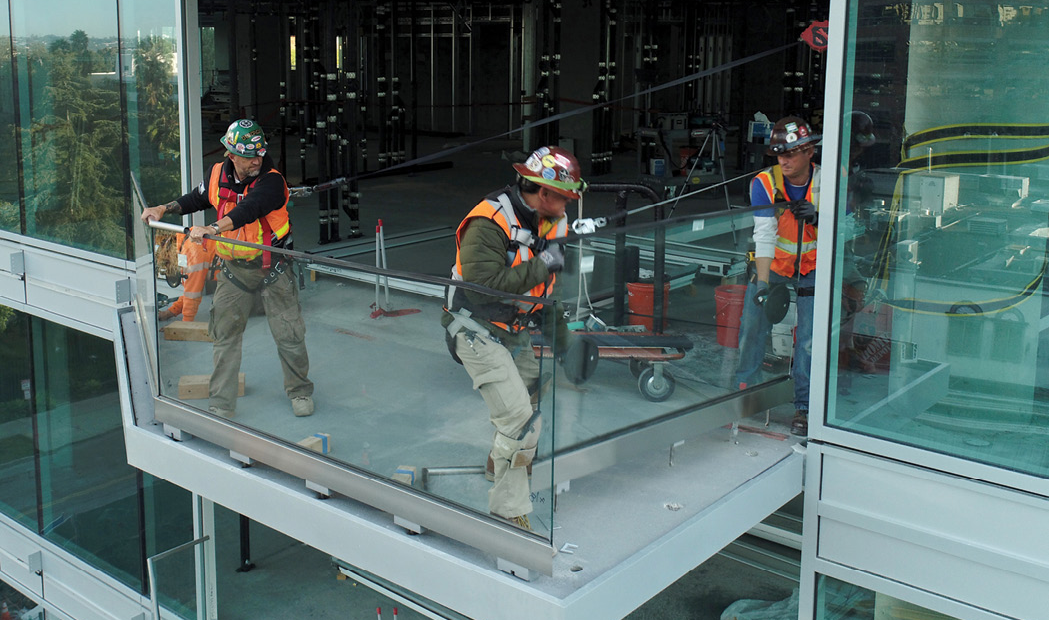 The National Glass Association Installing Committee volunteer members have developed numerous technical resources for glaziers. The following resources are available for download from The NGA Store.
Glass Technical Paper IN01-06. Shop drawings for glass and aluminum windows, curtain walls and skylights must document and detail all requirements of design parameters, material ordering, fabrication and erection. Failure to properly document these requirements can result in numerous errors and project delays.
Glass Technical Paper IN02-09. Today's business climate requires glazing subcontractors to take steps to reduce their agreements to writing, clarify those agreements and limit their exposure. The purpose of this document is to list optional inclusions, exclusions and qualifications for glazing subcontractors to consider adopting. This is not a comprehensive list; it is a tool to assist subcontractors in evaluating their bid proposals. 
Glass Technical Paper IN03-12. Shop drawings are required by subcontractors, whether it is for glazing, metal panels, masonry, precast concrete or any substrate that makes up the exterior façade of a building. The intent of this document is to focus on the key elements of shop drawings designed for detailing glass and metal curtain wall, window, skylight and storefront installations. This bulletin presents a general checklist of items that should be included in shop drawings for fenestration systems and is presented in an "Order of Assembly" format for the documents.
Glass Technical Paper IN04-14. There are various reasons for glass or infill removal from a structurally glazed window system. Reasons might include removal due to glass breakage, for quality control purposes or a desire to upgrade to more energy-efficient glass. The removal of glass from a structurally glazed window system is typically called "deglazing" by the glass and glazing industry.
Glass Technical Paper IN05-17. Building Information Modeling, or BIM, is an intelligent, model-based process that starts in the early stages of planning and design. It is used through construction and can also be used throughout the operational management stages. BIM projects can display the proper graphics at different scales, represent accurate geometry, and be rich with manufacturer product data. 
The CFSM is meant to offer those new to either the architectural, glazing or construction industries an entry-level primer into what makes curtain walls functional, cost-effective and efficient in terms of their design, fabrication, installation, and long-term performance over the life of the building where they are used. This manual covers systems descriptions, design parameters, pre-construction and onsite testing (to ensure expected performance), how manufacturers use shop drawings to convey the design intent of the architect, and how systems are installed onsite. Latter sections cover applicable industry standards, the most common building codes and other glazing industry standards.
The purpose of this Guide is to assist glaziers/glass installers in complying with all appropriate glazing requirements. It is intended primarily for architectural glazing contractors, replacement glass installers, architects, plan reviewers, building inspectors and specification writers.
More than 100 technical publications are now available for download on glass.org, including 20 manuals, 88 glass technical papers and three Design Guides.
Sorted in alphabetical order for easy reference, this glossary is a comprehensive list of 1,800 terms used in architectural glass and glazing industries. The glossary was first published to commemorate the International Year of Glass 2022.
NGA's GANA Glazing Manual includes complete information about primary and fabricated glass products, quality standards, design considerations, general and specific glazing guidelines and glazing in hazardous locations.
The new GANA Sealant Manual provides guidelines for the selection and application of sealants used in exterior and interior glass and glazing installations. Manual sections include causes of sealant failures, structural glazing and glazing accessories.
This Laminated Glazing Reference Manual is an updated edition of the original manual developed by the Glass Association of North American (GANA) in 2009. This manual presents useful information, technical and performance data and the installation guidelines for laminated glass products.
This Design Guide discusses thermal bridging as it pertains to the thermal performance of fenestration systems and their interface with the surrounding conditions, which are now typically part of the glazing subcontractor's scope of work (as determine/assigned by general contractors). Beyond the U-factor of the window or curtain wall itself, how the fenestration system is installed and interfaces with the surrounding wall or roof assemblies can affect the overall thermal performance of the building envelope.