Project of the Year and Best Feat of Engineering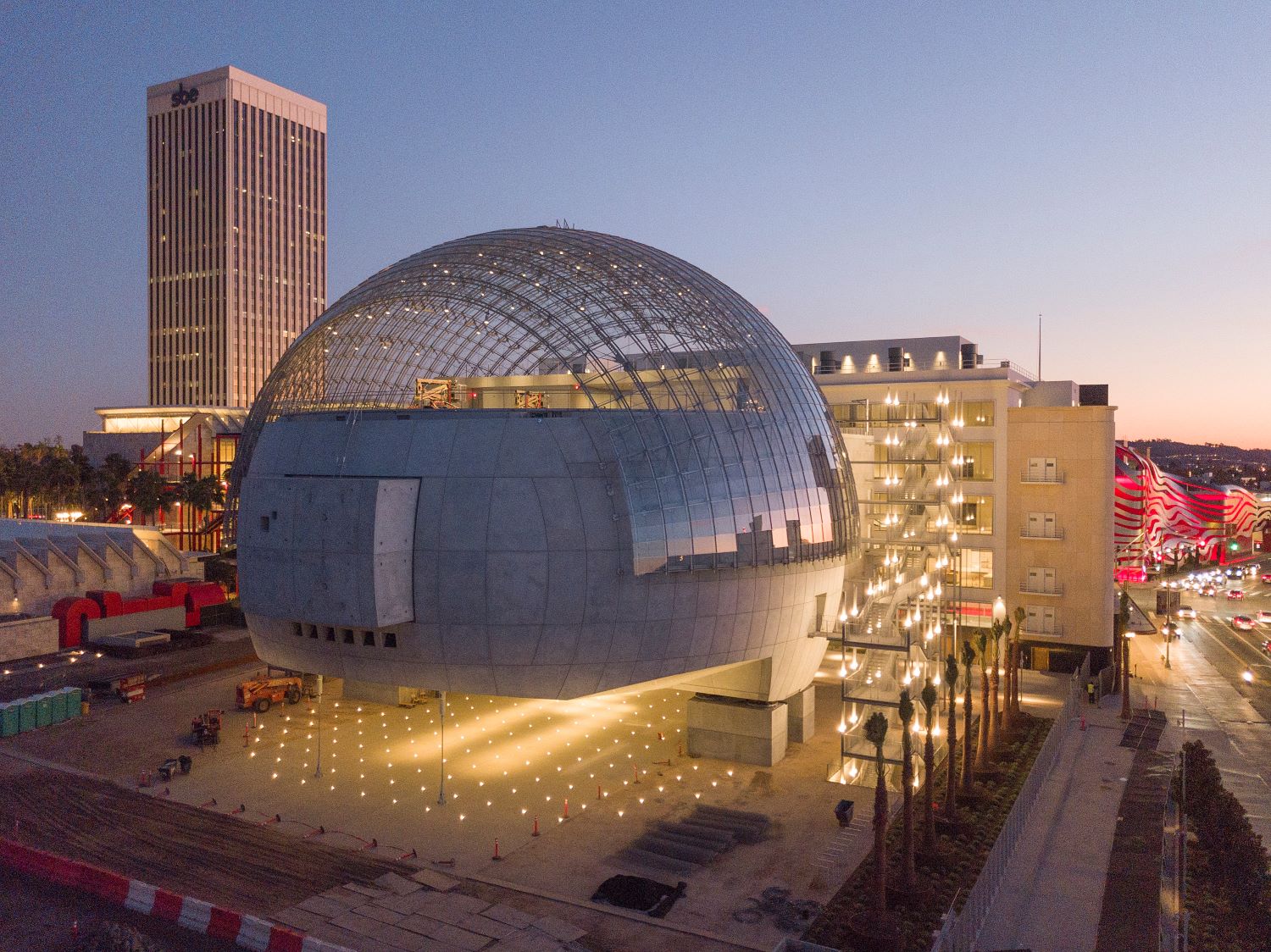 Photo credit: Patrick Price
Academy Museum of Motion Pictures | Los Angeles
Nominating company: Knippers Helbig
Steel and glass dome
30,000 square feet of terrace space
Shingled glass surface
Winning Team

Engineering: Knippers Helbig Advanced Engineering
Glass manufacturer: Saint-Gobain
Glass fabricator: Eckelt Glas
Interlayer manufacturer: Saflex, by Eastman Chemical Co.
Metal systems supplier/installer: Permasteelisa North America, Josef Gartner
Executive architect: Gensler
Architect: Renzo Piano Building Workshop
The grand steel and glass dome of the new Academy Museum of Motion Pictures captured two prizes in the 2021 Glass Magazine Awards: Project of the Year and Best Feat of Engineering. The impressive dome covers about 30,000 square feet of terrace space with a spherical gridshell, providing rain and solar protection for the special exhibition and event space.
"The purity of form and the rigorous nature of the engineered solution are by far the best example of an inspired and elegant engineering solution," says Glass Magazine Awards judge John R. Stephenson, senior architect, BRPH. "The solution presents an iconic architectural element that is both memorable and engaging."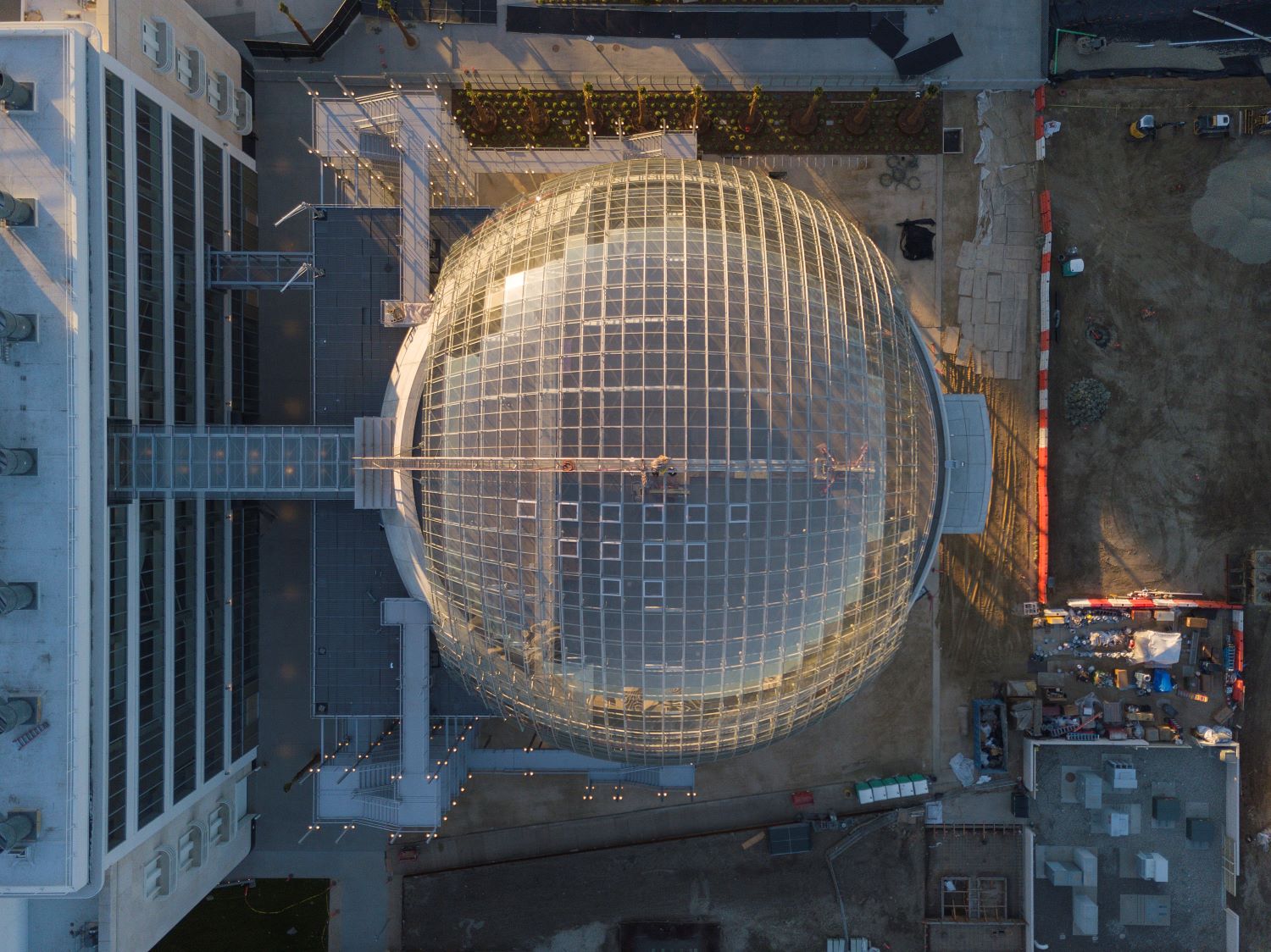 For the project, the Knippers Helbig team aimed to design a transparent and lightweight glazing system on top of the structural steel layer of the sphere, says Florian Meier, associate director, Knippers Helbig. While form-optimized gridshells had been exhaustively studied and successfully built, achieving similar lightness and structural performance for "not optimal" shapes, such as spheres, required creative engineering and innovative combinations of systems to make the structure work, he says.
The Knippers Helbig team also had to design for an environment that would experience very high winds. As a solution, the team designed the glazing system as a shingled glass surface over the immoveable structural steel dome, says Meier, meaning that the individual glass panels overlap slightly and can withstand significant movement. The shingled design was achieved by supporting glass panels on only two sides with T-profiles.
"Buildings with curved glazing systems are always challenging," says Glass Magazine Awards judge William Green, market team member, Technoform. "The engineering in the form-optimizing gridshells, balancing the challenges of lightness and structural performance in handling rhombic distortions, and maintaining the water tightness for the dome structure is no small feat, and a remarkable achievement."
The use of flat laminated glass panes in an overlapping shingled system with only supports on two sides of the glass allowed for the glass dome to be transparent, but at the same time presented engineering challenges for the team, says Meier, as the glass roof needed to also be accessible for maintenance and window washing personnel. The maintenance features of the roof―amongst others, a catwalk approaching the top of the dome, supported by the structure―are not hidden, but purposely expressed and integrated architecturally, which made the structure even more complex, Meier says.
The Knippers Helbig team used FEM software to create a safe structural solution for window cleaning personnel. Their analysis resulting in the addition of structural silicone joints at the horizontal joint between glass panes and allowed one glass panel to be supported by the neighboring glass panel, says Meier.
"The purity of form and the rigorous nature of the engineered solution are by far the best example of an inspired and elegant engineering solution. The solution presents an iconic architectural element that is both memorable and engaging. —Glass Magazine Awards judge, John R. Stephenson, senior architect, BRPH