Safe + Beautiful + Frameless
Top guidelines and considerations for frameless shower enclosures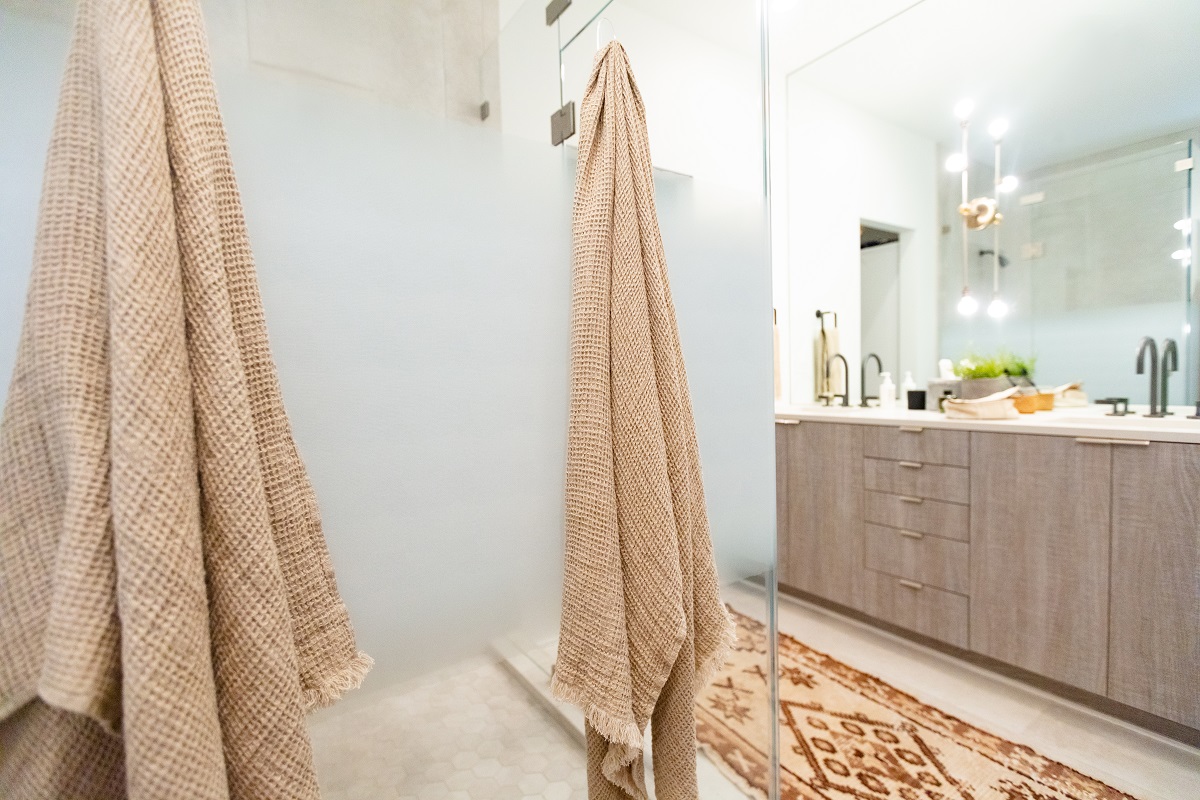 Frameless glass shower enclosures can add a contemporary aesthetic to residential and commercial bathroom designs. Frameless shower enclosures are constructed of clear, translucent or opaque tempered glass, with optional colors, tints and textures. According to the International Building Code, shower enclosure glass must be safety glazing meeting the impact requirement of the federal standard, Cat II of CPSC 16 CFR 1201.
This article will discuss design considerations for frameless shower enclosures including doors and fixed panels, dimensional tolerances and limitations, hardware and structural support, visual quality expectations, and cleaning and maintenance guidelines.
What glass should be used in frameless shower enclosures?
This category of shower enclosure typically uses monolithic tempered glass a minimum of 3/8-inch or thicker. Laminated glass may be used when glass retention after breakage is desirable. Consult the interlayer manufacturer for structural properties and durability in wet and humid environmental conditions.
What does "frameless" mean when it comes to shower enclosures?
In operating panels, "frameless" refers to the swinging, sliding, or moving panel(s) of the enclosure with no full-length metal attachments on the top, sides or bottom.
For stationary or sidelite panels, the "frameless" definition may or may not apply. The use of framing to support a stationary panel depends on the intended function of the stationary panel, including water management and structural support.
For water management, a short, narrow stationary panel that is primarily intended to stop water from escaping the enclosure, for example, can be secured with a few clips, channels on the bottom and one vertical edge or even a vertical silicone butt joint to another piece of glass.
Some sidelites are also intended to provide structural integrity to the unit in terms of:
Carrying the load of sliding or hinged doors where the sidelite may only have one exposed frameless edge because a header must be used for safety and functionality.

Supporting the size and weight of the sidelite panel itself; the taller and wider a panel, the more bracing or anchoring would be required.

Withstanding loads related to people leaning or falling into the panel. This may be necessary when a panel is installed in a high-contact or high-traffic area of an enclosure.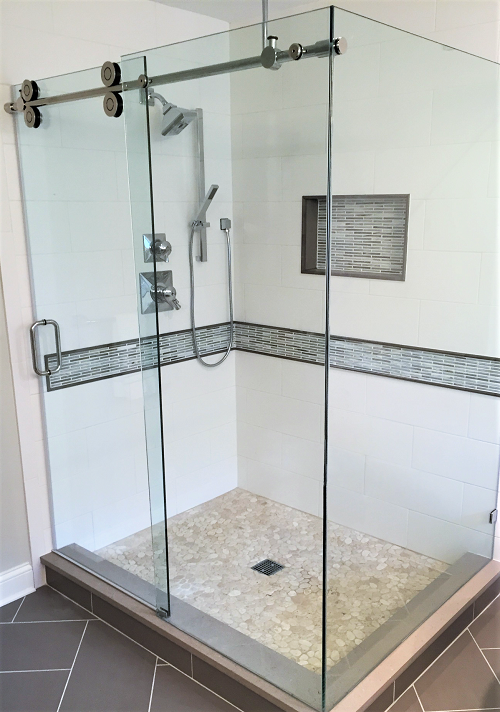 Will a frameless shower leak? 
A frameless shower enclosure is not the same as its framed or semi-frameless counterpart. There is minimal use of hardware, leaving an all-glass look. This all-glass look does not allow for a kit that is assembled and has aluminum extrusions that interlock into one another, preventing water from leaking. An end user should be prepared for these differences and have expectations that align with this knowledge. A frameless shower is not an aquarium, meaning it will not hold water without any leakage.
The amount a frameless shower will leak is dependent on various factors. The primary factors are the configuration of the shower itself and the type of enclosure being installed. There are some showers that, by virtue of their design, will not have water escape. For example, a very large shower with the door far away from the water source will be unlikely to leak water outside of the enclosure.
A shower type on the other side of this spectrum may be, for example, a corner-installed enclosure of small proportions, which would be almost guaranteed to leak. Most showers fit somewhere between these two extreme examples.
Clear plastic seals do assist in minimizing water escape. However, they do not ensure a leak-proof shower.
How should specialty glass be treated?
For patterned glass, install with the smooth side facing inside the shower. Selecting a pattern glass with no smooth side is not recommended. Alternatives to using patterned glass for obscurity include acid-etched and sandblasted glass.
Special considerations for hardware may be required when using high-relief or deep-patterned glass types. Some deep patterns or cast glass will not fit standard channels and/or hardware with a pre-made flat area, and these combinations of glass and hardware should be coordinated regarding size compatibility prior to final selection.
Glass coatings can also be used in frameless shower enclosures. Glass manufacturers can provide float glass with glass coatings that can be tempered. Glass fabricators and installers can provide coatings that are applied after tempering.
When using coatings applied by the glass fabricator or installer, the installer should verify with the coating manufacturer whether the coating may cause slippage if applied at the location(s) of the hardware attachment. The installer should determine what locations, if any, should be free of coatings. Contact the coating manufacturer for appropriate cleaning instructions. Cleaning products approved by coating manufacturers may vary from manufacturer to manufacturer but will typically be non-abrasive. Coatings can be damaged by using unapproved cleaning products or cleaning processes.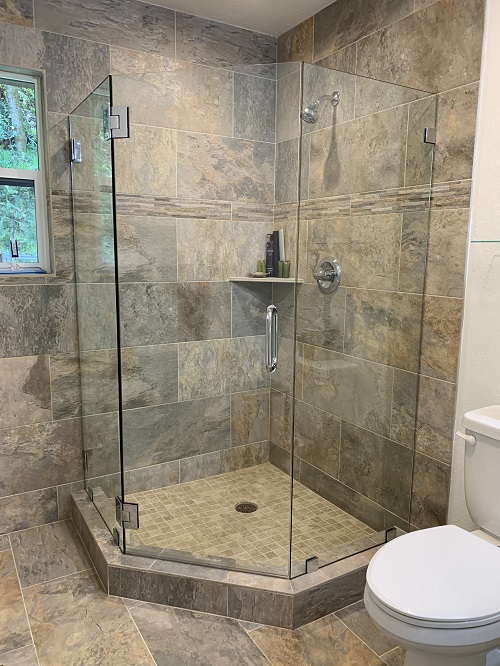 What are the width and weight limits on operable doors?
The width and weight limitations for operable doors—sliding and swinging—are determined by the manufacturer of the selected hardware. Hardware manufacturer width and weight limitations should be followed and maintained. No implied performance should be assumed based on any similarities in hardware from different manufacturers. Strict adherence to the manufacturer's specifications is required. Structural wall construction is normally required to support the weight of a side-mounted hinged door.
(See the design guide for recommendations and details for single doors with three-wall mounting hinges.)
What are the size limits for fixed panels?
The vast majority of frameless shower enclosures are assembled using 3/8-inch and ½-inch-thick glass. Glass thickness is typically determined based on three factors: total height, total width and total square area. (See the complete design guide for industry-standard panel size and thickness limitations based on the panel support configuration.)
Generally, the maximum height for 3/8-inch glass is 84 inches, regardless of the width, when supported on two vertical edges and the base, or on two horizontal edges. The maximum height for ½-inch glass is 120 inches, regardless of the width, when supported on two vertical edges and the base, or on two horizontal edges.
The maximum width for 3/8-inch-thick glass with an unsupported corner is 30 inches, if full height and/or adjacent to a door. The maximum width for ½-inch-thick glass with an unsupported corner is 36 inches, if full height and/or adjacent to a door.
What are the weight limitations for fixed panels?
Maximum panel weight considerations vary significantly depending upon whether the fixed panels are floor supported or suspended.
For the case of fixed panels that are floor supported, when the panel is installed plumb, there is no real weight for the clamps to support. A plumb fixed panel, conceptually, has no reason to "fall" one way or another. If the glass is reliably resting on setting blocks at the bottom, and is installed plumb, there would not normally be a need to put weight limitations on a fixed panel, assuming the substrate upon which the panel is resting is sufficient to support the weight.
Suspended panels are not recommended in a frameless shower enclosure.
What are the glass fabrication tolerances that should be followed?  
ASTM C1048 Standard Specification for Heat-Strengthened and Fully Tempered Flat Glass provides fabrication guidelines for tempered glass including, but not limited to, holes, notches, cutouts, minimum dimensions and tolerances. Some hardware may require fabrication to more stringent tolerances than ASTM C1048 guidelines. In those instances, the purchaser should consult with the glass fabricator.
When should a design professional be consulted?
Contact a design professional for designs that feature 3/8-inch-thick glass over 84 inches, and ½-inch-thick glass over 120 inches in height. Additionally, consult a professional regarding hardware weight limitations based on substrate material or support capability. Examples of substrates requiring further considerations include walls with the tile applied directly on drywall without stud framing behind the fastening location, or installation directly on drywall with no cladding or cover material.
What else is in the design guide?
The complete 15-page design guide offers additional guidance and detail on the topics addressed in this article, in addition to design recommendations and details for single doors with three-wall mounting hinges, maintenance and cleaning tips, guidelines for retrofit installations, and more.
The guide provides numerous reference tables for: fixed panel height limitations for frameless glass panels; fixed panel size limitations for frameless glass panels with an unsupported top corner; glass fabrication requirements for frameless shower enclosures; allowable point blemish size and distribution for cut size quality; and allowable shell chip size and distribution for cut size and stock sheet qualities. The guide also includes figures demonstrating the concepts and guidelines addressed in the guide.
Task Group Members

The following NGA member volunteers developed the Frameless Shower Enclosures Design guide:

Danny Donahue, task group chair, Frameless Hardware Company
John O'Brien, Haydee Ortega, C.R. Laurence Co.
Curtis Massey, dormakaba
Earl Mercado, Matt Pruden, Hartung Glass
Mitch Goodman, HMI Cardinal
Andrew Chatfield, Morse Industries
Melissa Szotkowski, Rick Wright, Oldcastle BuildingEnvelope
Devin Gammon, Triton Glass
Ron Biberdorf, Jeff Haberer, Scott Welch, Trulite