Steps to Success with Large Glass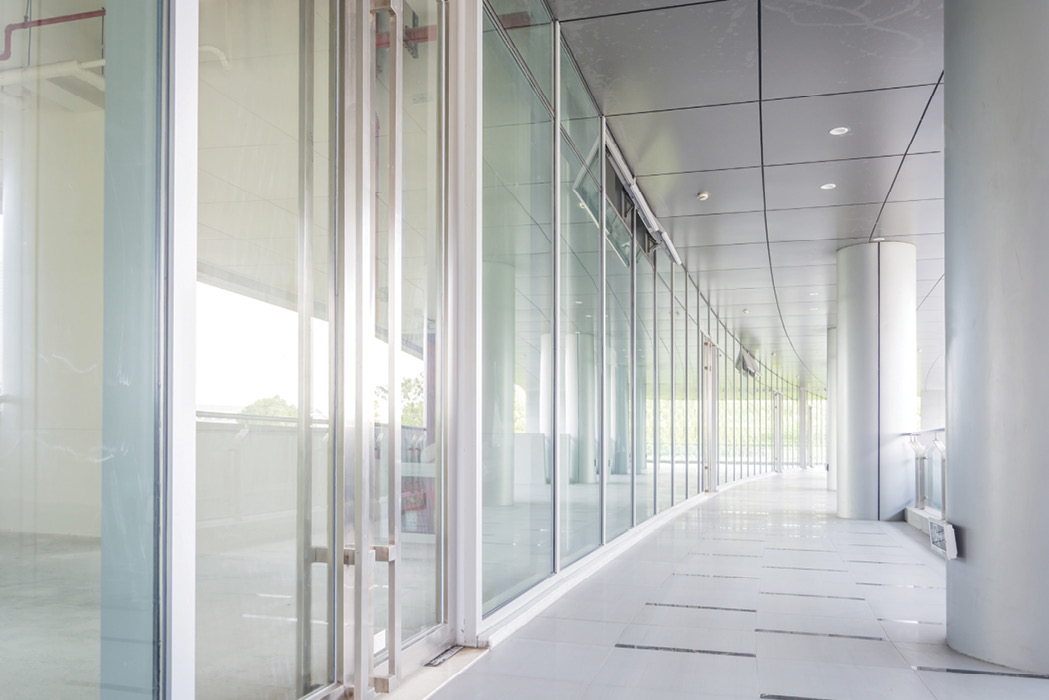 Is size the next big thing in glazing? The answer looks to be "yes," if you ask the 64 percent of Glass Magazine Top Glass Fabricators that fabricated jumbo glass in 2020 and the 38 percent of fenestration manufacturers that plan to focus on larger windows and doors in 2021 according to Window+Door's Top Manufacturers report. 
There are a few reasons for this, namely a desire for all-glass design and statement-making architecture and interiors. In both residential and commercial settings, adding an all-glass balcony and railing or a large bi-folding or sliding door can easily transform indoor and outdoor square footage into another space to enjoy. Modern shower enclosures are also growing in size, whether in a glass walk-in enclosure or a tall sliding door.
Prepare for the trend toward larger sizes 
1. Look for a new generation of glazing systems
Hardware plays a crucial role as glass panels grow in scale, and it takes a toll as human strength is forced to rely on effective hardware to operate the large systems.
So, how does the industry manage larger glass sizes with growing demand for slimmer, more discreet hardware and ever-evolving building code requirements? This new generation of door and wall glazing systems requires increased functionality to accommodate higher carrying loads and acoustical concerns while maintaining beautiful aesthetics. 
Look for hardware systems that are minimalistic but structurally sound and tested, or partner with a provider to custom-design and develop a glazing system tailored to your specific needs. This could mean larger bottom rollers for heavy sliding doors or luxury shower door hinges with higher carrying loads. If a system is not tested, it would be appropriate to involve a structural engineer. 
Glaziers are bringing even more value to installations with the know-how to accommodate larger glass and, ultimately, exploring new opportunities for what a building can do.
2. Rethink installations
In many instances, the installation process must be completely reconsidered with larger glass sizes, and it's imperative that the hardware is not an afterthought for the glazier or architect. For example, with a narrow-framed door, is the selected hardware going to support a 200-pound piece of glass? Does a floor closer or hydraulic hinge need to be considered? 
Suction cups—larger, heavy-duty ones—become more important than ever with tempered glass that can weigh nearly seven pounds per square foot. Selecting the right type for the job makes the process easier when relying on sheer manpower and appropriate training. The Door and Hardware Institute offers a number of relevant courses and accreditations to ensure your employees are up to date.
On the flip side, unitized systems, which are prefabricated to a project's specs and sent to a jobsite for easy installation, offer a solution to combat the need for additional onsite tools.
3. Prepare for what's next
There's no question that glaziers continue to innovate in process and product choice to meet architects' requests for slim, minimal hardware. As glass panel sizes grow, it's only natural that the glass will flex, which can have an impact on thermal properties and natural deflection.
But energy efficiency and other environmental concerns remain top of mind in building codes, making all-glass building design even more complex. The National Glass Association's 2020 update to the Heavy Glass Door Design Guide is a fantastic resource on glass and hardware capabilities, and how they work together.
We've seen glaziers consider thicker exterior glass to withstand wind loads. Framing the glass or using spacers can give it even more rigidity. Adding foam inside of thermal extrusions or film atop the glass can provide additional thermal support.
The more we learn about larger glass, the more product innovation we see, for example, testing panic handles that can bend with a glass panel. Other factors to consider in planning and installation are usability, durability and ADA compliance. 
Growing glass sizes could be considered a challenge, but glaziers and their partners have taken the challenge head-on and continue to keep glass at the forefront of building material specifications.