Top 50 Glaziers 2022
Glazier sales stabilize as market instability remains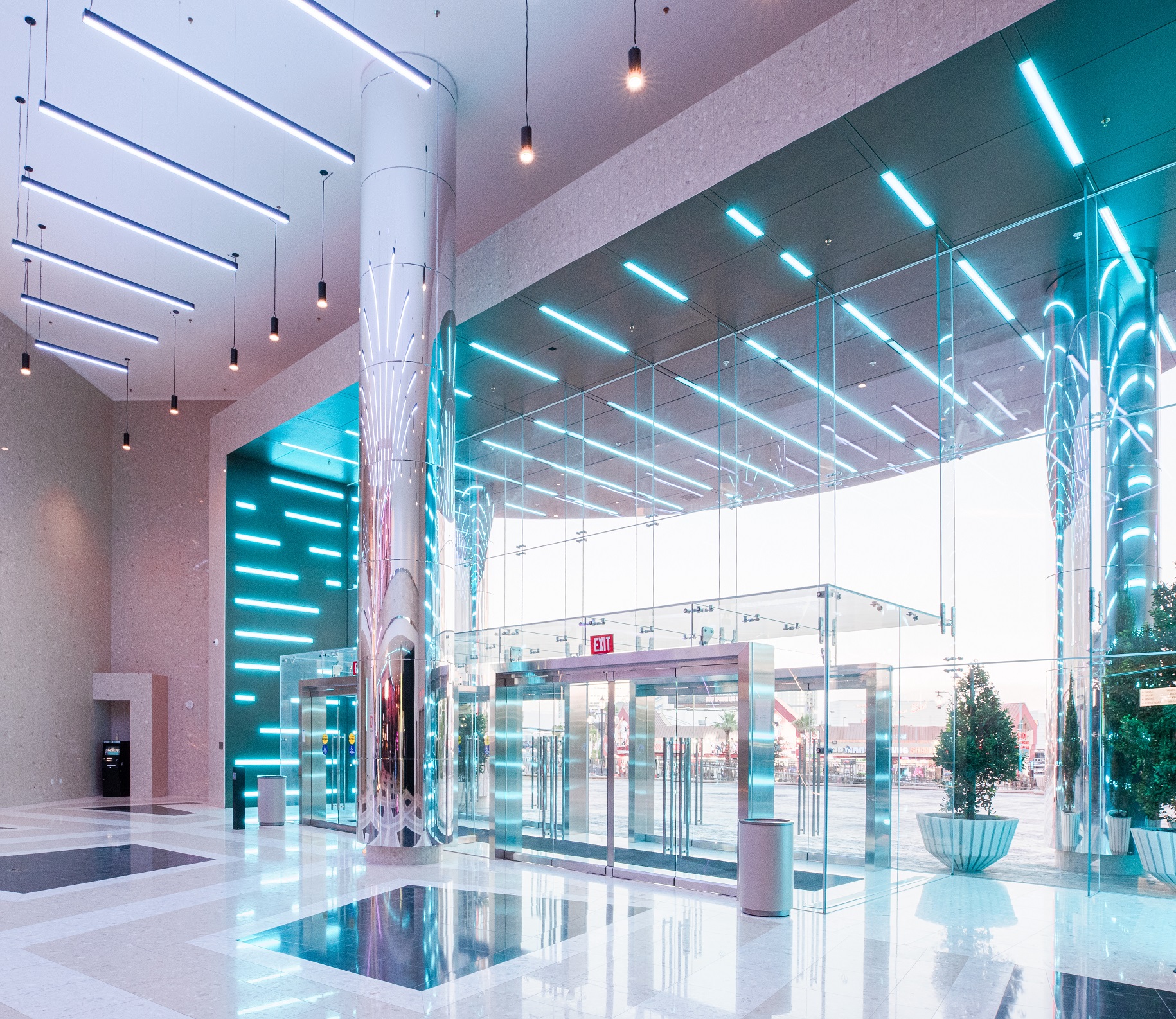 Glazing contractors are seeing work return. Glass Magazine's 2022 Top 50 Glaziers posted gross sales of an estimated $3.8 billion last year, up from $3.1 billion in 2020, and marking a return to pre-pandemic gross sales.
But while work may have returned, stability has not. Glazing contractors are facing market and project conditions that are better than at the start of the pandemic, but still very difficult. "We have a better than ever backlog, but our struggle is the surprise increases in costs of materials and lead-times," says John J. Cashel, owner of Above All Storefronts.
Supply chain, lead times and material costs and shortages have plagued glaziers this year, as they have for companies globally, requiring contractors to change how they do business. "Preplanning is a must, as we encounter supply chain delays," says Cassie Harker, president, Pacific Glazing. "Shortages are being seen in raw material supply, due to workers out due to COVID, and not having enough workers."
Glaziers of course also face potentially unique challenges in project delivery, being one of the final trades onsite.  "As a glazing sub we can order in advance but the general contractors, and other trade partners, might not be on top of the supply chain issues, and their work must start before our work, so the project can still be delayed. That makes scheduling a challenge, and makes it difficult to retain our field and shop workforce," says Harker.
The 2022 edition of Top 50 Glaziers marks the 30th anniversary of Glass Magazine's annual standout industry report and ranking. Top 50 Glaziers offers data and analysis regarding the growth and obstacles facing glazing contractors working in the North American market. 
The report offer a historical look at glazing contractor sales, as well as a breakdown of market opportunities, product and equipment investment, and challenges on the horizon. And of course, the report includes the annual Top 50 Glazier list, featuring leading U.S. glazing firms ranked by annual sales volume. 
2022 Top 50 Glaziers Report
More 2022 Top Glaziers Report
The digital edition of Glass Magazine contains additional information about companies on the Top Glaziers list and additional survey results.
Read the digital edition (pdf) 
Find the 2022 Top Glaziers List at the end of this online report. More details about companies, including the location of additional offices, number of full-time employees, total number of employees and contact information is also available for download at the NGA Store.
Year-over-year sales
51%
More competition for projects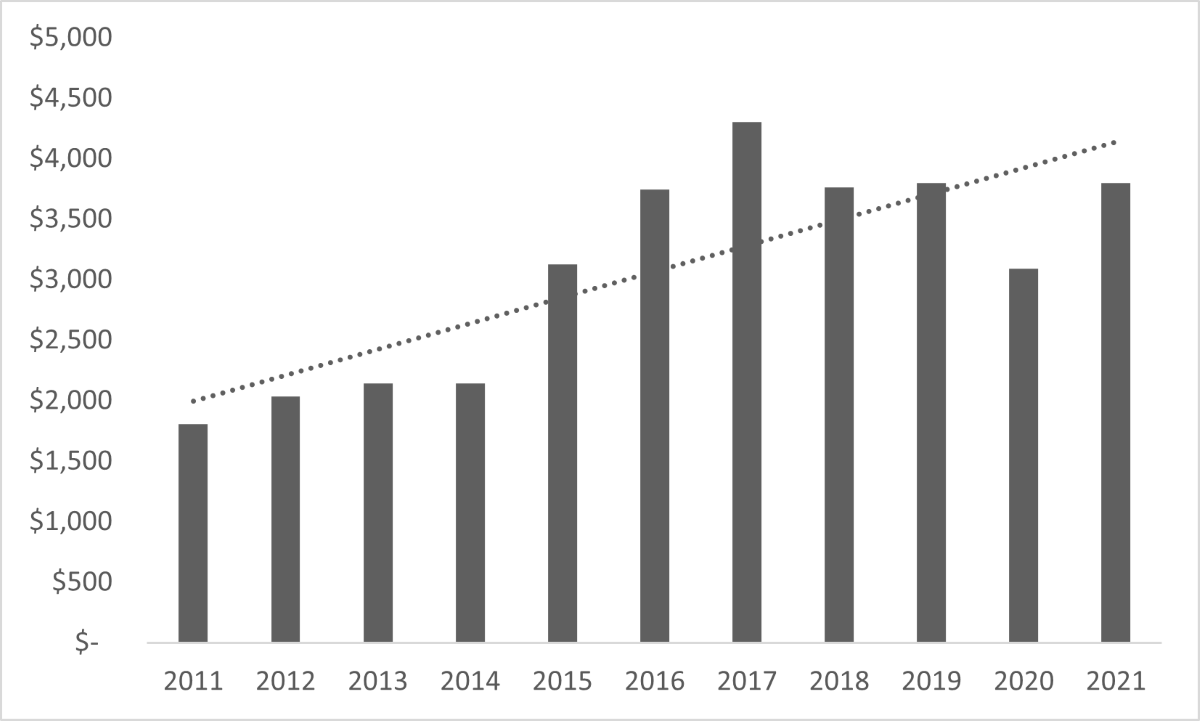 Sales + Growth
Top 50 respondents post increased sales as stalled projects rebound
Individual Top 50 respondents reported higher gross sales in this year's survey; 54 percent said gross sales in 2021 were higher than the previous year. Only 44 percent of respondents in the 2021 survey reported higher sales.
Market indicators including profit margin and competition for projects appear to have remained flat across 2020 and 2021, but bid levels have increased, according to respondents; 45 percent said bid levels had increased in 2021, compared to only 28 percent in last year's report.
Growth | Backlogs are deeper

6 months or less 8%
7 months to 1 year 29%
1 year to 18 months 27%
18 months to 2 years 27%
2 years or more 10%
Companies are also reporting slightly larger backlogs. Only 19 percent of 2021 respondents said they had a backlog of 18 months to 2 years, but 27 percent of 2022 respondents said their backlog was now at this level.
By geographic region, the Southwest and West did not become growth regions, as predicted by last year's respondents. Instead, East Coast projects appeared to dominate, as Northeast and Southeast regions were reported to show the most growth. Several survey respondents attributed the growth to projects restarting after pandemic delays. 
The Southeast may also be seeing a general population increase; one survey respondent explained the region's building growth as due to, "The increase in new capital/wealth, tech companies, the cost of living, the building of multi-family high-rise buildings and communities, and a high quality of life."
Market + Services
Construction segments shift, and glaziers take on in-house fabrication
Construction segments

Office construction leads segments, but sees slight decrease year over year

Commercial

Office buildings 

26.7%

Retail 

8.0%

Hotels 6.5%

Institutional

Health care 

13.5%

Education 12.5%

Government 

3.5%

Other

Multifamily 

19.1%

Residential 

4.2%

Entertainment/Sports 3.3%

Transportation 2.7%
Top 50 Glazier respondents reported working in fairly similar, thought shifting, construction segments in 2021 as compared to the previous year. Office construction still leads the commercial market, though only 26.7 percent of glaziers' reported work was in this area in 2021, down from 31 percent in 2020 and 33 percent in 2019. Reported multifamily construction projects saw a slight increase to 19.1 percent from last year's 16 percent.
Project delivery methods shifted in 2021, as respondents posted a greater variety of project delivery types. Almost all, 98 percent, of last year's respondents said they had worked on a project with design assist, but that number fell this year to 75 percent. Design-bid-build rose 10 percentage points among this year's respondents. 
In-house curtain wall fabrication increased from last year, with 48 percent of fabricators saying they do manufacture the systems in-house. Glaziers report continued challenges to in-house work, both pandemic-related and not; as one respondent said, "lack of space, storage and transportation," all affect in-house curtain wall fabrication. 
Specialty glass 2021

*Respondents selected all specialty glass products encountered on a 2021 project       

Ballistic or bullet-resistant glazing 68%
Curved or bent glass 63%
Jumbo glass 59%
Bird-friendly glass 44%
Electrochromics 42%
Glass stair treads or floors 22%
Other specialty glass (handrail, impact-resistant, fire-rated, mirror) 14%
BIPV 8%
VIG 5%
More respondents in the 2022 survey, 17 percent, also said they were fabricating glass in-house, up from 9 percent in the 2021 survey. Responses show that glaziers are supplying a range of common fabricated glass type—insulating, tempered, laminated and decorative—as well as mirror and other specialty glasses.
2021 capital acquisitions        

Fabrication equipment 69%
Software 67%
Trucks 65%
Handling equipment 57%
Capital investment trends remained somewhat similar among glaziers, though 10 percent more respondents reported investing in trucks this year, an expected shift given the shortage of transportation options and labor. 
Shifting challenges
53%
Harder to find workers in 2021 compared to 2020
Labor + Challenges
Working Around Unpredictability
Supply chain issues top challenges

Respondents selected all notable challenges faced in 2021

Supply chain 87%

Lead times 65%

Labor shortage 59%

Difficulty getting building materials 38%

Logistics/transportation and trucking 29%

Scheduling 19%

Economic slowdown 17%

Growth in pre-contract work 10%

More complex curtain wall designs3%
Supply chain troubles became this year's largest challenge for glaziers, a stark change from last year's report, when only half of glaziers said they were experiencing supply chain issues. This year, 87 percent say that it will remain a major headwind for 2022, followed by lead times and the ongoing, and worsening, labor shortage.
"Supply chain issues, longer lead times and labor shortages are the top threats to our business next year. We are growing and will need to be able to overcome these challenges to succeed," says Scott Coulter, chief financial officer, Dynamic Glass.
Lead times and material costs posed a significant challenge, not least because of the unpredictability. "Obtaining commodity materials such as aluminum and glass have exponentially gotten more difficult—lead times have increased and continue to do so. Projects are rapidly starting back up, so the demand is up for such items, and this poses challenges in locking in on inventory and cost," says Ray Crawford, president, Crawford-
Tracey Corp.
Labor remains a barrier to growth, and 53 percent of respondents said they had more difficulty finding workers last year, compared to only 36 percent in 2021. Field labor remains the most difficult to find, and more companies this year found it difficult to hire project managers, as compared to last year's report.
Employee training methods

Training with experienced employees 82%
In-house training program 75%
Outside apprenticeship program 30%
Company-run apprenticeship program 23%
Outside training program 13%
None 2%
Training new staff, necessary for employees lacking relevant skills, may also stress the existing labor force. "We have found some success in hiring under-experienced people and developing them to the roles we need them in, however, this has put a huge strain on the manager who trains them," says Matt Aragon, director of preconstruction, Aragon Construction.
Slightly more respondents, 23 percent this year versus 14 percent in 2021, said their company offers a company-run apprenticeship program.
The List + Partners 
Glass Magazine's Top 50 Glaziers celebrates 30 years this year and remains the longest-running glass industry ranking. Companies are included in this list based on company and financial data that are self-reported by survey. Glazing companies on this list are ranked by gross sales. Some companies chose not to disclose financial and company information, and their listing reflects previous year submissions or research.  
It is only with industry cooperation that Glass Magazine can continue to compile the most accurate list of leading industry glaziers. If your company belongs on this list, or you want to update its information, contact Norah Dick, associate editor, at ndick@glass.org.  
* Sales and company information are not confirmed by the company, but are based on data from previous years.
OVER $200 MILLION
1. Harmon Inc. | Bloomington, MN    
2. Yuanda USA Corp. | Chicago    
3. Elicc Americas Corp. | Poway, CA  
4. MiTek/Benson Curtain Wall and Glass Divisions | Portland, OR  
5. Enclos Corp.* | Eagan, MN            
6. W&W Glass | Nanuet, NY
 
$100-200 MILLION
7. Crown Corr Inc. | Gary, IN            
8. Binswanger Glass | Memphis, TN                       
9. Flynn Group of Companies | Toronto            
10. Karas & Karas Glass Co. | Boston, MA 
11. Massey's Plate Glass & Aluminum | Branford, CT  
12. Permasteelisa North America* | Windsor, CT  
 
$50-100 MILLION
13. NR Group | West Palm Beach, FL
14. Dynamic Glass | Houston            
15. Pioneer Cladding and Glazing System | Mason, OH            
16. TSI Corp. | Upper Marlboro, MD            
17. Giroux Glass | Los Angeles    
18. Egan Co./InterClad | Champlin, MN   
19. Momentum Glass | Spring, TX
20. Eastern Glass and Aluminum | Norcross, GA
21. Above All Store Fronts | Hauppauge, NY            
22. Cherry Hill Glass Co. | Branford, CT            
23. SPS Corp. | Apex, NC      
 
$30-50 MILLION            
24. Lafayette Metal and Glass | Hauppauge, NY    
25. Architectural Wall Systems | Des Moines, IA  
26/27/28. Countryside Glass and Mirror | St. Petersburg, FL 
26/27/28. Haley-Greer | Dallas
26/27/28. Ranger Specialized Glass Inc. | Houston
29. Glass Solutions Inc. | Itasca, IL
30. Ajay Glass Co. | Canandaigua, NY  
31. Kensington Glass Arts Inc. | Ijamsville, MD  
32. Alphacladding | Doral, FL
33. Lindner Facades Inc. | Colmar, PA
$15-30 MILLION
34. R & R Window Contractors Inc. | Easthampton, MA
35. RynoClad Technologies Inc. | Ontario, CA  
36. Anderson Aluminum Corp. | Columbus, OH
37. Aragon Construction Inc. | Montclair, CA
38. MY Shower Door | Ft. Myers, FL
39. Progress Glass Co. | San Francisco
40. Alexander Metals Inc. | Nashville, TN
41. seele Inc. | New York City     
42. National Enclosure | Ypsilanti, MI          
43. Metropolitan Glass Inc. | Denver  
44. Dallas Glass | Salem, OR
45. Denison Glass & Mirror Inc. | Denison, TX     
46. Pacific Glazing | Hollister, CA      
47. H.J. Martin and Son | Green Bay, WI     
48/49. Key Glass Inc. | Bradenton, FL     
48/49. Tepcoglass LLC | Dallas  
50. Crawford-Tracey Corp. | Deerfield Beach, FL 
*Company information, including gross sales, is an estimate and is not confirmed by the company.  
Partners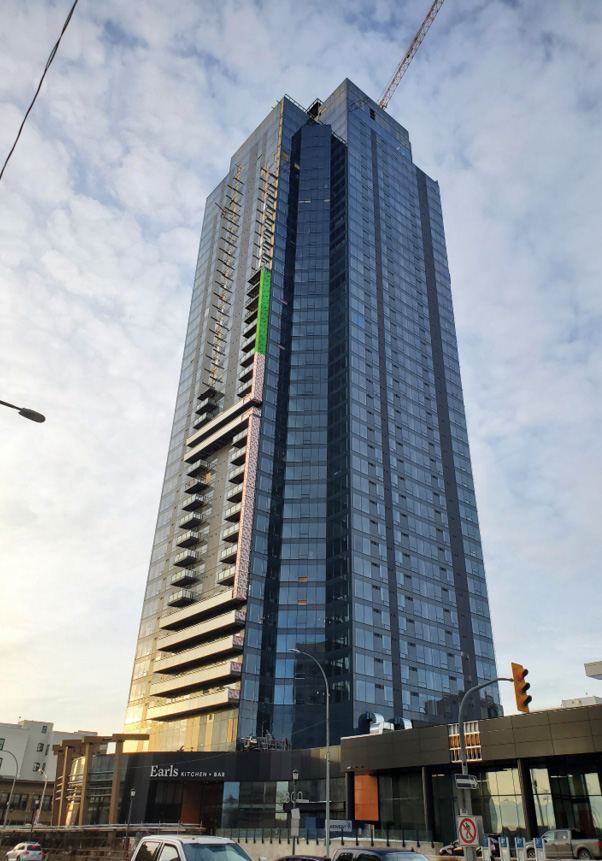 In an effort to recognize stand-out glazing partners, no matter their annual sales volume, Glass Magazine looked to industry suppliers for recommendations. As part of the 2022 Top Glass Fabricators annual survey, Glass Magazine asked leading fabricators to nominate the exceptional glazing partners they worked with during the previous year. 
Border Glass & Aluminum | Winnipeg, Canada
"[The project we worked on together] is the tallest tower in the Central Prairies of Canada up to Toronto.  Border is an excellent partner, bringing all teams/partners of the project together to create a plan and work together to ensure everyone is successful and works together to overcome any challenges that arise." — Vitrum Glass Group
AMG Contracting Services | Lindenhurst, NY
"Tempco and AMG worked together to match and produce a high-quality product at a much more cost-effective point." — Tempco Glass
Honorable mentions
Old Town Glass | Navato, CA
Nominated by Garibaldi Glass
Advanced Glazing Contractors | Blanchester, OH
Nominated by Glenny Glass
Cahaba Glass | Pelham, AL
Nominated by Southern Wholesale Glass
More 2022 Top Glaziers Report
The digital edition of Glass Magazine contains additional information about companies on the Top Glaziers list and additional survey results.
Read the digital edition (pdf)
More details about companies, including the location of additional offices, number of full-time employees, total number of employees and contact information is also available for download at the NGA Store.