Top metal companies 2020
Facing a new reality, architectural metal companies adapt and innovate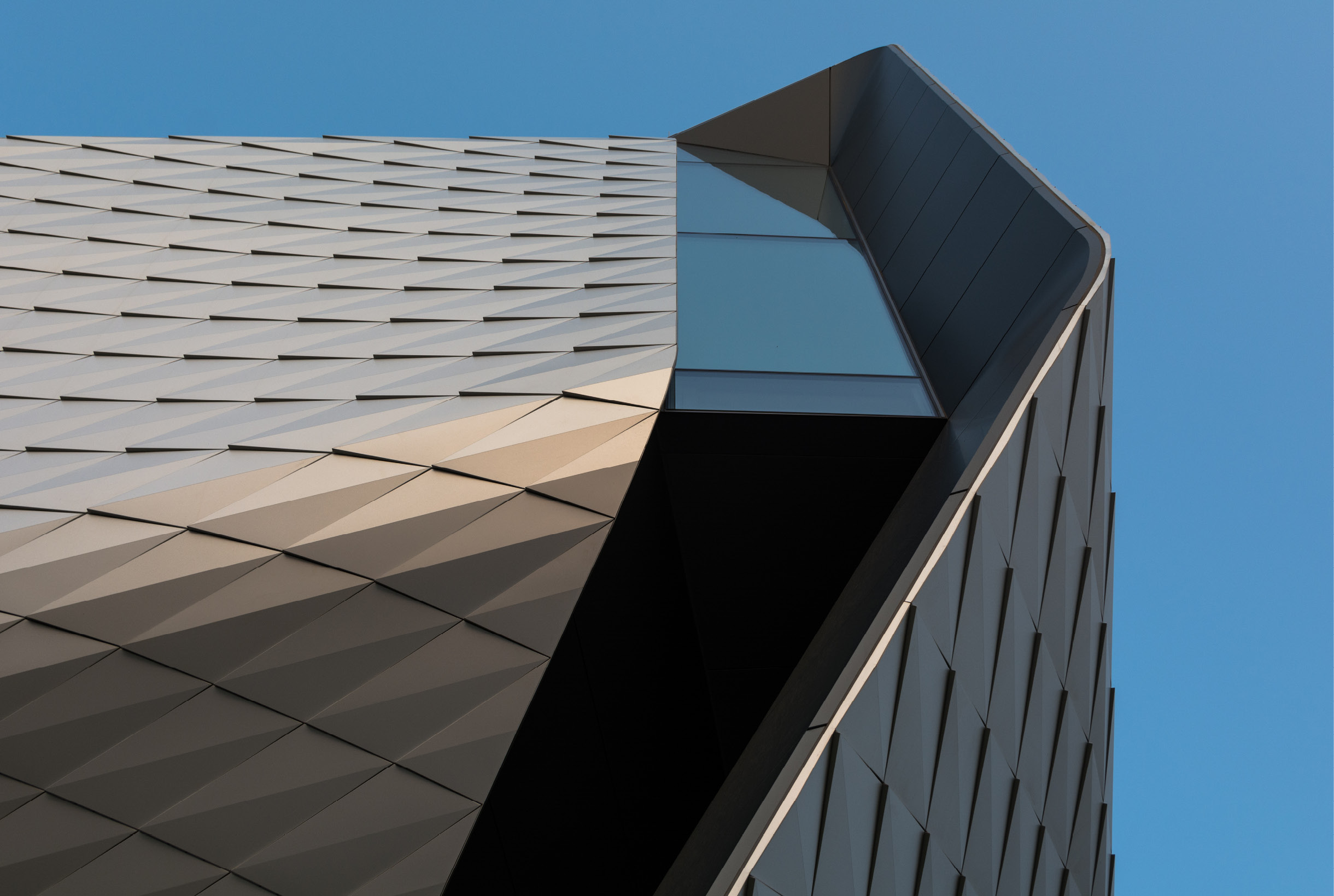 In December, the U.S. will be entering the ninth month of the pandemic, a situation that would have been unthinkable at the start of 2020. Glass Magazine's Top 50 Glaziers report, released in June, captured responses from an industry that was just learning to grapple with the "new normal" of state-wide shutdowns, supply disruptions and a completely new set of labor force issues. Responses from Top Metal Companies, surveyed in September and October, point to an industry that is struggling, but also adapting to the many obstacles posed by the everyday reality of COVID-19. 
"Throughout the pandemic, since day one, we have had to reinvent ourselves almost on a daily basis to navigate this crisis in the best way possible." - Steve Schohan, marketing and communications manager, YKK AP America Inc.
As expected, the pandemic has had a financial impact on industry companies. Almost a third of respondents in Glass Magazine's Top Metal Companies survey reported lower sales in 2020, a stark increase compared to the 3 percent of companies reporting declining sales in the 2019 report. 
Additionally, respondents noted major operational shifts to ensure worker safety. "We have implemented several policies in line with CDC guidelines and local, state and federal mandates: social distancing, face masks, separation of workspaces, hygiene standards and remote working where possible," says Barbara Haaksma, senior vice president, marketing of C.R. Laurence Co.
"We are taking continuous measures to ensure operational and supply chain continuity, manage inventory, and remain in close contact with our customers to continue to provide exceptional support and service." - Barbara Haaksma, senior vice president, marketing, C.R. Laurence Co. 
Andrew Russo, vice president of Glass and Metal Craft, described the year as a "roller coaster ride" as the shutdowns of spring gave way to an increased workload in summer as delayed projects reopened. "Labor issues hamstrung us during the rapid ramp up when the openings occurred, and then it was slow again as glaziers had their labor issues and were overwhelmed with work." Russo says that the pandemic has also changed the type of work available.
"Smaller and residential projects have increased. Active larger projects have been significantly delayed due to shutdowns, COVID measures and other trades still doing their work." - Andrew Russo, vice president, Glass and Metal Craft
The 2020 Glass Magazine Top Metal Companies report provides an in-depth look at the health of the metals segment of the glass and glazing industry, based on a survey of leading companies, including glazing system suppliers, metal fabricators, extruders, and finishers and coaters. The report highlights sales and market data, product trends and leading challenges. It presents a list of leading metal companies, ranked by workforce size, and features a selection of standout projects from contributing companies.
Sales & Markets
Companies eye investment, despite some early indications of weakening market 
This year's responding Top Metal Companies reported sales and market data that reflect the strain of COVID-19. While in 2019, 84 percent of companies reported higher year-over-year sales, the number fell to just 30 percent in the 2020 report. An additional 39 percent of 2020 respondents reported no change in sales. The final third of 2020 respondents reported a decrease in sales, a significantly higher percentage than 2019, in which a mere 3 percent of reporting companies posted a decrease.
By market segment, the majority of Top Metal Company respondents, 66 percent, said the health care sector was the strongest for their company, and 75 percent said they expected the sector to be strong in 2021, reflecting the critical need for health care infrastructure during the pandemic. Fifty-three percent of respondents identified office construction as a strong sector for 2020, but only 41 percent made the same choice when asked about 2021, perhaps indicative of a decline in the development of commercial office space.
By geographic region, the Southeast was selected as the strongest geographic region for 2020, with the Northeast in second place. Respondents' predictions for 2021 suggest little change in market strength by region. 
Despite economic uncertainty, almost all companies said they have plans to make future investments. A significant majority, 71 percent, say they will invest in capital equipment, and 61 percent plan to launch new products. 
 
Challenges
Pandemic-related supply chain problems and labor issues disrupt companies
Companies faced several challenges this past year due to the pandemic. More than half of respondents reported supply chain issues, followed by 45 percent that identified labor issues related to the pandemic. Only 10 percent of respondents said the pandemic had no effect on their business. 
"Supply chain issues have been sporadic, but not to the magnitude that we feared they could be initially," says Will Stephenson, president, Clayton Commercial Glazing. "The market still seems to be primed for more growth or at the very least, maintaining; however I am seeing a 'wait and see' approach right now from many developers. The longer it takes for a clear path out of the pandemic issues to arise, the more I fear the market could deflate." 
"The pandemic has produced an unstable, fearful work force," says Joshua Leets, plant engineer, Cross Aluminum Products. "Continual testing and daily cleaning practices are wearing down staff. Still-valuable personnel are opting for early retirement or unemployment, due to fear, uncertainty, or increased workloads."
Beyond the pandemic, companies also faced metal tariffs, which have continued to fluctuate in the U.S. However, a majority—59 percent—said tariffs did not affect their company in 2020. For those that were impacted, supply chain issues were the most common challenge.  
"We have seen some lead times increase as some companies are shifting from overseas buying to domestic," says Tom O'Malley, partner, Clover Architectural. "This has made our normal suppliers busier and thus [there is] increasing lead time."
YKK AP made adjustments to production in order to offset the costs resulting from tariffs. "We have also continued to focus on the development of shop glazed and unitized products, which has allowed contractors to offset any increase in metal costs by allowing the use of less expensive shop labor," says Steve Schohan, marketing and communications manager.
Products
R&D surges ahead, with target toward performance and prefab
Despite the economic fallout and supply chain issues of the pandemic, most Top Metal Companies continued to roll out new products in 2020. Seventy-two percent of Top Metal Company respondents introduced new product lines in 2020, and 82 percent of companies continue to plan for product releases in 2021.
Looking at product types, interest in thermally broken and efficient systems, as well as unitized and modular units, lead product trends, according to company responses. Sixty-four percent of respondents supply thermally broken systems, and 57 percent of respondents have introduced high-performance or sustainable products in the last year. Thirty-nine percent of respondents say they currently supply unitized systems, and further identified both unitized and thermal products as areas for future growth.
Companies were surveyed regarding the future market development of unitized and prefabricated systems. Many companies that responded identified a less skilled workforce as a likely push toward prefabrication. Companies may also move toward prefabrication due to increasing constraints on schedules and space in the field. 
"Construction projects will continue to require high-performing products, simplified fabrication, quality control, fast installation, reduced costs, design flexibility and exceptional performance," says Angela Naphin, marketing director, building and construction systems, Kawneer. "Additionally, ongoing development in urban areas means jobsite space is limited requiring products to be fabricated offsite in order to maximize onsite space and labor. Architects and building owners are continuing to look to close-in buildings faster, and both unitized and modular systems are alternative delivery methods that successfully drive construction efficiencies, including lowering construction costs and accelerating building time."
Many companies, about two-thirds, said the pandemic did not affect the types of products supplied. Of those that did, many reported the addition of partitions, barriers and shields to their product mix.
 
The List
The 2020 Top Metal Companies report identifies key movements and trend points in the industry by surveying a range of companies across the architectural metals segment. Contributors to this year's survey include metal glazing system manufacturers and suppliers, fabricators, extruders, and coaters and finishers. It also includes several companies that fabricate both glass and metal systems, along with glazing firms that provide metal fabrication services. 
In a departure from previous years, the 2020 Top Metal Companies list is not organized by gross sales but rather by workforce. The decision to change the ranking allows the list to continue to present the largest employers and leaders in the architectural metals segment, while providing opportunities to recognize additional types of companies.
It is only by industry participation that the list and report can best capture the market's realities. If you feel your company should be included in the report, please contact Norah Dick, associate editor, ndick@glass.org.
Projects
AC Hotel | Dallas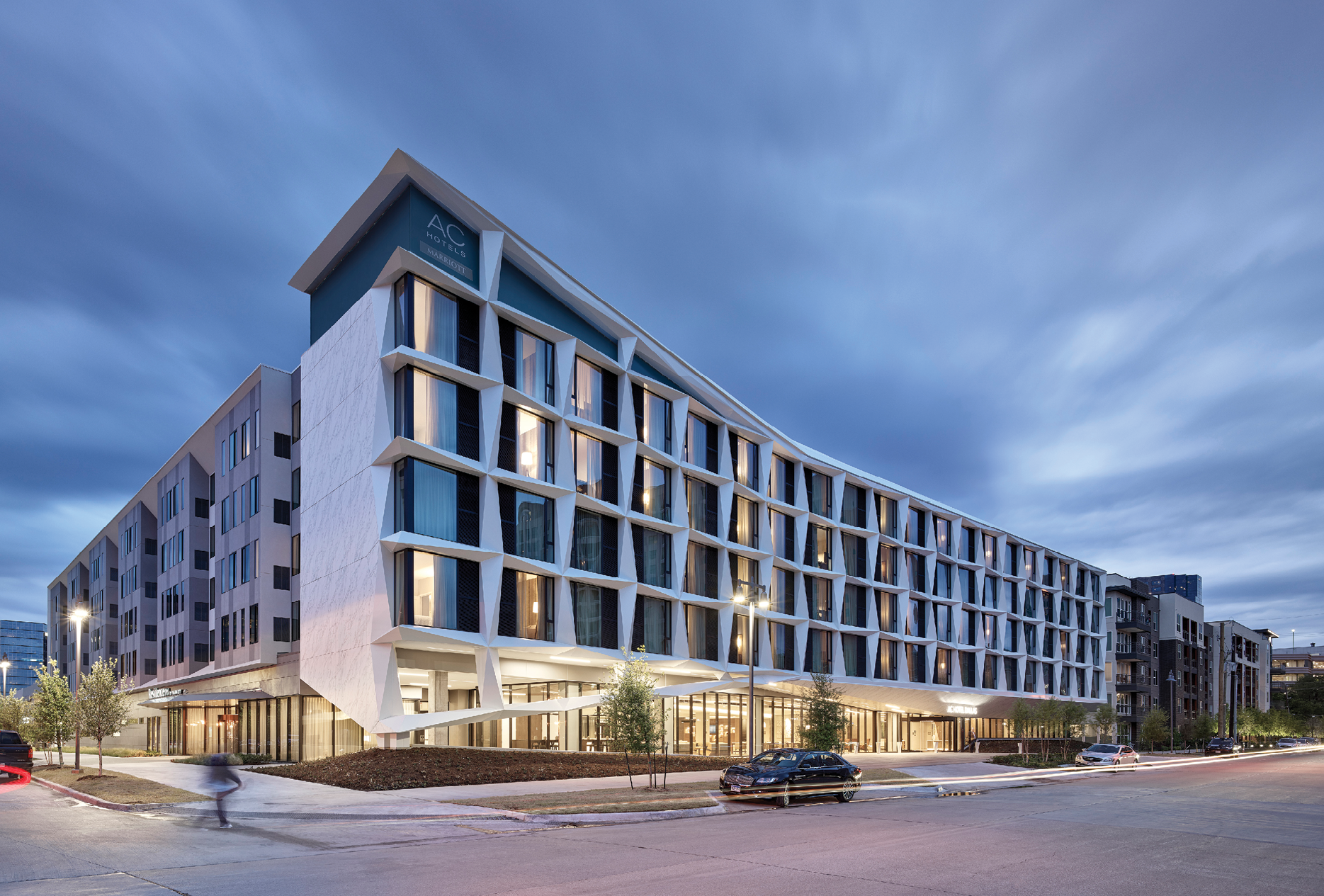 C.R. Laurence
Architect | 5G Studio Collaborative

Glazing contractor | Waxahachie

Glass Metal systems | C.R. Laurence Co.
Innovation
AC Hotel's upper-floor facade was designed by 5G Studio Collaborative to contrast with the all-glass bottom level. The off-white metal cladding system is intricately woven into modular forms of geometric complexity, and sharp diagonal edges conspicuously protrude to create a structural exoskeleton. To balance the vigorous geometrical visual and provide cohesion with the first-floor glass façade, guest rooms are outfitted with large windows that incorporate CRL's FT601 Storefront. The system is thermally broken to help maintain comfortable interior temperatures and reduce cooling loads.
Woburn Public Library | Woburn, MA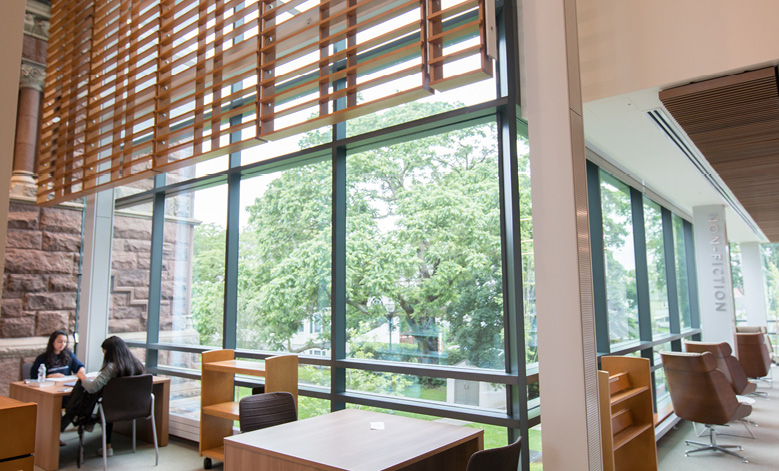 Oldcastle BuildingEnvelope
Architect | CBT Architects

General contractor | Consigli Construction Co.

Glass manufacturer | Guardian Glass

Metal systems manufacturer | Oldcastle BuildingEnvelope

Contract glazier | Lockheed Window Corp.

Glass fabricator | Oldcastle BuildingEnvelope

Entrances | Oldcastle BuildingEnvelope and C.R. Laurence
Innovation
The design goal, and main challenge, of the Woburn Library renovation was to integrate the new addition with an over 140-year-old historical building that was only two-thirds the size of the addition. Oldcastle BuildingEnvelope partnered with CBT to use a range of OBE systems to discreetly connect the new and old, say officials at OBE, including the company's medium stile thermal clad doors and CRL Blumcraft Entice Entrance Systems and Panic Devices.
The United States Olympic and Paralympic Museum | Colorado Springs, CO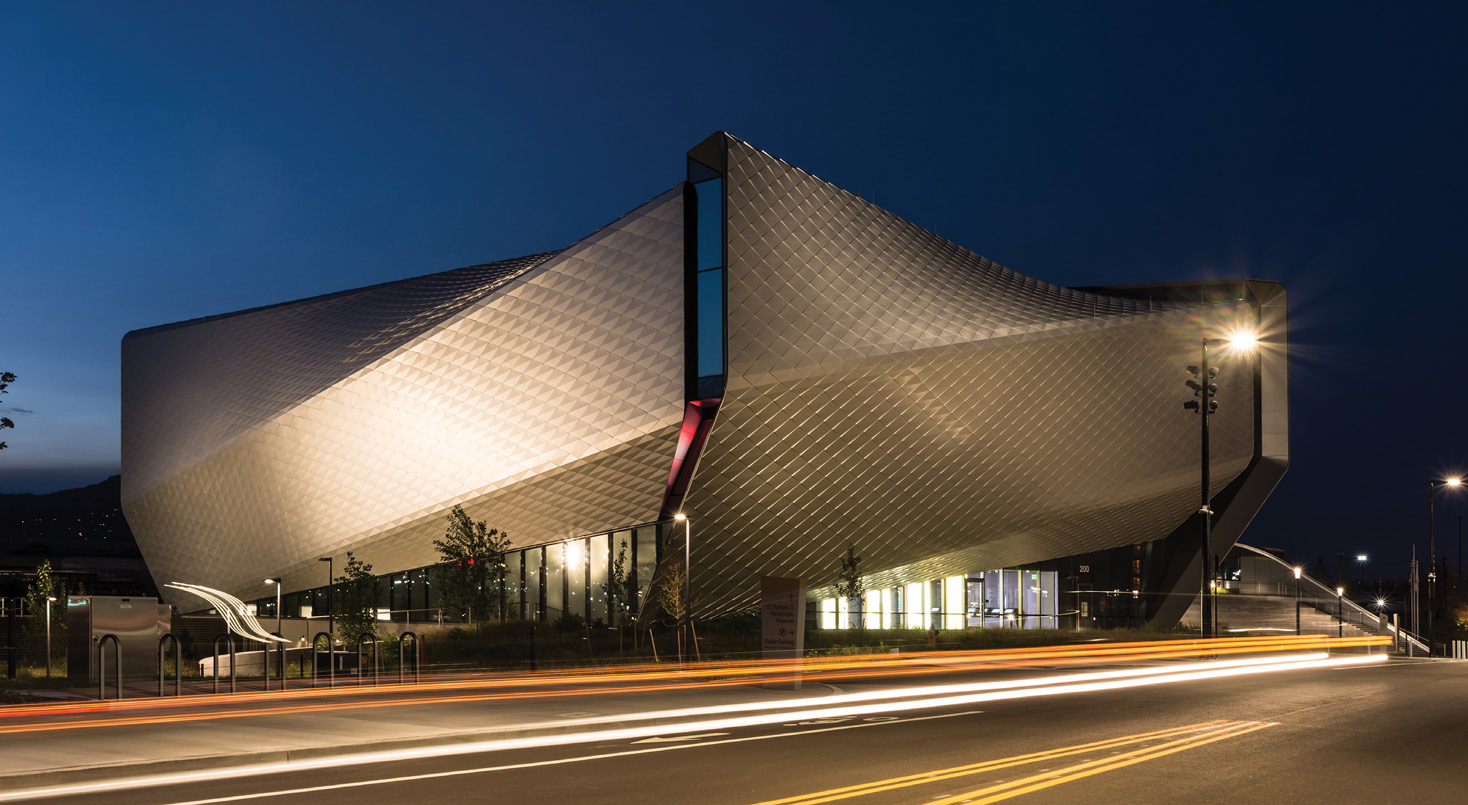 MG McGrath Architectural Glass & Glazing
Architects | DS $ R Architects

General contractor | GE Johnson Construction

Rain screen supplier, installer | MG McGrath Architectural Glass & Glazing

Curtain wall supplier | Oldcastle BuildingEnvelope

Glass fabricator | Viracon
Innovation
MG McGrath Architectural Glass & Glazing provided and installed several systems for The United States Olympic and Paralympic Museum, including a set of custom, diamond-shaped rain screen panels. Each diamond-shaped panel is unique and shaped slightly differently to accommodate the building's complex geometry, providing complexity to the project. Early involvement, 3D modeling, and BIM coordination were essential for smooth execution of panel fabrication and installation, say officials, as well as the panels' integration with the curved curtain wall, the Oldcastle Resliance Cassette curtain wall with Viracon VE1-85 insulated glass and spandrel.