Understanding Ideal Applications for Ceramic Frit and Silicone Coatings
For wall cladding, spandrel glazing and more, ceramic frit and silicone coatings are two ways to apply color onto glass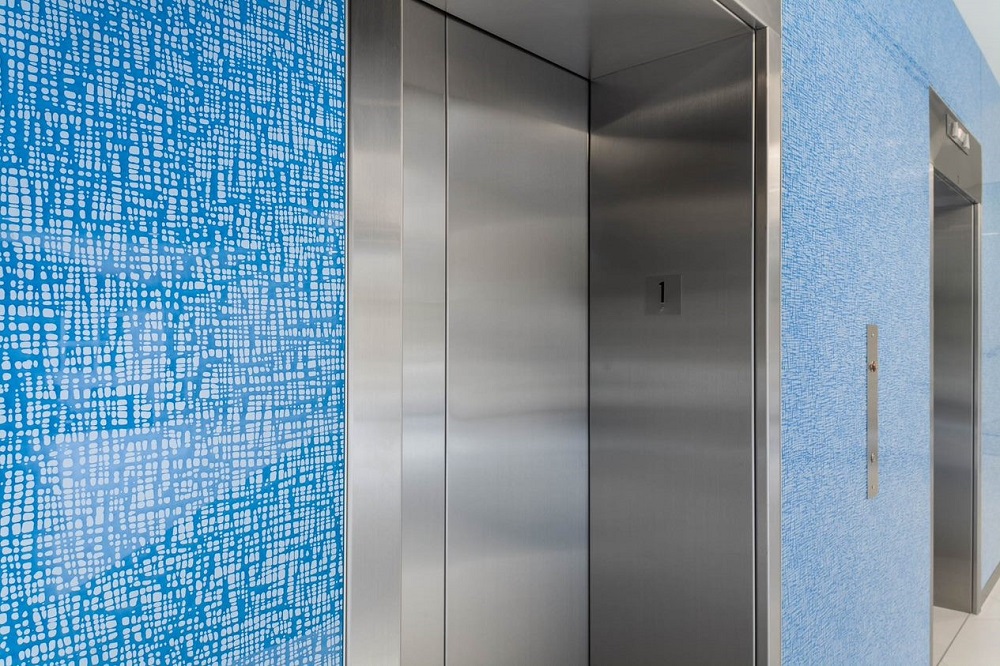 For wall cladding, spandrel glazing and more, ceramic frit and silicone coatings are two ways to apply color onto glass. Offering a broad array of colors, high-quality ingredients and low volatile organic compounds, or VOCs, both ceramic frit and silicone coatings are go-to glass decoration technologies.
A good understanding of the two options is helpful to assist architects and building owners in determining which approach is better suited for a given application.
What is ceramic frit?
Suited for both exterior and interior applications, ceramic frit is made from finely ground glass mixed with colored pigments. Flood-coat applications are applied using a roll coater or curtain coating process. For more high-end decorative options, digital inkjet technology can be utilized for direct-to-glass printing.
In either case, the coating is applied and then heat-treated onto a glass surface to create a partial cure. When the coated glass is ready for final processing, the partially cured ceramic frit is then baked into the glass through a tempering or heat-strengthening process. Fritted glass is typically used on the No. 2 surface of monolithic glass, or the No. 4 surface of an insulating glass unit or laminated glass configuration. Surface No. 1 options are also available, which are ideal for bird protection glass.
What are the advantages of ceramic frit?
When digitally applied, the ceramic frit can be adjusted to produce varying levels of opacity or as overlapping designs, depending on the fabricator's production capabilities and level of expertise. High-resolution imagery can be applied, and varying fades and gradients can be created as well.
The silkscreen printing process is exclusive to ceramic frit paint and is best suited when only a single color is required with a large number of repetitive patterns such as lines, dots or holes.
The digital inkjet technology avoids the cost and warehousing of silkscreen printing and is a more cost-effective strategy for producing lower-volume orders, designs with little or no repetition, and custom artwork as all designs are stored digitally, making reordering much easier.
Ceramic frit coated glass is exceptionally durable, scratch-proof and offers glare-free shading.
Applications for ceramic frit painted glass include:
Spandrel

Wall cladding

Glass doors

Partitions

Handrails

Backsplashes

Shower enclosures

Shower walls

Furniture

Glass marker boards
What are silicone coatings?
Suited for both exterior and interior applications, glass opacification is achieved when a silicone water-based elastomer liquid is combined with colored pigments and applied to the glass substrate.
Flood-coat applications are applied by spraying (automatic or manual), roll coating or curtain coating. Since the coating does not require heat treatment to cure, it can be applied to annealed, heat-strengthened or tempered glass after the tempering or heat-strengthening processes. Silicone-coated glass is typically used on the No. 2 surface of monolithic glass, or the No. 4 surface of an insulating glass unit.
In addition to regular glass, silicone coatings can also be applied to tinted and pre-approved, hard-coat, low-emissivity, reflective surfaces. Since the silicone coating has a tack-free rubber-like finish and doesn't require heat treatment to cure, it does not alter the strength of glass and provides fallout resistance for 6-millimeter monolithic tempered applications when applied at 13-millimeter wet film thickness, or WFT. In the rare occurrence that a minor scratch happens, it can be quickly touched up onsite, prior to installation.
Applications for silicone-coated glass include cavity-backed: spandrel, wall cladding, backsplashes, shower walls and glass marker boards.
Comparing the two technologies
Both ceramic frit and silicone coatings offer a very extensive color palette, exact color matching, batch consistency, and are both well-suited for flood-coat spandrel and wall cladding applications. Ceramic frit has added benefits when applied with state-of-the-art digital printing technology, or by screen printing, as it can be used for interior and exterior applications and is ideal for decorative applications, including public art displays and installations where light transmission is desired through the decorated glass.
Ceramic frit and silicone options are both lead-free with low VOCs in liquid form and zero VOCs when cured, but silicone coatings are water-based, which means they are more environmentally friendly. With heavy-metal-free pigment usage, transparency documentation and Red List Free ingredients, silicone coatings qualify as green for sustainably focused building projects.
Spandrel glass units must be tempered or heat-strengthened. Silicone coatings can be used for both tempered or heat-strengthened units, but ceramic frit can only be tempered. For interior wall cladding applications, silicone has the advantage in that it can be applied to annealed glass, whereas ceramic frit again must be tempered.
In the event of 6-millimeter tempered glass breakage, the silicone coating, when applied at 13-millimeter WFT, keeps the broken glass pieces intact, thereby naturally providing glass fallout resistance. An additional film must be applied to the back of the fritted glass to create this same level of protection for ceramic frit.
Silicone-coated glass must be fully cavity-backed and installed in applications that provide no access for human interaction post-installation. If specific levels of solvent and/or water soak resistance are required for interior applications, silicone coatings should be perimeter-sealed for projects like wet backsplashes, shower walls and writable surfaces.
Ceramic frit can be exposed to human interaction post-installation and has higher solvent and water soak resistance, meaning there is increased design freedom for project applications like glass partitions, railings, shower enclosures, marker boards and furniture.
Typical applications
A common application for ceramic frit and silicone paint coatings is a fully opaque spandrel glass for glass facades. Spandrel is non-vision glazing that is typically incorporated into an insulating glass unit and used to conceal areas between floors, or in vertical perimeter areas, where mechanical, electrical, structural systems, components, columns, floors or ceiling lines are located. It is both functional and aesthetic since the spandrel glass must complement the building envelope.
Wall claddings, curtain wall and storefronts are other exterior applications for these color-rendering technologies. For example, designers might specify a creative mosaic of opaque colors in a building's glass façade to achieve an architect's vision.
For decorative applications, ceramic frit can be used to infuse an image, logo or brand message onto the glass façade or wall cladding and may include vision applications such as glass wall partitions, windows, doors, skylights and glass railings where light passes through.