Wired Glass
Safety considerations, fire protection, product details and more
Source: The National Glass Association's Technical and Advocacy Team
Listen to a webinar on wired glass from Thom Zaremba and access additional educational webinars at glass.org/thirsty-thursday-webinar-series-archives.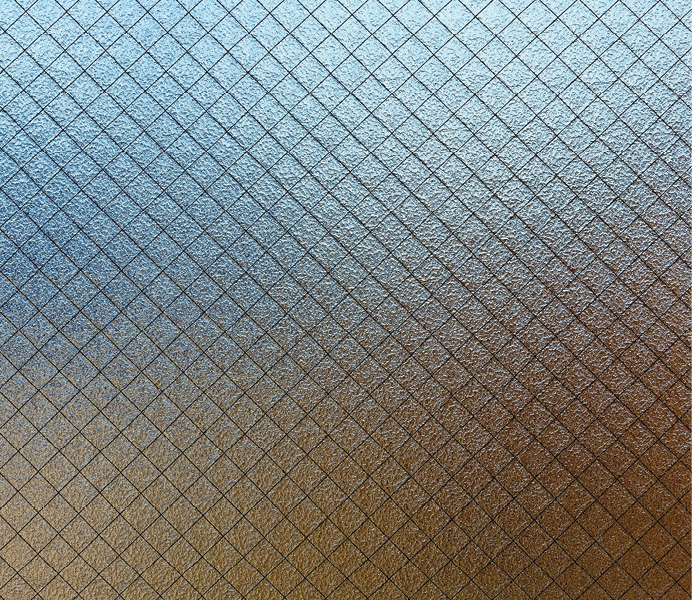 The use of wired glass has evolved over the years. For many decades, wired glass was the only viable glazing for use in locations that required a fire-protection rating. Today, monolithic wired glass is prohibited in areas designated by the building codes as "hazardous locations" even if fire-protection-rated glazing is required. However, if properly coated with an organic film, wired glass can not only meet safety glazing regulations for use in hazardous locations, but also pass the fire tests needed to qualify it for use in areas requiring a fire-protection rating.  
This article presents information to help companies navigate the regulations governing how, when and where wired glass may properly be used. 
What is wired glass?  
Monolithic wired glass is rolled, polished, annealed glass with a layer of wire embedded in the middle. 
Historically, wired glass was used in locations where an "appearance" of security was sought, for example, in jewelry display cases and museum displays. It has also been used in skylights to prevent broken glass from falling into a room or onto walkways in the event of breakage. Wired glass gained popularity, in part, because it can be cut to size from stock sheets in the field, using tools commonly used for glass cutting. The primary use of wired glass was and continues to be in locations that require fire-rated construction materials.  
Why is wired glass fire-rated?  
When wired glass is exposed to fire, the annealed glass will crack as its temperature reaches approximately 100 degrees Celsius or 212 degrees Fahrenheit. When the glass breaks, the wire in the glass holds it together in its frame.  
As the temperature of the fire and the glass increases, the glass quickly softens and heals the cracks, all while being held together by the wire. Once the cracks are "healed," wired glass will prevent flame, smoke and hot gasses from passing through it for approximately 45 minutes in the fire endurance tests of NFPA 252 for fire doors and NFPA 257 for fire windows.   
As importantly, most fire-protection-rated materials (except those used in some 20-minute fire-protection-rated fire doors) are tested with a stream of water following exposure to a fire test. This is called a hose stream test and is intended to test the structural integrity of a fire-rated product following its exposure to fire. The test mimics the product being struck by water from a fire hose. 
Can wired glass be used in hazardous locations? 
At one time in the U.S., wired glass was included as a "safety glazing" under ANSI Z97.1 and was exempt from the safety glazing rules established by the Consumer Product Safety Commission (CPSC) in 16 CFR 1201 when it was used in a fire-rated location. At one time in Canada, wired glass defined Canada's safety glazing standard.
However, since wired glass is annealed glass, it will break when struck with 100 ft. lbs. of force or less, meaning it can break under accidental human impact, causing piercing and cutting injuries. Moreover, the wire embedded in wired glass can enhance the degree of injuries resulting from human impact.  
In its monolithic (or un-coated) form, wired glass is no longer considered safety glazing in either the U.S. or Canada.  
In 2004, the International Building Code required all glass used in "hazardous locations" to meet either the 18-inch/180 ft. lb. or the 48-inch/400 ft. lb. test of CPSC 16 CFR 1201, or the same impact tests of ANSI Z97.1. This effectively prohibited the use of monolithic wired glass in any hazardous location, without regard to whether a fire-rated glazing was required in that location or not.  
In 2017, Canada adopted a new safety glazing standard: CAN/CGSB-12.1-2017 Safety Glazing. It does not include any monolithic form of annealed glass, including wired glass, as a safety glazing. Earlier this year, a special task group, appointed by the Canadian Commission on Building and Fire Codes of the National Research Council of Canada, voted to adopt Canada's new safety glazing standard as the minimum required testing for all glazing to be installed in hazardous locations in the 2020 edition of Canada's National Building Code. Although the CNBC has not yet been published at the time of this writing, when the CNBC is adopted by Canada's Provincial and other local jurisdictions, it will effectively ban the use of monolithic wired glass in hazardous locations.  
Note that monolithic wired glass is still allowed in any non-hazardous location in both the U.S. and Canada. An example of a non-hazardous location would be the transom lites that are sometimes found above doors. 
Can wired glass be made safe to use in hazardous locations? 
Wired glass can be made safe in the event of accidental human impact.
Special organic coatings in the form of surface-applied safety films can be factory-applied to wired glass. Doing this can: 
allow it to pass safety glazing standards (CPSC 16 CFR 1201 or ANSI Z97.1) at both 18-inch and 48-inch drop heights, 
while also passing the fire tests of NFPA 252 and NFPA 257. (Applied films that "flame" in the NFPA 252 or 257 fire tests will, likely, fail the test. Some applied films are specifically formulated to char and slough off the glass rather than flame—these films can pass the test.) 
To be used in a hazardous, fire-rated location, the film-to-wired-glass combination must be:  
tested to NFPA 252 and/or NFPA 257 and bear the label of an independent, accredited test laboratory, and 
tested and properly marked to show compliance with the acceptance criteria of either Cat. I or II of CPSC 16 CFR 1201 or Class A or B of ANSI Z97.1. 
What should be done with pre-existing installations of monolithic wired glass in hazardous locations?
Current building codes do not mandate or require the replacement of existing, unbroken installations of monolithic wired glass if it complied with the building code in effect at the time of its installation. However, because there is no building code mandate to repair or replace such glass, it is worth considering that code updates following the original installation might be offered as evidence of a higher standard of care than existed at the time of installation. This could mean that, if someone is injured by a monolithic wired glass installation in a hazardous location, even though it was compliant when originally installed, the owner may be confronted with a claim that the failure to bring that installation up to current building code standards was negligent and the proximate cause of an injury. Therefore, even though it is not required, this should encourage building owners to seriously consider repairing or replacing monolithic wired glass installations found in hazardous locations on their properties. 
If a pre-existing wired glass installation breaks, the building codes do require the replacement glass to meet current code. NFPA 80 governs the installation and maintenance of fire-rated windows and doors and is currently considering making this obligation specific in its next edition. So, in short, if an existing installation of wired glass in a hazardous location breaks, it should be replaced with a glazing product that meets the new safety glazing requirements. If the hazardous location is also a fire-rated location, the replacement glazing should also meet the fire-rated requirements of that location.