Glass Business is Sound Business for New Glass Guru Franchisees
I recently had the opportunity to speak with Michael and Valarie Gomm, the husband-and-wife team behind the new The Glass Guru franchise in Wichita, Kansas. Michael and Valarie first became aware of, and interested, in the franchise when they experienced a failed window of their own. We discussed Michael's background in the aerospace industry, Valarie's work as the family "CFO," the recession--averse nature of the community-based glass business, and more.
Can you tell me a little about your professional backgrounds and what made you both pursue a Glass Guru franchise?
Michael Gomm: I had 20-plus-year career in aerospace, in sales and marketing, and I'm a licensed pilot. In that aerospace community, I learned a lot about the customer-service side of the business and the professionalism, being gregarious and talking to folks, going in and listening, as a good salesperson does, and diagnosing the problem in a way that meets their needs. These skills transfer to my current role at The Glass Guru.
Valarie spent the early part of her professional life in retail and banking, before we started a family. She had the harder job, and focused her exceptional organization to become the CFO and COO of our home. As I was travelling for work, she was running the household and our three boys.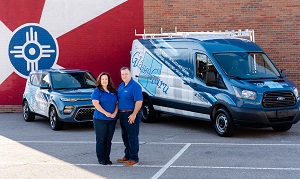 What is your role in the business right now?
MG: Valarie manages the office, and she is the voice to our customers when they call in. She's also the backbone of the operation managing our supply chain, scheduling and back office tasks. In addition, she is the majority-owner of the business, making the business officially woman-owned.
I'm the head of sales and marketing. I go out and do estimates, as well as offer solutions to customers.
I also do the networking. I go meet people at their door, their place of business. People want to do business with people they trust.
You have characterized this business as "recession averse"—can you explain that further, what that means and what lead you to feel that way, based on your professional experiences?
MG: When we started, we had a list of considerations; target investment, potential return, our roles in the business, etc. But one of the items for me was, "What's this business's risk? What kind of exposure does it have to economic downturn?"
Having worked in aerospace for more than 20 years, I have been through the ups and downs of economic cycles. Wichita is the Air Capital of the world and its economy relies heavily on that aerospace manufacturing base. During a downturn, most non-discretionary spending is put on hold. I didn't want to immediately get started, then the R-word happens. I wanted something meat and potatoes.
In addition to all the other factors, there's glass everywhere—if you have broken glass in your home, you need to get it fixed. There will still be swings, but the core of our business is IGU replacement. Fixing glass is the heart and sole of our business, and it's pretty low on the risk scale.
There are good glass companies here in town. There are bigger glass shops, but they're going to focus on bigger jobs. As we started evaluating the opportunity, we found there was an underserved market here, of residential IGU replacement, and that resonated with us.
What do you see as the business opportunities for this type of glass shop? How do you expect to grow in a year? In 5 years?
MG: In the short term, we want to make lots of business friends – in the first year of business, the most important thing is to become top of mind to people. With our commercials running, people will hear our jingle, and when they have glass issues, The Glass Guru will be top of mind.
In a year, we hope to have a couple full-time glaziers, a helper, as well as someone to help cover the phones for scheduling.
In five years, we'd like to be working ourselves out of operational roles, into ownership roles. Then we'll evaluate what we want to do at that time, maybe open another franchise. A longer-term vision has us owning several franchise territories in the region, and maybe flying our own airplane between them, in ownership roles.