3 Ways to Create Project Profitability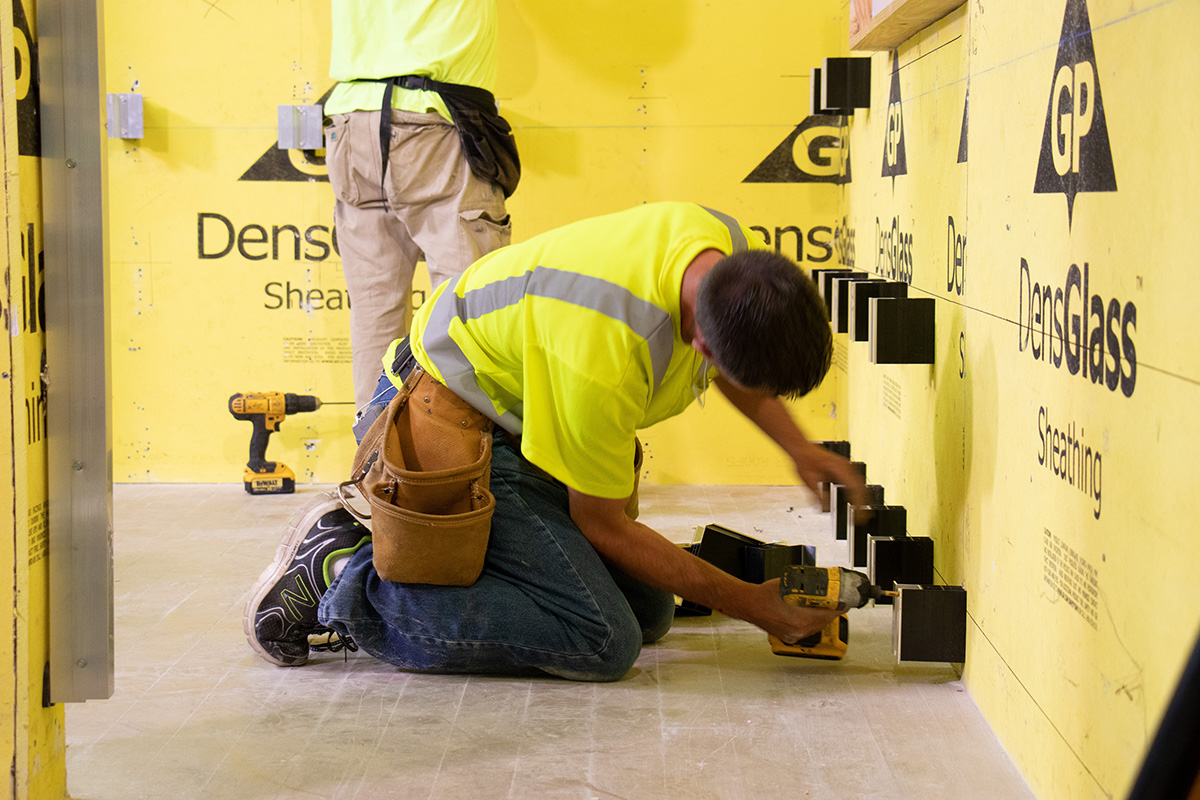 NovaTech Wall Systems sought a high-performance, thermally efficient cladding attachment with the fastest, easiest, most accurate installation at the best total value. Under controlled conditions in a test environment, skilled installers used two different clips for a 135-square-foot wall. The standard fiberglass clip took 4 hours and 31 minutes to complete the wall installation. The hybrid polyamide and aluminum clip took 1 hour and 15 minutes. Photo courtesy of Technoform.
Building material prices are skyrocketing and wreaking havoc on the construction industry. Contractors are paying more and waiting longer, which leads to higher costs and extended schedules for construction projects of all kinds. Now, more than ever, it's critical to evaluate project systems with an eye on maintaining profitability.
Use value-engineering to choose the best products
Each project has a budget and a schedule. You need options to save money and time, including in your choice of thermally efficient cladding attachments. One solution is value-engineering, the process of substituting one building component solution for a lower-cost alternative solution to save money. Because value-engineering can be used to improve the project profitability, it makes good business sense – as long as the proposed alternatives meet the same performance requirements and standards for a "total value" solution.
Architectural specifications typically call for three choices of thermally efficient cladding attachments, with the third alternative allowing flexibility for an equivalent. Often, the metal cladding fabricator or installing contractor recommends customized attachments.
Consider total value criteria when evaluating systems
With so many proprietary systems in the market, how do you specify the best one?
Regardless of their customization or standardization, total value criteria for cladding attachments should be evaluated for:
High thermal performance
Fast, easy, accurate installation and adjustment
Cost-friendly materials and labor-saving solution
It's understood that you'll compare test data for the cladding attachment options. You'll review the thermal analysis, air and water resistance, structural integrity, fire resistance and other data. This will help reduce long-term costs and consequences caused by a quick decision based primarily on a low-cost, less-effective solution.
Think about installed performance and labor costs
But what about installation? The more parts, and the more steps to install those parts, the greater the chances are for something to slow down or derail the installation. The more labor-intensive the installation is, the more the overall project will cost and the longer it will take to complete.
It can be small, simple details that make a big difference in a project's installed performance, and by extension, its budget and schedule.
Consider the significance of a simple fastener. For cladding attachments, all fasteners should be driven perpendicularly to the substrate until they're flush with the air barrier membrane. Any variance in this can produce a hole larger than the fastener, creating avenues for air and moisture infiltration. Cladding attachments with screw guides ensure perpendicularity, saving time, headaches and future performance issues.
Look to your attachment manufacturer for additional, error-proof features to assist with a worry-free, quick installation, as well as the performance data you need to confidently specify a cost-effective total value solution.