4 code and regulatory takeaways from the NGA Glass Conference
Keep an Eye on the Green Horizon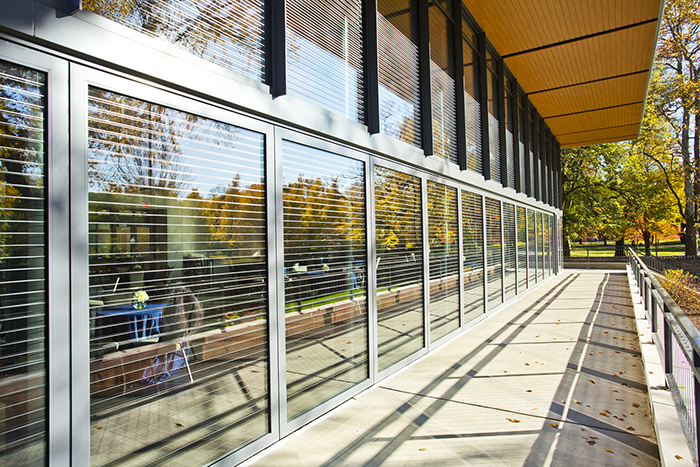 Requirements for bird-friendly glass are on the rise. Pictured is the National Aviary, with bird-friendly glass by Walker Glass.

The National Glass Association held its winter NGA Glass Conference Feb. 9. At the top of the agenda for the virtual meeting: new energy and environmental codes and regulations that will impact the glass industry, driving product trends and asking more from companies. 
1. Glassmakers meet California emissions targets, for now.
The Buy Clean California Act, known as AB 262, requires that the state's Department of General Services sets maximum acceptable Global Warming Potential carbon emissions targets for certain building products, including flat glass, going into public construction projects. The targets are based on Environmental Product Declarations as part of a product's Life Cycle Analysis. The industry celebrated a major advocacy win in January, when California's DGS adopted the recommended GWP targets from the NGA's Advocacy and Forming Committees.
"All glass manufacturers producing in North America will qualify for public works projects in California," says Paul Bush, NGA Advocacy Committee chair and vice president, technical services and government affairs for Vitro Architectural Glass. "But we're not done. This is a moving target. The limit is set to be reevaluated every three years. We will likely have a new and lower target coming."
2. Energy codes steadily progress, while cities look to more aggressive requirements.
The national energy codes are on track to continue their normal incremental advancements, says Tom Culp, NGA code consultant and owner of Birch Point Consulting. "Think about it as a continued zone shift every three years. … It will require a steady advancement and uptake in energy-efficient technologies, while also being practical and cost effective," he says. (Check out the four energy code updates to watch.) 
Industries companies should also be on the lookout for more aggressive jumps in building requirements happening at more local levels. "I sense there is a new urgency in the codes, with strong, quick action in response to climate change," Culp says. Cities such as New York, Seattle, Boston, Denver and St. Louis are making moves to institute requirements that extend beyond the energy codes. Some call for net zero targets, others are looking to institute building energy disclosure laws, limits for existing building emissions and renewable energy requirements.
3. Bird-safe legislation is in the works in cities, states and nationally.
While cities and states have been driving the adoption of bird-safe building requirements, companies should be aware of legislation at the federal level as well. The House of Representatives passed bird-safe legislation in the 2019-2020 Congress (HR 919, which then became part of HR2) which would require any building "constructed, acquired or of which more than 50 percent of the façade is substantially altered" to be outfitted with some type of bird-safe glazing system, says Nick Resetar, shareholder, Roetzel & Andress, NGA and GICC fire/structural and safety glass consultant.

While the bill died in the Senate, "inevitably it will be back and likely put before the Senate and potentially pass, given the current makeup of the Senate," says Resetar.
The NGA released two technical documents in the last year that offer guidance on bird-safe glass. "We are hoping to get states and regions that enact bird-friendly requirements to do so in a similar manner so we, as an industry, have one standard that we're trying to work toward," says Bush.
4. New energy tax credits are here.
The Energy Act of 2020, included in the December 2020 coronavirus relief bill, provides tax benefits for installing solar and for the use of other high-performance glass technologies, such as electrochromics. "There is an ongoing theme of the federal government trying to push energy efficient technologies. Be aware of the tax deductions in these areas," says Resetar.
 
The Biden Administration has also made moves toward new environmental regulations and additional incentives for use of energy-efficient products. "Anytime there is a new administration on either side of aisle there are opportunities for glass and fenestration," says Bush. "In this administration, we have an opportunity on energy efficiency—maybe energy efficiency tax credits, energy efficiency products."