Binswanger Recognizes Tiffany Brown for International Women's Day
March 8, 2021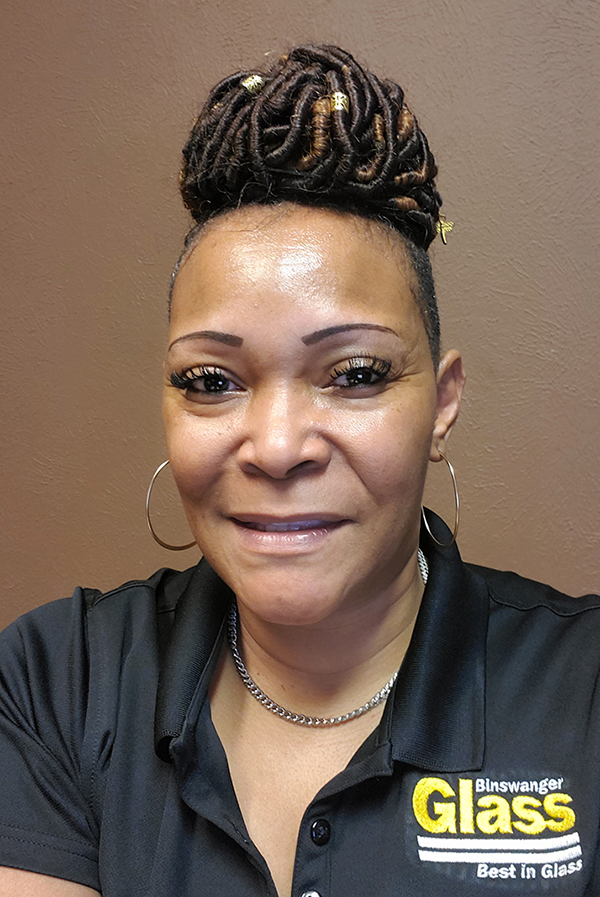 The team at Binswanger Glass is proud to recognize Tiffany Brown, Houston and Dallas auto center manager, for 2021 International Women's Day. "I am leading culture change in the industry," says Brown. "I will probably be the first to hire a female installer at our company. I find that women are incredibly detailed in what they do when they find their passion. Being detail-oriented leads to being successful because you listen more. And when you listen more, you understand what the customer needs."
Making glass her career
Brown first started managing people around 17 years ago. "My background is in real estate, and I was an assistant manager at Bedford Place apartments," says Brown. "I was promoted into a management position which I held for about two years; however, I didn't want to do it anymore. It wasn't a challenge, so I dusted off my resume and put it out there. One day I got a phone call from Deb Hamlin, who introduced me to the auto glass industry."
"I didn't know anything about auto, so I had to start from the bottom," says Brown. "I didn't mind because sometimes it takes starting from the bottom to grow. My mindset was that if it was going to make this my career, I'm going to learn as much as possible." Brown started off as a CSR, moved to insurance, and then became a lead dispatcher. "From there, I grew into a supervisor role which led to opening several branches."
"The very first branch that I opened up from scratch was in Beaumont. From there, I opened a branch in Rosenberg, Texas, and then another on Claymoore, which brought me home to Houston."
Joining Binswanger
By August of 2016, Brown had reached the top of her former employer. "I was a previous flat glass customer of Binswanger Glass and had heard of an opening. I was referred to Darren Loman, who brought me in and explained that the only position that he had available was a CSR. Once again, I said to myself, 'Okay, I'll get in there, own the business, and I'll go from there.'"
"Binswanger's Evan Otruba helped me learn the retail and commercial side of the glass business, and I did every single training course on auto available. I was comfortable because I was learning. And I knew eventually that there would be a growth role for me."
One day, the national director of auto glass walked into Binswanger Glass of Humble and asked Brown if she was comfortable with her work. "He knew what I was capable of," says Brown. "When the opportunity came for him to open up call centers, he selected me."
"I researched to see what people think about joining the Binswanger team and found there was a perception that the company wasn't diversified. I hate to hear that because I know differently," says Brown. "I make sure that applicants know the reality, and I am happy to say that I do have a diversified team at both of my locations."
Being a team leader
"I teach my team responsibility," says Brown. "I teach them the P&L, so they know what we're working for. We set a goal, and they know the numbers, just like I know the numbers; where we are, where we need to be, and what can affect that bottom line. "We go through it every day. We have a goal that we need to meet. I take my sales goals and break them down to what we need to make daily as a team. We go over techniques to reach our daily goals."
"I make sure that my team has the tools that they need to be successful every day as well as a great mindset. If you don't have a great mindset when you're starting your day, the whole day will be messed up. What motivates teams is leading by example. When I walk into this building, I'm motivated. My teams feed off my positive energy, and it'll turn a bad day into a good day."
Brown is a team player who doesn't only lead by example; she gets her hands dirty by replacing a windshield or door glass if needed. "I don't ask my team to do anything that I won't or cannot do."
"I have succeeded because I lift the team-up. I teach because one day I want to move up, and they can take my place."
Working in a male-dominated field
"This industry is male-dominated, so I get challenged on my technical knowledge a lot," explains Brown. "It has improved because I educate myself on new technology and am well-known in the industry. I need to know as much as my technicians and sometimes more than them because if they run into a problem out in the field, the first person they're going to look to is me."
According to Brown, one thing you cannot do is let people get to you. "You must pick and choose the battles you fight. And then there is a professional way to do that. I defeat a lot of obstacles by my knowledge."
"I've seen female installers, and they love what they do," says Brown. "I would love to see more women get involved in it because it's rewarding."