Did NYC's Mayor Really Announce a Ban on Glass Buildings?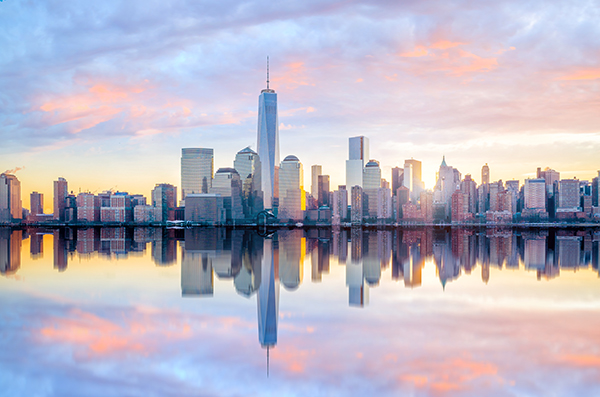 Last week, the glass industry witnessed some jarring headlines coming out of New York City: "NYC's 'Green New Deal' to ban glass, steel skyscrapers"; "De Blasio vows to ban glass and steel skyscrapers in NYC"; "NYC mayor wants to ban new glass skyscrapers to cut emissions".
The news came out of an April 22 Earth Day press conference when Mayor Bill de Blasio announced New York City's Green New Deal. "We are going to introduce legislation to ban the glass and steel skyscrapers that have contributed so much to global warming. They have no place in our city or on our Earth anymore," de Blasio said.
"The mayor's anti-glass rhetoric, and the over-simplistic labeling of glass as a poor energy performer, is harmful to a glass industry that has already spent the last decade fighting the 'battle for the wall.'"
However, neither de Blasio's opening remarks on the topic, nor the initial headlines, tell the full story. The mayor continued in his statement: "If a company wants to build a big skyscraper, they can use a lot of glass if they do all the other things needed to reduce the emissions," he said.
"It means banning [that] all-glass high-rise construction until it meets the absolute highest energy efficiency standards," said Dan Zarrilli, de Blasio's chief climate policy advisor and the OneNYC director.
De Blasio's proposal introduces the "the toughest laws of any state or city in the nation" in terms of performance requirements for buildings in an effort to cut emissions in New York City by 30 percent by the year 2030, Zarrilli said. Buildings are a key target of the plan, "because they are the number one cause of greenhouse gas emissions … in this city. It's not the cars, it's the buildings," he said.  
Mark Chambers, the director of the Mayor's Office of Sustainability, said high-performance glass products, along with other performance tradeoffs, would allow for glass buildings that meet the stringent requirements. "It doesn't mean that buildings can't use glass anymore," he said. "A perfect example is the American Copper Building right behind us. … That building does use glass, but it also uses other materials and it uses high-performance glass to make sure that the building is actually work[ing] to the benefit of our emissions reductions."
The plan also targets existing building. It puts $3 billion into retrofitting city government buildings and will demand performance improvements in private sector buildings as well. "We're implementing new mandatory building retrofit requirements, giving building owners just five years to cut their pollution or face major fines," said Zarrilli.
So, did Mayor de Blasio announce a ban on glass and steel buildings in New York City? No.
However, the mayor's anti-glass rhetoric, and the over-simplistic labeling of glass as a poor energy performer, is harmful to a glass industry that has already spent the last decade fighting the "battle for the wall."
"De Blasio's blunt rhetoric—and the headlines—are definitely a threat to highly glazed buildings," says Tom Culp, NGA energy code consultant and owner of Birch Point Consulting.
De Blasio's concerns should be focused on "highly glazed buildings with poor windows" along with the value engineering that eliminate high-performance façade products from a project to save money, Culp says.
"A highly glazed building with high-performance fenestration is a good thing," Culp says. "The building can still show energy equivalence and offer other significant benefits that have been demonstrated in many studies such as increased occupant health, increased productivity, increased student learning in school settings, increased health recovery and decreased health costs in hospital settings and increased real estate values. Daylighting and views are critical to high-performance green buildings, and can help achieve sustainability and climate goals with good high-performance fenestration."
The glass industry must fight back against de Blasio's rhetoric before political leaders in other jurisdictions make similar assumptions. And the industry must continue to demonstrate how glass is essential to meeting building performance goals and to creating healthy spaces for occupants. 
The industry should also recognize the opportunities in NYC's Green New Deal—opportunities to bring highest performing glass and glazing solutions into the built environment. This includes new construction, but also the city's vast existing building stock (including 1 million buildings in Manhattan alone). Imagine the opportunities for glazing retrofits.
Demands for high-performance buildings are not going away. And glass is a critical part of the solution. How can we better tell our story? 
Katy Devlin is editor in chief of Glass Magazine. Contact her at kdevlin@glass.org. Follow Glass Magazine on Twitter.