Look for Women in Glass
Finding Community, Solutions, Inspiration at GlassBuild's Women in Glass and Fenestration Panel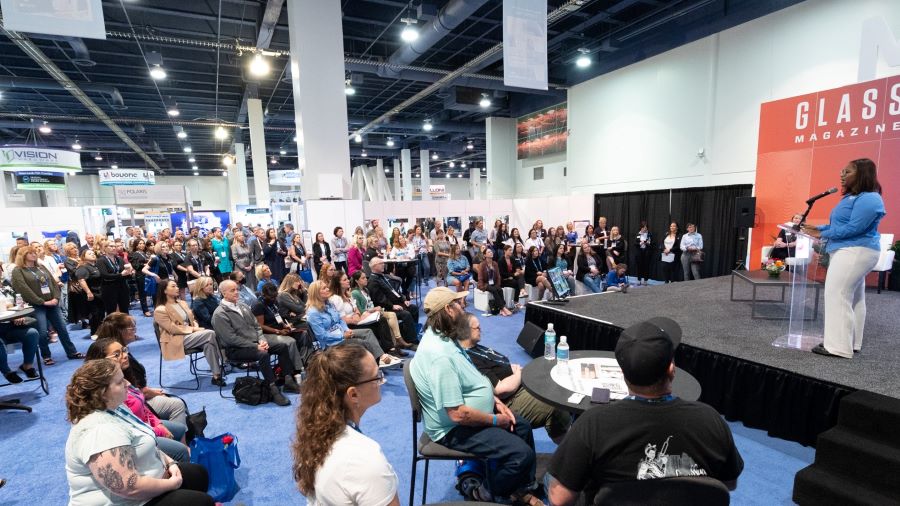 I'm writing this Editor's Notes on a late-night flight, returning home after an exhilarating GlassBuild 2022 in Las Vegas. I intended to use this column to discuss some of the incredible product and equipment innovations I came across on the show floor, or perhaps to offer up the main takeaways from the in-depth economic forecast at the Glazing Executives Forum. 
Instead, I find myself coming back again and again to a story relayed to me by my colleague Melanie Dettmer following the packed, standing-room-only Women in Glass and Fenestration panel, held at the GlassBuild Main Stage on Oct. 19. 
Dettmer is a key part of the National Glass Association's business development team and was the driver behind the Women in Glass event. She told me she had been chatting with mother-daughter glazing team Casey Weir and Anna Wright, after the panel. During their conversation, Weir and Wright, who had just been recognized for being the first women to receive Architectural Glass and Metal Technician Glazier Certification, were approached by a second mother-daughter glazing team—Jane Primeau and Laura Primeau-Vlahovic—and the discussion immediately shifted to tool talk. 
"They were talking about which tools they like to use—the suction cups that best fit women's hands, their favorite gloves. They were sharing advice and stories," Dettmer described. "They all have the understanding of what it is to be a woman in the field. … It was amazing."
That single interaction exemplified the primary talking points from each of the speakers during the Women in Glass panel—that building community among women in the industry lifts up those women. It helps identify barriers for women in glass, and it ignites action to begin to tear down those barriers. 
"It's critically important that we share resources and information with one another," said panelist Deb Callahan, CEO of the National Fenestration Rating Council. "Women lead by example. So please help one another by advocating, mentoring and helping to pay it forward."
"If you want to feel inspired and supported, just get in touch with other women who do what we do in the industry and see what they do to try and promote other young people to get into the industry," said Barbara Kotsos, director of marketing and PR for Giroux Glass. "Because I was so new to the industry and recognized how absolutely little I knew about it, I thought the best way that I could learn would be by involving myself with a community of women in the industry. ... You get the real nitty-gritty from talking to the women who work in our field."
This panel is just the start of the NGA's efforts to provide community for women currently in glass, and to encourage more women to enter the glass and glazing field. The crowd, which spilled out of the Main Stage area into the surrounding aisles, demonstrates interest, excitement and demand among both women and men in the industry to have these conversations and provide support. If you are interested in getting involved in future activities to promote women in glass and fenestration, please contact me at kdevlin@glass.org or Melanie Dettmer at mdettmer@glass.org.
For complete coverage from the show, including details about those show floor innovations and about the 2023 forecast, read Glass Magazine's recap of GlassBuild 2022. 
Video and more from the Women in Glass and Fenestration panel are available on the GlassBuild America website.