Overhead garage doors provide natural connection
Metal and glass doors have aesthetic and performance benefits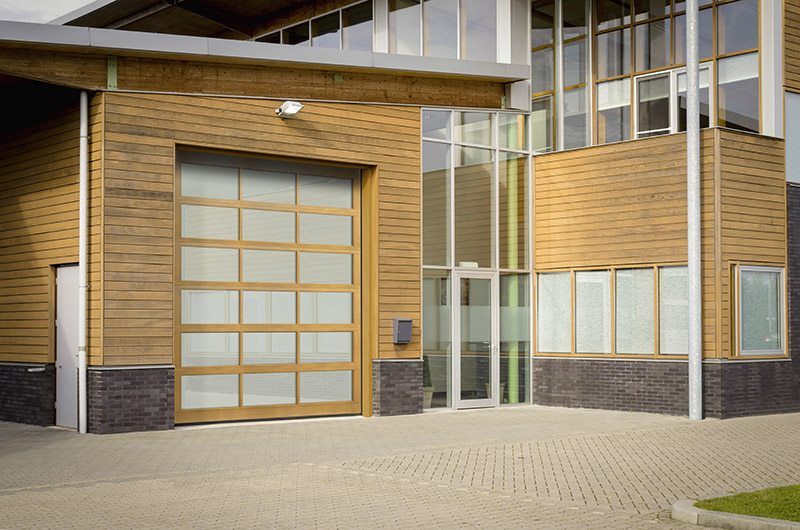 Retailers, restaurants and other commercial building owners know people prefer a connection to the outdoors. Studies show we are more productive, healthier and happier when our interior spaces have views to daylight, greenery and natural settings. Blending modern technology, durable materials and natural aesthetics, overhead aluminum garage doors with textured wood grain finishes present an appealing combination.
Moving beyond receiving docks, overhead garage doors frequently are incorporated into low-rise and street-level storefront systems for restaurants, cafes, hotels and retail shops. A popular design element in warm climates, they have made their way north into colder settings where propane heaters allow owners to keep the doors open even into the winter months.
Modern looks or biophilic design?
When closed, the commercial overhead doors typically feature metal or glass panel inserts framed in aluminum. While you might immediately imagine contemporary, smooth, metallic finishes and clean lines, this industrial chic style does not always fit the building's goals. For those seeking a better match for traditional architecture, exposed wood and timber construction, or biophilic connection, textured wood grain finishes provide design flexibility.
Panel options can be smooth, raised or recessed, and positioned in two, three or four sections. Decorative trim can be in horizontal, vertical, diagonal, and in ladders or K-patterns. Glass can be clear, but typically is smoked, frosted or tinted for privacy. Insulated glass units with thermal barriers are just as important on garage doors as they are on commercial windows. Energy-efficiency is assumed to be standard for overhead doors in occupied spaces.
Finishes can simulate desirable hardwoods like walnut, oak and maple. Softer woods, such as pine and fir, communicate a more understated look. Exotic wood species can be economically and sustainably replicated. Several tones and variations are available to create a consistent appearance that retains the intended look without visibly aging – unless you want the vintage look to start.
Textured wood grain finishes not only mimic the sight of real wood, but also its feel. Lightly tracing this subtle, tactile pattern our brains receive a calming signal helping us relax into a sense of safety and comfort. These are ideal conditions to enjoy a meal and conversation with friends, or put us in the mood to buy a gift for a friend or a treat for ourselves.
Commercial applications are resilient, reduces labor
Commercial building owners can reap the benefits with the durability and functionality of wood grain-finished aluminum. Meeting AAMA 2604 specifications, the finished metal withstands weathering, humidity and UV exposure. It resists insects, corrosion, fire and scratching. It does not rot, warp, swell or require annual staining and painting.
Compared to real wood, aluminum garage doors with wood grain finishes are easier to fabricate, install and maintain. Because textured wood-look is prefinished and the aluminum is lighter weight than real wood, these garage doors also can take less time and labor at the jobsite. This maximizes your available workforce, allowing your crew to complete more projects, and ultimately, helps contribute to greater profitability.
Expanding the value, the same textured wood grain finishes for overhead garage doors also can be specified for aluminum-framed storefront, window and entrance systems for a unified façade.