Promoting Biophilic Design Strategies with Glass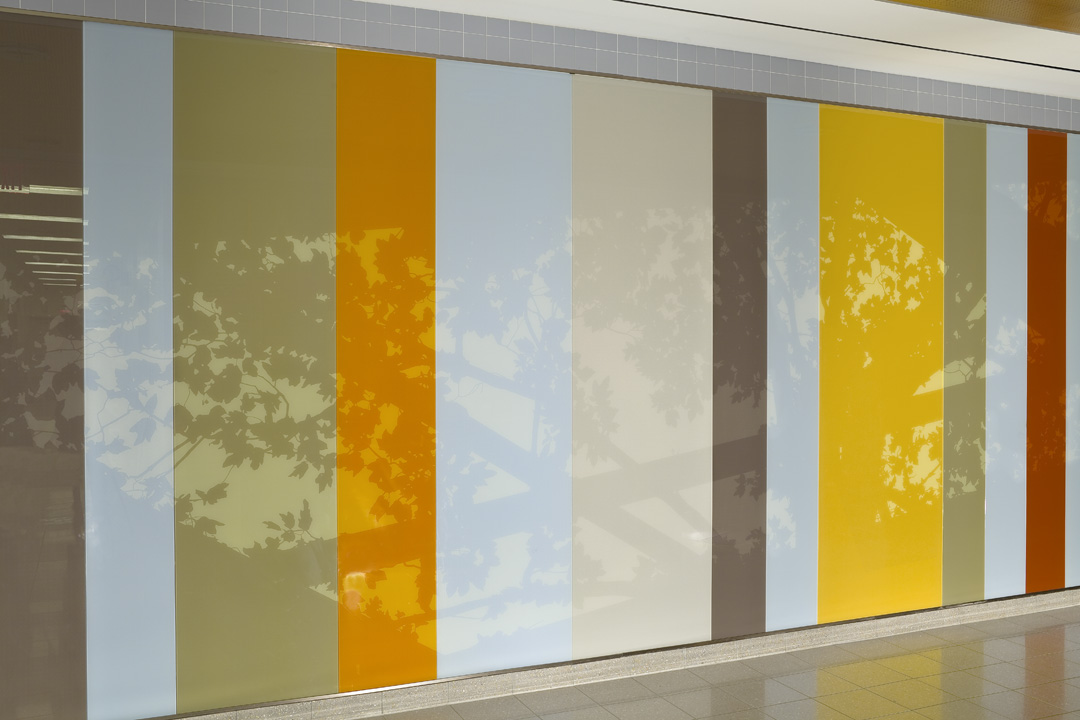 "Northeast Light, West Wall" by Mary Temple in the entrance hall at the Palo Alto Medical Center in Sunnyvale, California. 
Proven to boost employee satisfaction and performance, concentration levels and healing, biophilic design trends are gaining traction.
Defined by the Urban Land Institute as "the practice of connecting people and nature within built environments and communities," when buildings are designed to create this natural connection, occupants can enjoy a plethora of health and wellness benefits.
Accordingly, architects and building owners are seeking building materials and design strategies to help bring nature and the great outdoors into the built environment—for example, an indoor water feature, foliage, ample daylighting and incorporating natural materials like wood and terrazzo.
Adding significantly to designers' biophilic design palette is glass. Ushering in the wonderful benefits of natural light and promoting views to the outdoors, windows, curtain wall, storefronts, glass partitions, skylights and glass doors are key. But there's more to it.
Printed Patterns and Graphics
Glass also functions as wonderful backdrop for creating nature-inspired patterns, colors and graphics. For example, back painted glass—strategically integrated into breakfronts, bookshelves or even coffee tables—can be colored in nature-inspired hues such as blue, green or brown.
Another popular application is direct-to-glass technology where life-like portraits of nature and crisp, wallpaper-like designs with nature motifs can be printed on a variety of glass elements within a building. A ceramic frit is fused into the glass, producing a permanent design, which is resistant to UV rays, fading and scratching.
For example, at a middle school in New York the "Northeast Light" art installation features autumn-colored stripes of orange, deep yellow, red, grey and army green against a back-dropped shadow of leaves and branches. The digitally printed images create the illusion of nature reflecting off the glass. 
Another biophilic design success story is the Palo Alto Medical Center in Sunnyvale, California, where a custom leaf pattern inspired by a William and Morris wallpaper design is digitally printed on the glass. The application of glass in this health care environment has the added benefit of promoting hygiene with its non-porous, easy to clean and maintain surface.
Applied in the waiting area on a large exterior corner window, the printed glass provides shading and mitigates solar heat gain while welcoming in natural light. The printed glass creates the allusion of an indoor garden and casts dynamic shadows onto the wall.
Of note, the Palo Alto Medical Center exemplifies two key biophilic design patterns identified by the respected sustainability consulting firm Terrapin Bright Green:
a visual connection with nature as defined as a view to elements of nature, living systems and natural processes, and

dynamic and diffuse light

which leverages varying intensities of light and shadow that change over time to create conditions that occur in nature.
Replicating Natural Materials
Patterned and textured glass, satin etched, and printed glass can also be designed to mimic natural materials like wood and stone. This design approach taps into the benefits of biophilic design while enjoying the hygienic properties of glass.
At 200 Amsterdam, a residential high-rise in Manhattan, Elkus Manfredi Architects and CetraRuddy Architects applied digital ceramic printing on glass to create a drapery pattern. The pattern moves from opaque to a degree of transparency as it rises to the second story, bringing daylighting into the lobby while lending privacy at street level. Unlike curtains, the glass prevents the accumulation of dust and dirt.
As architects, designers and building owners continue to seek ways to incorporate biophilia into their building designs, the design versatility and performance benefits offered by glass make it an ideal choice.