Showing What's Possible
A conversation with mother-daughter glazing team Casey Weir and Anna Wright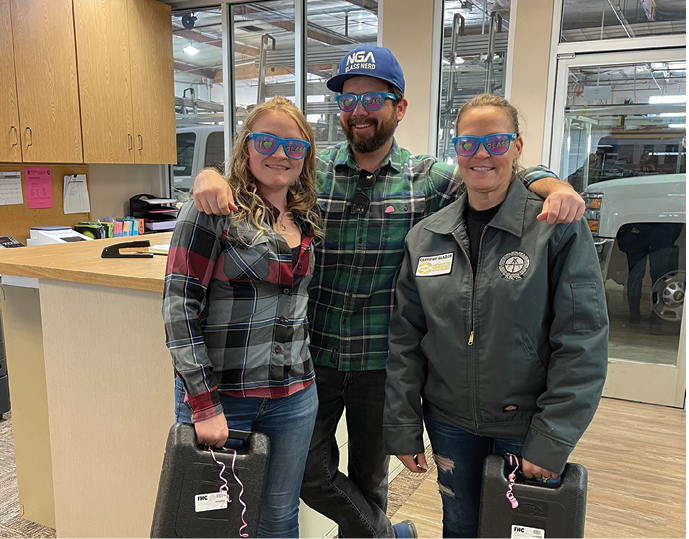 Casey Weir is the second woman glazier to achieve Architectural Glass and Metal Technician Glazier Certification. The first woman glazier to attain AGMT Glazier Certification: Anna Wright, Casey Weir's mom. They entered the industry together, went through the program together, studied together and gave up weekends to run through prep classes together. 
Weir, a union glazier for Local 636, is currently purchasing manager and shop foreman for Roundtree Glass, a southern California glazing legacy that's been going strong for 52 years. She started out as the low woman on the totem pole in the shop, loading trucks, cutting glass and driving a forklift. She then did a stint driving trucks before moving into the field. She now essentially runs the day-to-day in the shop/office and is going to school for business management. Meanwhile, Wright recently passed her C17 glazing contractor license exam and is working to set up her own shop, Feelin' Caulky Glazing Inc. 
Back in March, I had the opportunity to sit down with Weir and Wright to talk about their experiences in the industry, the need to bring more women into glazing, and more. 
Andrew Haring: What do you love about the glass industry?
Anna Wright: It's a trade with potential and so many opportunities for growth. I want to build and leave something for my family, and I can do that here. I love hearing my 10-year-old granddaughter say, "I want to be a glazier." 
Casey Weir: I've come so far and have never been more driven to keep going, and I can in this industry. I also love seeing the finished product and having that "I did that!" moment, knowing you saw a project start from nothing and progress into a beautiful, finished building that everyone will see for years.
AH: What advice would you give a woman considering entering the glass industry?
CW: Don't give up; don't get intimidated. Never stop fighting for what you want. 
AW: Team up and find a support system. Trust in yourself. If I can do it at 42, you can do it.
AH: What can a man do in this industry that a woman can't?
CW: Not a thing. I can lift anything they can, and install anything they can.
AH: What can the industry be doing better, or more of, to get more women into this field? 
CW: We need more female advocates out there telling their story, showing people what's possible and recruiting at high schools and colleges. Other than with my mom on just one project, I've never been on a jobsite with another girl. … We need more champions and we need more of us.