As Unitization Expands, Architects Specify New Infill Materials
Shop-glazed facades increasingly incorporate new exterior facade materials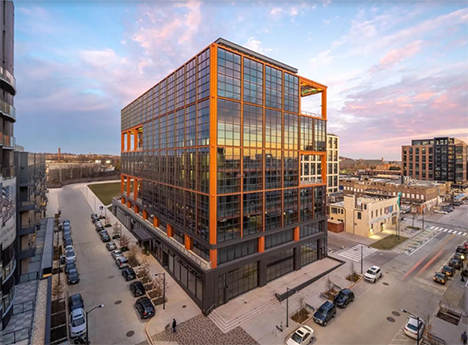 As we get ready to head into a new year, it's the season when we all put on our reflectors and think about what has changed this year—and where the industry is heading. And when it comes to the glazing industry, one of the biggest observations I've made has to do with the evolution of the shop-glazed and unitized market.
Expanding unitization to low- and mid-rise projects
As we all know, unitized construction isn't a new development. However it is a growing and evolving one. Over the past few years, there has been a deliberate shift toward unitized and shop-glazed systems to solve many of the ongoing hurdles facing the construction industry. Tight construction schedules, crowded jobsites, and a shortage of skilled workers and installers continue to plague the industry. Unitization addresses these issues while providing a high level of quality assurance and reducing overall project costs and time to close the building.
Traditionally, unitized systems have been used in curtain wall applications and predominantly in high-rise projects like condominiums. However, there has been a more recent movement toward unitized or pre-glazing for low- to mid-rise projects. This has expanded the unitized market to products like window wall and storefront, bringing the benefits of unitization to a wider range of projects regardless of size or complexity.
Architects specify new infill materials
However, over the past year, one of the biggest changes in the unitized market has been the incorporation of new wall materials: terra-cotta, wood, stone, brick, and metal are the new go-to materials to create a more innovative facade.
As my colleague, Tim Thomas, president of YKK AP subsidiary, Erie Architectural Products, put it, "We're seeing continued demand from architects to incorporate materials like terra-cotta and metal panels. This is definitely a growing market and we see the ability to glaze in other materials in the future."
These infill materials are inserted into the curtain wall panel between the aluminum mullions. In the past, materials like spandrel glass have been incorporated to provide a unique all-glass facade. Today, stone and terra-cotta are providing more sophistication and more dimension.
The ability to provide a unitized curtain wall with these new materials allows architects to meet the same tight deadlines and provide a rapid building close-in while continuing to push the envelope with an innovative building facade.
As we head into the new year, we expect to see this trend continue to grow. We look forward to seeing how these materials further shape our built environment!