Behind the Scenes of Pulp Studio's History Channel Feature
An inside interview with COO Kirk Johnson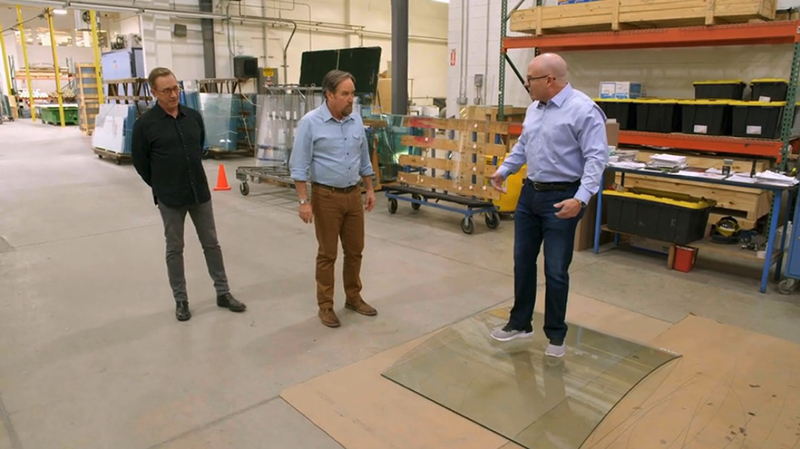 Pulp Studio, designers and manufacturers of decorative glass, hosted both The History Channel and its special guests Tim Allen and Richard Karn for a behind-the-scenes factory tour given by Pulp Studio's chief operating officer Kirk Johnson for the show "More Power". 
More Power is a show where Allen, Karn and DIY expert April Wilkerson tackle one tool-centric theme per weekly episode by testing their limits and exploring how these tools help keep the world running. The show aims to "celebrate the coolest, most powerful and iconic examples of each tool".
How the episode came to be
While the episode featuring Pulp Studio just aired this fall, it was actually filmed back in the fall of 2021. Spoke Studios, which is owned by Tim Allen, approached Pulp Studio about an episode they were planning focused on heat. The studio had found out about Pulp Studio through its website and recent projects the company had worked on.
"The idea behind More Power is they look at different ways that power is generated, made, what it's used for and different applications. We felt it would be prudent that we go ahead and meet with them," Johnson said.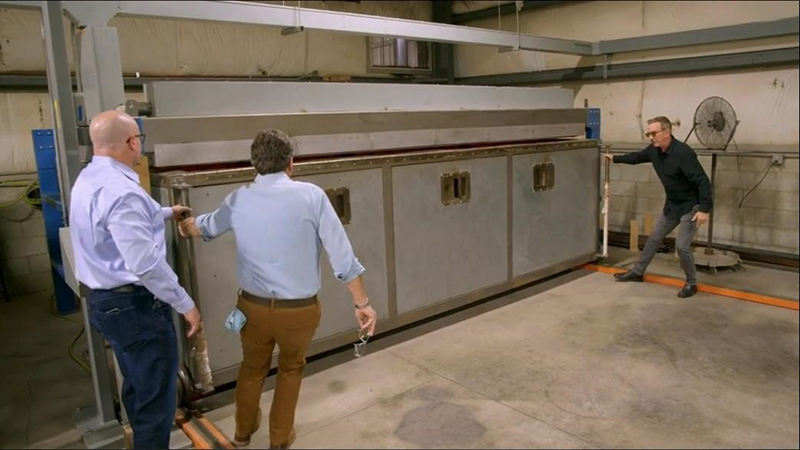 Johnson said the focus of his conversation with Allen and Karn was on both annealed bent and tempered bent glass, chemical strengthening and fabrication in general. For the five hours that were spent filming, Johnson demonstrated to the two hosts the technical challenges and craft involved in printing and bending glass of various sizes, the effects of thermal stress on glass production and how Pulp Studio minimizes the risks of glass shattering when not cooled properly.
They were also shown Pulp's state-of-the-art furnace which is used to strengthen glass, as well as Pulp's electrically-powered custom kilns which are heated to over 1500 degrees Fahrenheit.
What did Allen and Karn think of the factory?
Johnson said that the two hosts were impressed by Pulp Studios' green initiatives. The factory has solar panels that produce about half of its own consumption, so the factory only pulls half from the [electrical] grid. They also recycle glass, paper, plastic and cardboard. They also have a closed loop deionized water system, meaning the only thing dumping into the drains is from the restrooms, kitchen or break room.
"We also just have a really great facility. It's 158,000-square feet, we have our own ERP system and always try to keep it clean and as not-chaotic as we can. They seemed impressed," Johnson said.
A morale boosting experience for staff
"It was a super fun experience. We all laughed all day, they're very funny guys. They were cracking jokes on and off camera all day, the whole crew was laughing. We had to redo a few scenes because everyone was laughing so hard," Johnson said.
"We're not a large company, with 140 employees, so we're like a family."
Pulp Studio's CEO and founder Bernard Lax passed away in August of last year, not too long before the History Channel interview the following fall. Johnson said this was a big hit emotionally for everyone at Pulp Studio, as Lax was the face of the organization's sales department and husband to Lynda Lax, who is President and co-owner of Pulp. The excitement of having Tim Allen and the History Channel at work was a bright spot in an otherwise dark time. 
Shining a spotlight on the industry
Johnson said that business at Pulp Studio has been good since the episode aired, but there's not necessarily any correlation between the two. He said their team really wanted to take the opportunity to shine a spotlight on the glass industry as a whole. 
"People don't know a lot about glass, so I think over time this will help get more glass education and information out to the general public, which is always a good thing," Johnson said.
"As the employment landscape changes so dramatically with companies like Google, Amazon and Apple that attract young people, we need to be attracting the next generations of folks into the industry. I do hope it helps spark some interest where people will entertain joining our industry. It was somewhat intrusive to disrupt our production schedule to shoot the show, but we felt Pulp would benefit, our industry would benefit and maybe more people would be interested in employment in glass." 
Johnson added that people have been loving hearing about the episode across Pulp's social media accounts. Overall, he is happy to have the morale boost for employees at the factory and to have had an opportunity to bring some attention to an otherwise often overlooked industry.