Children's Book Focuses on the Quality of the Trades
"Grit Leads to Greatness" by Jenny Kerr Schroen and Chris Eccleston of Delmarva Veteran Builders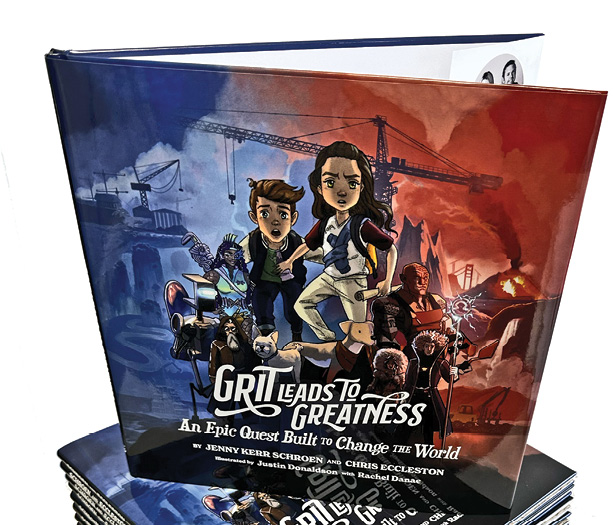 "Grit Leads to Greatness" is a children's book written by duo Jenny Kerr Schroen and Chris Eccleston of Delmarva Veteran Builders that is about a brother-sister duo who help save society with the help of different creatures, who each represent a different trade. Delmarva is a commercial general contractor based in Maryland that has done projects spanning the commercial and institutional sectors. 
Message and goals of the book
A primary  purpose of the book is to show young people that the trades hold many opportunities for rewarding and successful careers.
"Overcoming challenges leads to greatness. The construction industry uses grit every day because you're constantly overcoming obstacles and challenges, problem-solving, and you must continually move forward. You can't give up because people are depending on you," says Schroen of the book title. "We believe this tagline represents who we are as an industry and can also teach the world something as a character trait. That's where we started with the children's book idea."
The book follows siblings Tegan and Trig who live in a dystopian society hypnotized by mysterious glowing stones. To save society, the brother-sister duo embark on a journey where they encounter creatures who help them. The creatures represent different trades, including welding, carpentry, plumbing, electrical and masonry. The first creature the children come across is Mason the mason. The siblings are climbing a steep mountain trail, blocked by construction of a retaining wall that is making it safer for travelers. They decide to stay and help build the wall until they can pass safely. They also learn from Mason that stone masonry can be an art form.
Looking ahead
To further their goal of getting the next generation interested in different trades, the authors are planning on participating in a Read Across America Week from March 4-8, 2024. Construction, manufacturing, glass and other trades companies  are invited to participate by purchasing books to give to their local elementary schools and sending employees to read to students. They say Delmarva and other local companies have participated in past reading events at local schools in Maryland that have been a huge hit. 
"Nathan, our glazing contractor, was with the third graders for about an hour and a half answering all their questions. [The students] just wanted to keep talking and he was telling them about stuff he does in real life every day," Eccleston says of how the event went this year. "He was having the best time, the kids were happy, the teacher was happy, it was really memorable. That's really what we're trying to do, just get kids interested in these topics." 
You can learn more about "Grit Leads to Greatness" and its mission, and how you and your company can participate in Read Across America Week, at gritleadstogreatness.com. 
Industry Spotlight profiles people across the glass and glazing industry, showing off the work of individuals while demonstrating the range of exciting careers in glass. To suggest someone to profile, write to Senior Editor Norah Dick, ndick@glass.org.