The Importance of Making an Entrance
And three considerations to keep in mind when designing and installing commercial doors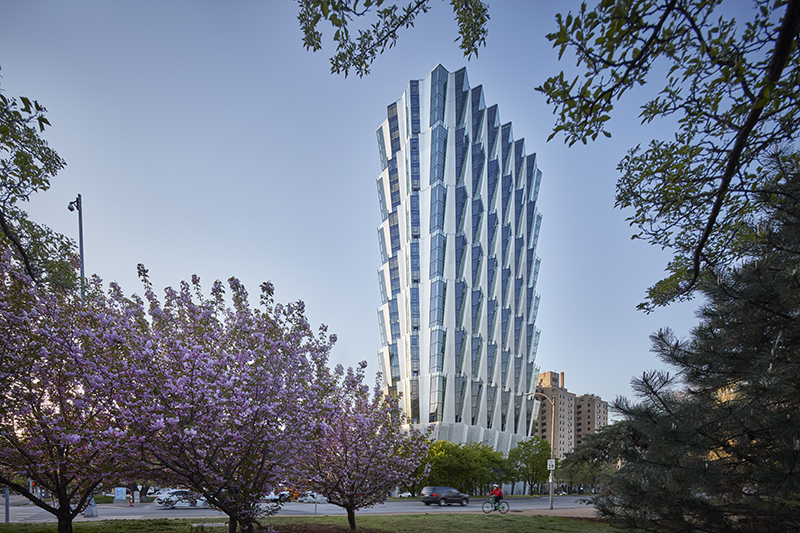 Over the past few years, energy codes and building codes have become more stringent. Architects and contractors must take a closer look at every aspect of a project to ensure they can meet and exceed codes, while upholding the structural integrity of a building over the long-term.
Commercial entrances are a crucial piece of the project puzzle. And while some might argue that entrance systems are the weakest link, I beg to differ. They can actually present an opportunity to enhance a building's aesthetic and energy-saving properties when the design and installation is carefully considered.
Here's how you can get it right with three key consideration to keep in mind:
1. Don't overlook thermal performance when choosing systems
Commercial entrances are among a building's hardest working elements. Think constant movement, generally high traffic patterns and exposure to the elements. Durability and reliability are generally the first attribute we consider when selecting an entrance. But thermal performance—especially in less temperate climates—is key to meeting a project's overall performance targets.
Codes have evolved. Take the 2021 International Energy Conservation Code, for example. It required U-factors move from 0.77 to 0.63 in Zones 4 through 8, which requires a significant advancement in thermal performance. Commercial entrances must be able to meet and exceed these codes—even in the most demanding of conditions.
2.

Building traffic should help determine aesthetics and hardware
When a commercial entrance is specified, it's clear that the aesthetic has likely been considered. But is it the most functional for the building? And will it provide for the right hardware options?
Entrances are typically available in narrow, medium and wide stile options.
A narrow stile creates a light, inviting look and is ideal for lightly trafficked spaces.

A medium stile typically offers additional strength, so it can handle more heavily trafficked spaces, like those of a grocery store or school.

And lastly, a wide stile is ideal for monumental projects, where the door complements the strong aesthetic of the building, and it can hold up to even the highest traffic patterns.
Depending on the door's stile, standard hardware options like that of a push/pull and touch bar exit device can be considered. Additionally, many manufacturers offer custom hardware options to fit the desired aesthetic of a building. In some cases, a custom entrance may be required to accommodate hardware options, for example, one-inch glazing, mid-rails, and high-bottom rails.
3. Protect commercial entrances with overhangs and proper drainage.
Commercial entrances are particularly vulnerable to water intrusion. Typically, commercial entrances must meet the Americans with Disabilities Act and code-driven emergency requirements, which ensure that there is an unobstructed path to exit a building or structure. However, commercial entrances are exempt from water test requirements, which can be problematic when dealing with severe weather conditions. While a building may have been built to meet and even exceed strong winds from hurricanes, for example, if the entrance is not taken into consideration in the design and execution of the project, water intrusion may still occur.
One way to better protect commercial entrances from water intrusion is to consider a roof or entrance overhang. Overhangs are well known for their energy savings properties, as they effectively reduce solar heat gain by providing additional shade. However, they can also keep wind-driven rain from entering the entrances and windows of a building. Overhangs help keep rain away from windows, entrances and the foundation of the building envelope, reducing overall water pressure.   
Even overhangs may not be enough to prevent water intrusion from severe wind-driven rain. Another consideration when designing the entrance of a building is to utilize hard surface floors and properly equip the interior of the entrance with strategically placed drains. Ideally this type of drainage will be coupled with an entrance awning or overhang for maximum protection for wind-driven rain.
Rising water from flash flooding or water pooling in low lying areas is a life-safety concern for entrances and the fenestration around them. The rate-of-rise of floodwaters for an at-risk site needs to be determined and paired with adequate warning time to allow evacuation of the building. Specialty flood doors may be used to hold back rising flood waters and keep the path of egress open for the required warning period.