Mindful considerations for mica and metallic coatings
How to deliver a shimmering aesthetic for your project
Delivering a shining shimmer and a vibrant, visual appeal, mica and metallic coatings draw attention to finished aluminum products and the architectural features they create.
Their striking appearance is most noticeable on large wall panel systems, canopies, sun shades, doors and as decorative accents. Used on framing members of curtain wall, storefront, window and entrance systems, they present a subtle, elegant effect.
How to choose: mica or metallic?
Available in almost any color, metallic coatings add pigments with reflective aluminum flakes to achieve their brilliance and depth. Typically, lighter colors provide a bit more bling than darker tones.
Mica coatings provide a similar, but more subdued look, because they are manufactured with a non-conductive mineral flake rather than with conductive metal. Due to their inert formulation, micas generally don't require a clear coat, making them a more economical option to metallic coatings.
Metallic three-coat and mica two-coat systems are offered as 70% PVDF resin-based coatings, which meet the highest performance specification standard – AAMA 2605. Mica 50% PVDF two-coating systems also are available and meet AAMA 2604's less stringent specification.
How to ensure optimal appearance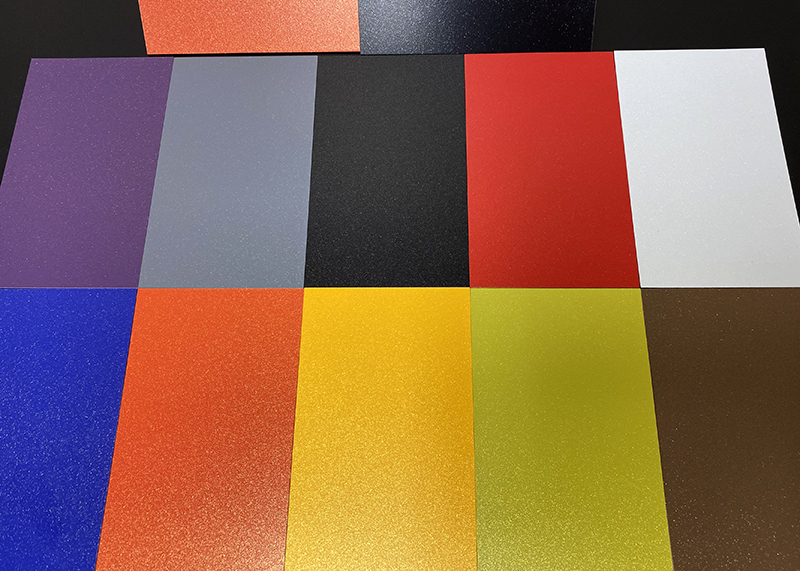 The light reflectance of the randomly oriented flakes within these coatings gives the finishes their appearance.
Like tiny mirrors, the horizontal flakes reflect the most light. If all the flakes in the coating were to lie horizontally, the maximum amount of light would be reflected. The surface would look very bright to the point of appearing almost solid rather than sparkling. If the flake content is too high, the shimmer also is diminished and will appear to be solid color.
Taken to another extreme, if all the flakes were to lie vertically in the paint, very little light will be reflected. The surface would appear very dark and possibly eliminate the coating's intended brilliance.
Understanding and matching colors
Under laboratory-controlled conditions, visibly acceptable color ranges will measure within specification as matching, but can be perceived as non-matching when installed on the project. The difference in actual versus perceived color is known as "metamerism."
Because sunlight and shade reflect color differently,  metamerism will be experienced differently throughout the day and the year. The metallic and mica flakes' reflective properties means the same painted surface will look different depending on the viewing angle, and the type, angle and intensity of the light source.
What to know about variations in appearance
The same qualities imparting the metallic and mica coatings' vibrancy and reflectivity also can cause variations in appearance. A project with many large adjacent wall panels is more likely to show a perceived variation than one where panels are separated by masonry or other materials that disrupt the overall visual continuity of a building's exterior.
To ensure the greatest consistency and quality control:
Request a single paint application run for all the aluminum that will appear next to each other on the building.

Specify that your paint is made in a single batch, especially when working on a large project or one with multiple phases.

Use a single finisher to minimize the potential variation between different applicators and equipment.