Supporting a smart, skilled workforce
As workers join the industry, train them with these existing materials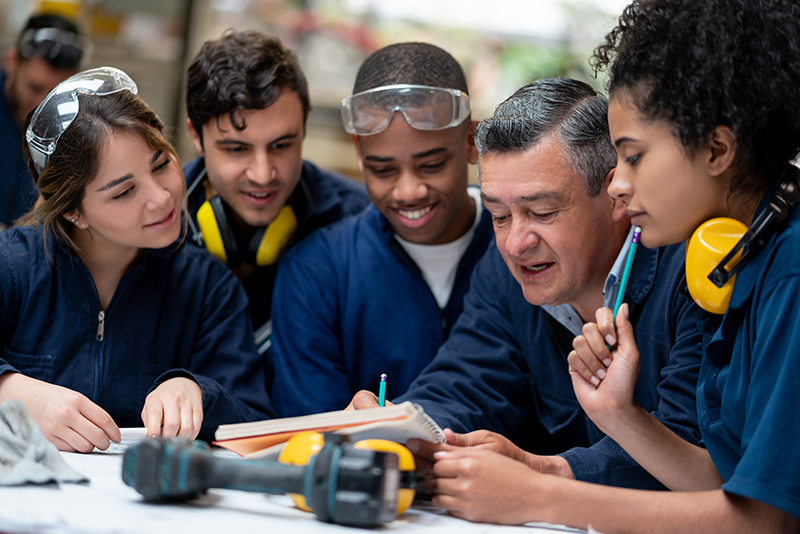 Recruiting and retaining a skilled, knowledgeable workforce includes providing quality training and education to support the individual's professional growth, which ultimately benefits our industry's collective success.
Specialty contractor, manufacturing employment numbers trend upward
According to the Bureau of Labor Statistics (BLS) most recent report, construction added 25,000 jobs in January 2023, reflecting an employment gain in specialty trade contractors; and manufacturing employment continued to trend up in January with 19,000 jobs.
In 2022, the BLS forecasted employment of glaziers, and construction laborers and helpers is projected to grow 4% from 2021 to 2031, about as fast as the average for all occupations.
"About 6,500 openings for glaziers are projected each year, on average, over the decade."

"About 168,500 openings for construction laborers and helpers are projected each year, on average, over the decade."

In addition, "…about 101,700 openings for

metal and plastic machine workers

are projected each year, on average, over the decade."
Transferring skills and knowledge to next-gen workers
Many of these job openings result from the need to replace workers who transfer to different occupations or exit the labor force. This is a critical moment for ensuring the knowledge and skills of our industry's most experienced professionals is transferred to those who will succeed them.
Entry-level education may be accomplished through apprenticeship or internship programs. Employers typically supplement this baseline education with customized training programs to meet their company's unique needs and their position's requirements. For more experienced workers, continuing educational opportunities also are key to their career development and their broader understanding of the commercial construction industry.
5 glass industry education resources
Supporting those who work with glass, glazing and metal fenestration and framing, we have many reliable educational programs and learning opportunities. Here is a selection of our industry's resources.
1. 

MyGlassClass.com
Through the National Glass Association (NGA), MyGlassClass.com offers more than 100 courses to complement and shorten companies hands-on training for those in need of baseline education and glass industry knowledge. Online courses are available in both English and Spanish.
2. Glazier Apprentice Curriculum
NGA also offers the Glazier Apprentice Curriculum for organizations and companies that want to establish a glazier apprenticeship program approved by the U.S. Department of Labor. Students who complete the curriculum will earn a jointly endorsed NGA/NCCER credential indicating a journeyman-level minimum competency reached through knowledge and performance.
3. LearnGlazing.com
LearnGlazing.com provides glass and glazing education and access to industry experts, including recruiters. It currently offers more than 500 lessons, dozens of courses and a Glazier Trade Certification Program.
4. FGIA Certifications
The Fenestration and Glazing Industry Alliance (FGIA) provides a range of coursework and certifications. Examples include: the Fundamentals of Fenestration introductory, online educational program, the FenestrationMasters educational program and professional certification, and the InstallationMasters Training and Certification Program.
5. AGMCC Certifications
The Architectural Glass and Metal Certification Council (AGMCC) oversees two industry program initiatives: the Architectural Glass & Metal Technician (AGMT) Certification Program and the North American Contractor Certification (NACC) Program. Both are American National Standards Institute-accredited, third-party credentials.
Let's continue to support a smart, skilled workforce and culture of continuing education and improvement for our industry.