An Underground History of Glass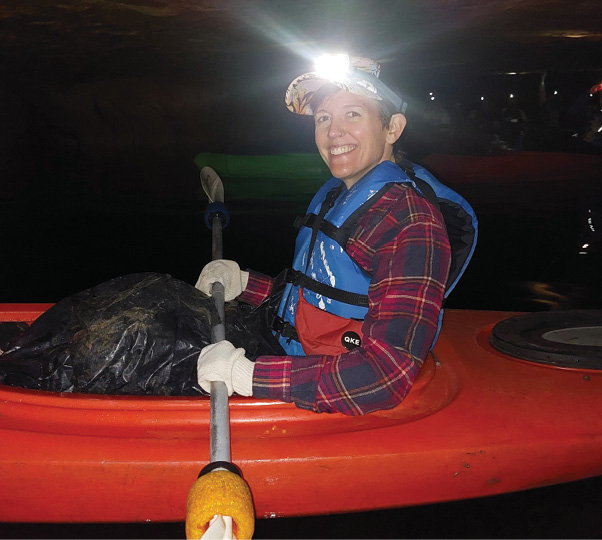 I've been thinking a lot recently about the history of flat glass in North America as the National Glass Association, Glass Magazine's publisher, celebrates its 75th anniversary—in part by recognizing major milestones for the industry and the association during the previous seven-and-a-half decades. So, in July, with quite a bit of interest, and some healthy trepidation, I ventured 400 feet underground to get a closer look at an impressive piece of North American glassmaking history in Crystal City, Missouri.
My underground adventure was a kayak tour through a now-flooded former silica sand mine that, for more than a century, provided the raw materials for the flat glass plant that sat atop it.
According to the Crystal City government, glassmaking began on the site in 1871, with the founding of the American Plate Glass Company. Just six years later, the operation was sold to Crystal Plate Glass Company, which built four gas-fired plate glass furnaces for the factory. Soon after, the town was named Crystal City to recognize the glass plant's central role in the new community.
The rich history of the mine and plant continues, with Pittsburgh Plate Glass Co. purchasing the site in 1908 and building a new steam-powered factory. At the time, the facility was the largest glass plant in the world, according to Crystal City officials. In 1972, PPG installed float glass production furnaces at the plant, which were in operation until the facility closed in 1990.
The silica sand mine was also decommissioned and abandoned. The pumps that kept water out of the mine were turned off, and eventually, it became completely flooded with water from an underground spring, according to our kayak guides. The near 150-acre operation is now a serene, underground lake.
There is little sign of the former glassmaking operations above ground. Nothing of the plant remains, and while the corporate headquarters still stand, the building is used for other purposes.
Underground, however, from kayaks floating atop the water, one can spot evidence of the former silica sand mining operations. During the two-hour excursion through the labyrinth of the mine, guides pointed out decades-old equipment, machinery, infrastructure and more, all fully submerged and preserved in water. We saw the mine's vibrating rock crusher, the remains of a washer for the trucks that would haul out the silica sand, the munitions shed, and a web of cables running along the ceiling that brought communications and electricity underground.
I have been fortunate to visit dozens of glass industry operations during my tenure at Glass Magazine and the NGA. However, this was my first tour deep underground to get a firsthand look at the raw material extraction.
Thanks to Crystal City Underground for a once-in-a-lifetime look at the vestiges of a century-plus old silica sand mine and for the opportunity to learn about the long glassmaking history in the region.