Glass Industry Closes 2019 with a Festive Glass Expo West
Glass Expo West hosted a busy tradeshow floor, despite a rare rainy day in California. Held Dec. 4-5 at the San Diego Convention Center, the event provided educational seminars and a tradeshow floor representing glass industry suppliers.
This year's show featured several first-time exhibitors, a possible sign of the continued health of the industry. "This is the first small show we've done," says Chris Draper, senior software engineer, DeMichele Group. "We're seeing a mix of new people and existing customers."
The presence of automated equipment suppliers points to the emergence and acceptance of these technologies in the supply chain. "Customers ask, 'How will [the technology] help me?'," says Joseph X. Gates, technical services manager, Lattuada North America. "I tell them, 'It will give more volume, costs less and can run 24 hours.'"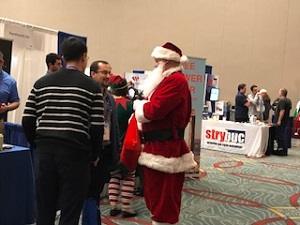 Jay Campbell, glass solutions specialist-West for Billco Manufacturing, also says that the tradeshow is an opportunity to increase brand recognition among smaller industry companies. "We're introducing the name to mom and pop glass shops, so that when they do grow, they'll know about us," he says.
As the industry adopts more complex technologies, education and service remain a theme, say exhibitors. "Customers are asking about training," says DeMichele's Draper. "They don't want to be left on an island. They want to know about our service. They want to know how their customers will be trained on a product."

Training is especially important when automated or software solutions are helping companies to do more with fewer, less skilled workers. "We have found customers are under capacity," says William Downing, head of sales for USA and Canada, Orgadata. "They need software to fill the gaps of under-skilled workers." To help bridge those gaps, Orgadata makes training accessible and flexible for its customers. "Our training is remote and online. We'll even do trainings on Saturday to accommodate customers."
In spite of entrenched labor issues, major players report continued growth and healthy conditions. Penn McClatchey, CEO, SAF, says that the company's recently introduced pickup and delivery service has been a success for both the company, and its customers. In addition, SAF has plans to expand in the new year. "We have another branch opening in 2020," he says. "Things are going really well."
Billco's Campbell reports a similarly positive outlook for 2020. "We're continuing to update a few products, penetrating deeper into some markets," he says. "We're optimistic about 2020, and we're feeling reasonably comfortable."