NGA Congratulates Award Winners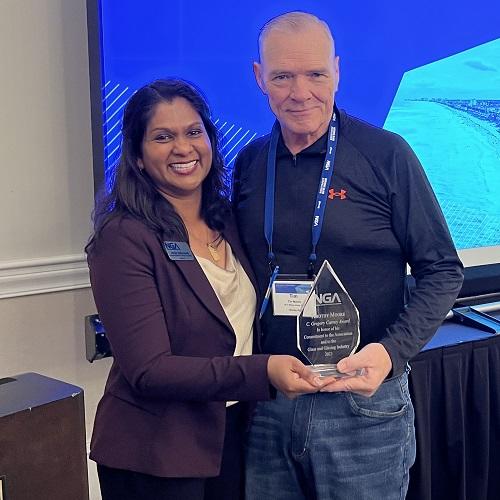 During the Volunteer Celebration Dinner at the NGA Glass Conference: Miramar Beach, the National Glass Association recognized all who offer their time and expertise to the betterment of the industry through participation in NGA committees and task groups.
C.G. Carney Award
Congratulations to 2023 C.G. Carney Award recipient Timothy Moore of W.A. Wilson. The C. Gregory Carney Award is given in honor of a longstanding commitment to the association and to the glass and glazing industry.
"This year's recipient is the epitome of a humble worker and is the most dependable person," says Urmilla Sowell, NGA technical services and advocacy director during the ceremony. "He has served our industry for decades on many engineering sub-committees and committees beginning with Greg Carney and continuing today. 
 
"He is a man of few words, avoids attention, but is always willing to contribute. He is a great listener who takes a very introspective and collective approach to problem-solving.   
 
"Please don't expect him to hand you the answer, but rather to ask questions that help lead you to the solution. It's nice to have someone who can provide you with a quick solution, but it is invaluable to find that person who incorporates you in the problem-solving process. Tim Moore is that person. I, and our industry are better for having him as a technical resource and friend."
Volunteer Appreciation Awards
Additionally, NGA presented Volunteer Appreciation Awards to Jon Griggs of Guardian Glass; Julia Schimmelpenningh of Eastman Chemical Company; Kayla Natividad of NSG | Pilkington North America; Marc Deschamps of Walker Glass; and Rob Carlson of Tristar Glass. The Redwood Forest Foundation will plant a redwood tree in a Northern California redwood forest in the name of each award recipient, intended to reflect the commitment towards sustainability and honor efforts towards elevating the NGA's technical longevity.