AIA Expo Brings Together Companies, People, Ideas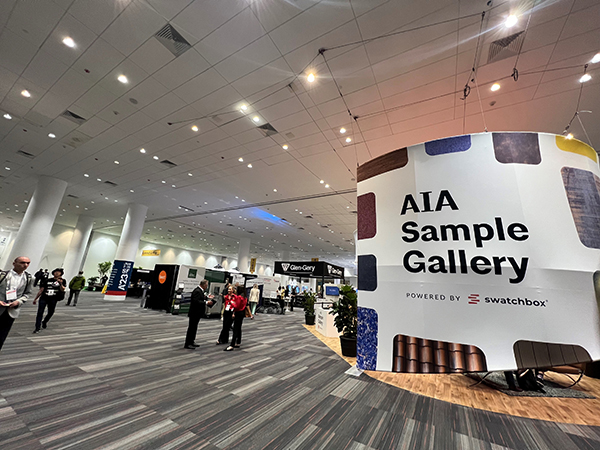 The American Institute of Architects (AIA) A'23 Conference on Architecture and Trade Expo was held in San Francisco, June 8-9. The expo brought together hundreds of window, glass, hardware and door companies, as well as architects, designers, manufacturers and more. 
Discussions with industry leaders at A '23 revealed many trends, concerns and hopes for this year.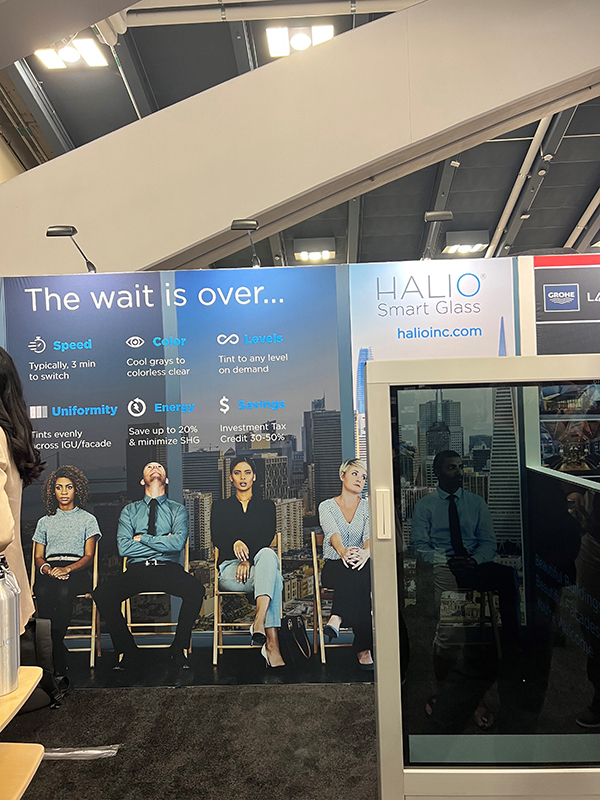 As architects mandate sustainability, potential for electrochromic to move into residential products
Sustainable products and practices are something that manufacturers and designers are aiming for as that becomes increasingly important to architects. Halio Inc. has designed Halio Smart Glass, which features electrochromic glass tinting. This glass responds in real time based on daylight conditions, meaning on hotter, sunnier days, the glass will tint to a darker shade of gray, allowing a space to stay cool naturally and conserving energy. 
Halio reps say that this product is booming in the commercial market right now, but they anticipate it trickling down into the residential market as more people are working from home now and are thus prioritizing their comfort.
Kawneer company reps say that thermally-efficient products have been popular amongst architects lately for this reason as well. However, aluminum is a conductor of heat, so it doesn't work as well when it comes to conserving energy. Kawneer's rep says that if manufacturers don't figure out how to manage this, it won't be used in buildings as often, so thermal technology needs to catch up. 
IFS Coatings and AkzoNobel reps say that designers are increasingly choosing powder coatings over liquid paint because of its lower carbon footprint and low solvents. Andersen Windows & Doors also says that code enforcements over R-Values are becoming more stringent, so that's something architects need to keep in mind when selecting windows and other glass products. 
Companies increasingly turn to unitization as alternative to labor
More and more companies are choosing to fully assemble products on the factory floor, rather than on-site. This is helping to aid in the ongoing labor shortage. Although many companies say the labor shortage, similar to supply chain issues, has gotten slightly better this year, it does still remain to be an issue.
AGS Stainless says they now pre-fabricate railings and ship directly to job site, which eliminates the need for a metal fabricator on site. They also weld all connections before shipping, so no snap-ons or glue components are needed.
Kawneer has also been moving all of its building off-site, which they say helps not only in labor, but in how quickly they can assemble its window wall systems. Company reps added that it's safer this way and produces less waste and results in higher quality products. 
Automation & technology in both products and manufacturing remain high
.@CRLaurence has an automatic option for its sliding door. Automation, along with all-glass doors and minimal hardware, are popular requests among consumers, according to the company. #A23Con pic.twitter.com/qcObM5a1c9

— Glass Magazine (@GlassMag) June 8, 2023
Weathershield says automation has helped with its recent infrastructure investments. While YKK AP isn't seeing quite the same demand in automation, it is making use of new technology through its partnership with cove.tool, which allows customers to plug in their project details to receive the best YKK AP products for their desired specifications.
NanaWall offers door systems that have automation as an option after installation, as does C.R. Laurence. CRL's sliding doors come pre-assembled for automation, so all the customer has to do is have the motor installed. It also has an automatic sensor to prevent anyone, like children and pets, from getting injured.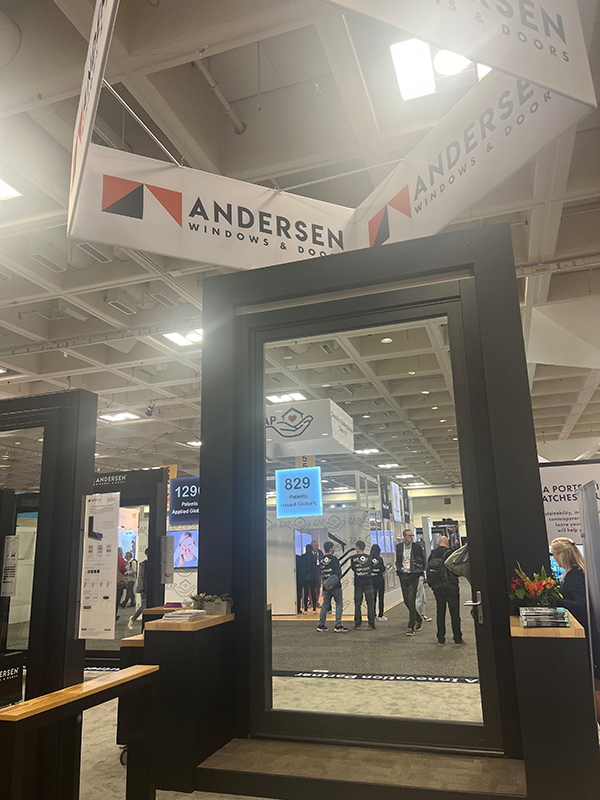 Bigger and bigger glass, across the board
Large pieces of glass continues to be a trend both residentially and commercially. Panda Windows & Doors has systems up to 12-feet tall, according to a company rep. In remodels, homeowners have been replacing double doors to put in one large door. 
Andersen was also displaying a large entry door at AIA that was 14-feet by 8-feet. Jeld-Wen and its subsidiary La Cantina Doors have also been meeting this customer demand with large sliding and folding doors. 
Black hardware, accessibility, and minimalism among other product trends
Black hardware is still No.1, according to Weathershield, CRL and ViewRail. Frameless Hardware Company (FHC) is also still seeing black grids as a popular design choice.
CRL reps say gold hardware is coming into the limelight potentially, and ViewRail thinks accent colors, like green, could also become more popular. 
FHC, as well as Dormakaba, say that accessibility is still something many people want with their products. This is being met with larger openings for doors, door sills that are flush to the ground and more automation. 
Minimal frames and narrow sightlines remain popular, according to NanaWall, Andersen and Jeld-Wen, among many other exhibitors, as well as concealed hardware. On the minimalism trend, Assa Abloy is making doors and hardware that blend in with rest of interior, creating a more seamless look. 
Assa Abloy and OldCastle BuildingEnvelope (OBE) are also both being asked for consultative services. OldCastle is doing so with its design-assist program OBE360, which provides live-action help with the design process.
Sierra Pacific has seen increased demand for its bird-friendly and turtle-friendly glass. 
People love puppies!
Last, but certainly not least...
"Puppy Love", an organization that brings puppies available for adoption to corporate events, was a huge hit at the expo.