Automation and efficiency drive the market at Vitrum 2023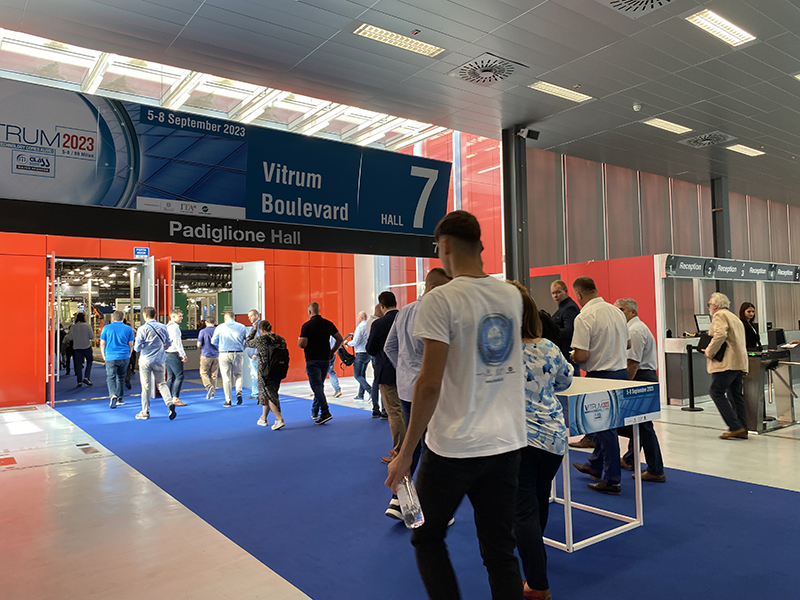 Vitrum 2023, the Italian glass industry trade show helmed by Gimav, ran last week Sept. 4-8 at Fiera Milano Rho trade fair grounds. Despite the potential for economic slowdown, exhibitors said the U.S. market continues to be interested in solutions to meet codes, optimize efficiency and improve processes. Here are a few takeaways from the show:
1. Stringent energy codes drive adoption of warm edge technology
Warm edge technology, and especially the thermoplastic spacer, had a significant presence at the show. Jason Douglass, vice president of Global Window Sealants and Adhesives, and a rep for H.B. Fuller, says growth for TPS started in 2015, and has only recently expanded. For reference, in 2012 there was one line applying TPS, and now there are 50, he says. Both Lisec and Forel Spa demonstrated their automated thermoplastic application lines for trade show visitors.
"Now that there's more competition, the cost [of the product] has come down and it's more accessible to mid-size fabricators as well," Douglass says. Durability and the automated application are both driving its adoption. He feels it will be standard in the industry within 10 years.
2. Companies commit to long road toward sustainability
Several companies also showcased sustainable products, as well as practices. Fenzi emphasized its commitment to a "Fenzi Green Future," a comprehensive plan to reduce carbon emissions in all areas, with a goal of having net-zero emissions by 2050. "It's not easy in the chemical industry," says Matteo Padovan, managing director, Fenzi Spa. "It's not a short project." In seeking sustainable alternatives, for example, the company is offering water-based solutions instead of solvent-based for its digital printing segment.
Despite the emphasis, sustainable products like solar and photovoltaic glass, which received quite a lot of attention recently, may be on pause in the U.S. market due to interest rates, says Alberto Masoero, executive director sales and marketing, flat glass, Bottero. "A year ago, the attitude was 'Let's go.' But manufacturers are being pragmatic as interest rates affect the market," he says. Part of the process of making solar and PV panel production a possibility in North America may also be re-shoring supply chains there, he says.
3. Automation and ease of use paramount in machines
Several industry companies see an even larger adoption of automation in the industry. "Five years back the glass industry was pretty reluctant to automate. Now there's much more demand," says Elmar Zeidler, president, Hegla Corp.
The reasons to automate are many, in addition to the entrenched labor shortage. Hegla's Zeidler says in the U.S. market it's partly due to worker safety, and the heavy weight of the glass handled. According to Federica Bovone, general manager, Bovone, the U.S. market is still demanding larger, heavier and thicker glass. "America wants 'big,'" she says.
Expectations for U.S. fabricators also continue to be customized and diverse, meaning that companies need machines to process a range of glass types. As a result, machines must also offer customization, such as Adelio Lattuada's automated polisher which offers 48 different robotic options, says rep Joe Gates, vice president, Lattuada North America.
Several exhibitors also said ease of use for a less skilled labor force is paramount for machine operation. "North American fabricators want 'easier, easier, easier.' They need automated programming and an easier-to-use machine," says Chris Cullum, area sales manager, CMS.
4. Integration, standardization, data and industry 4.0 (and 5.0)
Automation relies on software integration, and several industry companies spoke about improving Industry 4.0's focus on data, while also looking ahead to how to use that data in Industry 5.0. "The next thing is Industry 5.0, which is about mining data and tracking production, using that collected data to find energy savings," says Nancy Mammaro, CEO, Mappi International.
Industry 4.0's focus is data-centric, says Bottero's Masoero, as it allows machinery to collect and receive data automatically. And that large amount of data leads to the opportunity for further analysis, he says. "In 5.0, everything is about the human contribution to that data. Once you have all the data, how can you benefit from it?"
Exhibitors said this does not mean the elimination of workers. Hegla's Dr. Jan Schapers, managing director for Hanic software, referenced Toyota's recent production catastrophe, where one IT problem led to the shutdown of 14 of its factories. The situation could, and should, have been mitigated by human oversight, he says.
Bottero's Masoero says in Industry 5.0 even fewer workers will manage the factory floor, but those that do will be skilled in analyzing data, and may do so in cooperation with tools like artificial intelligence. "It's going to be about the quality of the worker, not the quantity."