BEC Conference 2023 Targets Business Challenges and Workforce Issues
At the 25th anniversary of the BEC Conference in Las Vegas this month, more than 680 glass industry professionals celebrated the remarkable advancements in glass during the previous 25 years, as they looked ahead at what the next 25 might hold. Two days of sessions and panels targeted top-of-mind issues for the glazing contractor community and focused on concrete take-home strategies to address business challenges, help bridge the workforce generational gap, improve glazing installations, and the market factors that will drive industry change through the next 25 years.
Meeting and Mitigating Challenges
Identifying and mitigating business risks using communication, planning and technology—and thus reducing friction and frustration before they affect a company—were a main theme throughout BEC. Starting things off, industry leaders Kelly Whittingham with Ubiquitous Energy, Sophie Pennetier with Enclos Coalition, and Trent Thiry with Isoclima spoke on drivers of change in the market and potential disruptors that could alter the shape of the glass business during the State of the Industry: Eye on the Horizon panel.
"We need to ensure collaboration with one another," says Thiry. "As the technology of glass changes, we are now incorporating many different materials and we need to make sure that the materials are compatible with one another." "We need to educate the industry," adds Whittingham. "Do what we can to educate, reduce risk and make people more comfortable with emerging technology."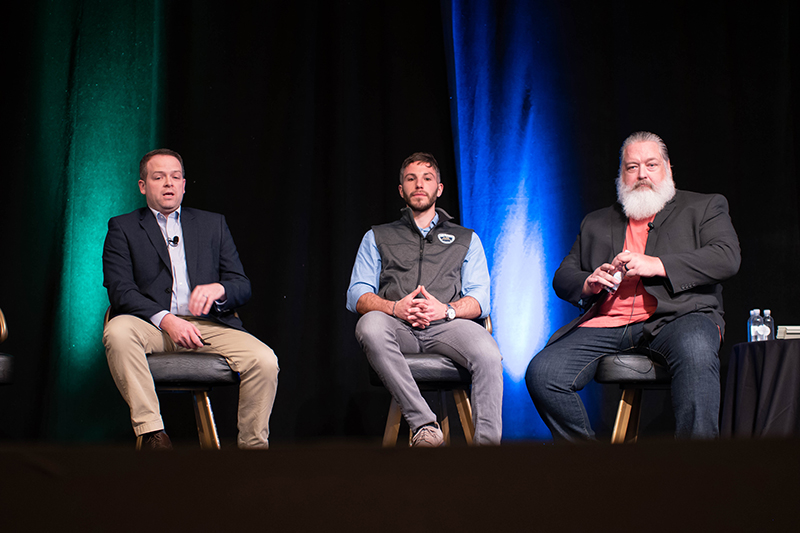 How do we talk about problems we encounter on the jobsite, how do we do things better, and how do we handle things when they go wrong? Dave Ferret with Bagatelos Architectural Glass Systems, Coleman Jones with Pioneer Cladding & Glazing Systems, and Matt Kamper with Woodbridge Glass discussed how they successfully navigated scheduling, estimating and operations hurdles during the We Will Overcome panel. "No matter how much we plan, we must be prepared for the unexpected ... because it will happen," says Ferret. "Things can derail pretty quickly." "There's so much complexity now … and overcoming the fear and challenges of using [technology] on a project … communication is the key to success," adds Kamper.
Sometimes you find the most interesting solutions out in the field. Panelists Dudley McFarquhar of McFarquhar Group Inc. and Renae Kwon with Wiss Janney Elstner Associates joined moderator Henry Taylor with Kawneer Co. to dig into the importance of getting the basics right from the outset during the What's Wrong with This Picture session. In examining real-world project issues and talking through with the audience what went wrong, the main takeaways included that materials handling and storage matter, pre-installation field conditions are critical, and that "winging it" or "field re-engineering" will always lead to problems.
How can a well-thought-out and implemented quality systems approach raise the glazing industry to a higher standard of performance? Keith Boswell with Skidmore, Owings & Merrill, Rodney Harvey with Curtainwall Design & Consulting, Chris Knitter with Oahu Metal & Glazing, Thilo Wilhelmsen with DPR Construction and moderator Jeff Dalaba with Administrative Management Systems answered that question with a combined 150 years of contractor and stakeholder experience during the Impact of Quality Systems panel. "To set the stage for what we're talking about, what is a quality system? How does a company approach the topic of quality?" asks Dalaba. "It comes down to procedures and best practices ... and handling problems successfully as they arise."
Finishing off Monday's sessions, Facades of the Future panelists Daniel Sutton with Vitro Architectural Glass, Matthew Price with Deceuninck and MPS, and moderator Adrian Lowenstein with Skyline Windows discussed VIG technology and existing glazing challenges and fiber-reinforced polymer technology as emerging high thermal performance glass and glazing technologies that can meet even the most stringent energy-efficiency code requirements of the future as solutions for the glass industry.
Professional Success Is About People
A company is only as good as its people. A business simply can't succeed without the success of its people, so not only should we pick the right people, but we should do everything in our power to help them grow and develop. Leaders from three family glazing businesses—Joey Aragon at Aragon Construction, Taylor Anderson with Anderson Aluminum, and Jeff Haber at W&W Glass—offered concrete strategies on a range of labor issues, including hiring practices and mentorship, worker retention, succession planning, and generational changes during the panel Five Ways to Address Generational & Mentorship Gaps. Key takeaways included maintaining a big-picture approach, prioritizing mentorship, capturing institutional knowledge and feedback, and identifying goals for succession.
To kick off last week's Women in Construction Week, a stellar panel comprised of Nicole Mann with Glass Vegas, Jodi Martinez with AllStar Glass, and Bill Sullivan with Brin Glass joined NGA moderator Melanie Dettmer for some top-notch conversation on the importance of making the glass industry a place for everyone, building company culture and retaining great employees.
"It continues to be a challenge to get women in the skilled trades," says Sullivan. "I'm not sure why it's so hard to attract women into our trade but I think there's not enough visual exposure of women in the field," adds Martinez, "and I think that we all need to be more open about hiring women and encouraging [them] to come into the glass and glazing industry."
In the vein of improvement of ourselves as professionals, Maria Konnikova, New York Times best-selling author of The Biggest Bluff, talked about "playing the poker of life" and offered pro strategies in decision-making based on poker and psychology during Monday's keynote. "There are two components to a decision; the process and the outcome," says Konnikova. "One of those is in your control, the other is not. One is skill, one is chance."
Products, Partners and Possibilities
Monday night's Tabletop Reception brought together attendees and installing companies, manufacturers, fabricators and suppliers, who all mingled together, sharing insights and industry information and networking in a casual environment after a busy first day of education. This year, 42 companies participated in the tabletop displays, maxing out the available space and showcasing the latest trends in insulating glass, acid-etched glass, bird-friendly glazing solutions, adhesives and sealant offerings, cladding connections, fiberglass pultrusion and PVC extrusion products, curtain wall firestop systems, commercial fenestration products, fabrication supplies, software solutions and much more.