Mid-Atlantic Glass Expo Hosts Recovering Glass industry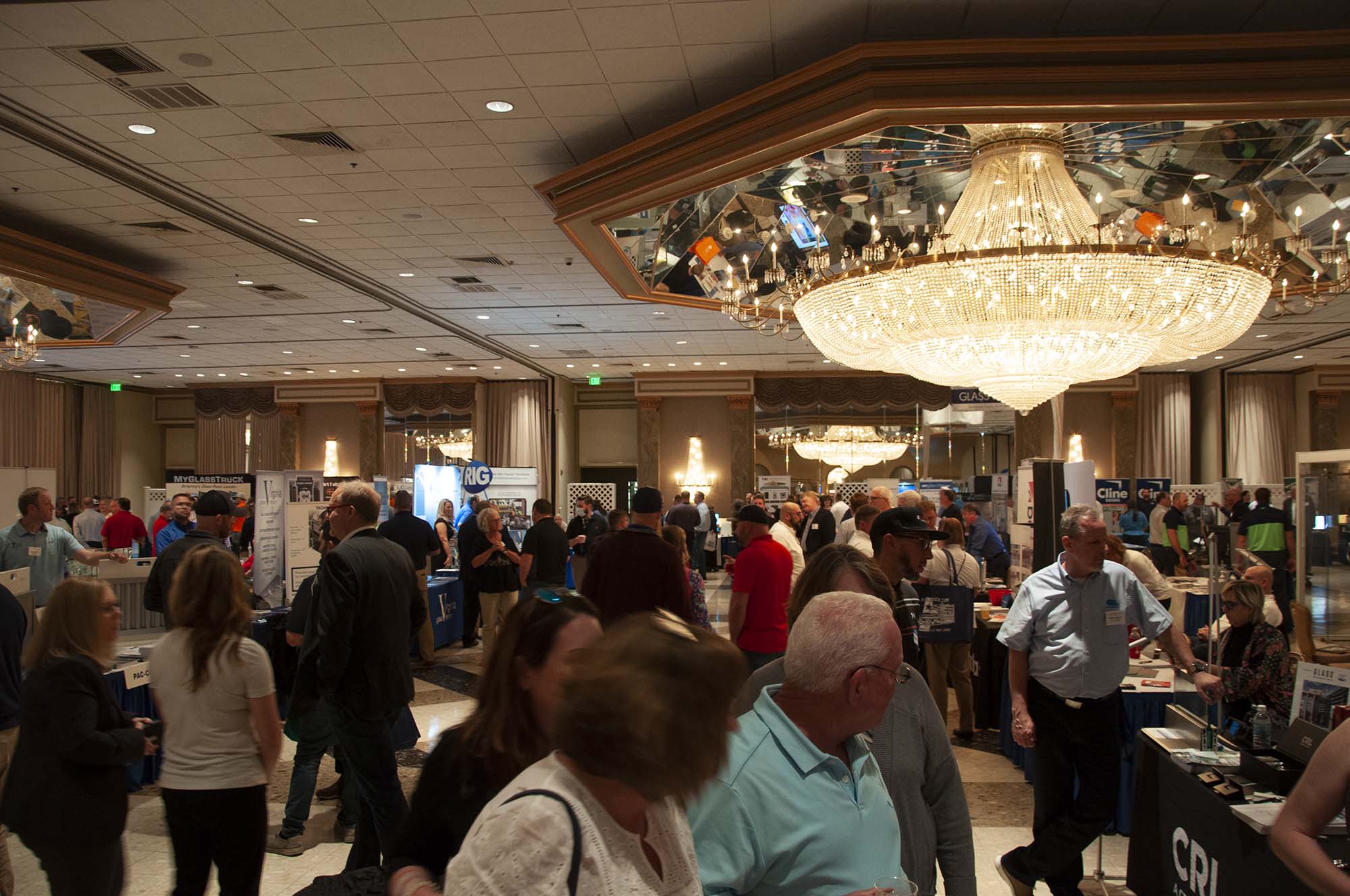 The Mid-Atlantic Glass Expo, hosted by the Mid-Atlantic Glass Association, returned for its 35th edition on Wednesday, April 27, at Martin's Crosswinds in Greenbelt, Maryland. After a two-year hiatus during the pandemic, attendees said they were pleased to be back together, face-to-face. "People are happy to see each other in-person," said Bill Paolucci, president of the association's board, and owner of Chillum Metal Works.
Busy companies face a range of supply chain issues
Supply chain and logistics issues remained a pain point for many exhibiting companies. Alan Harrison, sales director of Walker Glass, said many companies are at capacity in terms of taking on new work. An early visitor to their booth began the conversation with "Do you take new customers?" indicating that many companies no longer can.
John McClatchey, SAF's vice president of sales and marketing, said freight damage and logistics issues have been major concerns, requiring the company to find other ways to transport product. "It's like we have to have our own transportation company as well," he said.
Machinery bridges the gap caused by a tighter labor force
The Mid-Atlantic construction market remains strong, according to exhibitors. "There's plenty of work in this area, now and in the future," said George Kolano, skylight sales manager, Oldcastle BuildingEnvelope.
Even so, high demand is causing strain for companies dealing with an ever-tighter labor force. Steve White, sales engineer at Matodi, said they're seeing more sales of their equipment to bridge this gap for customers. "Demand is high [for glass products], but supply isn't keeping up," he said. "Customers need more of our help right now. They need more machinery, as they're producing even more product." The company itself has doubled its own staff to keep up with demand.
"It's a tight labor market, and getting a [glass lifter] can be like adding 10 people [to your workforce]," said Alan Nudi, director of sales and marketing, Ergo Robotics.
Uncertainty remains about construction markets
While much work has returned, and projects reopened, uncertainty remains, including in the Washington, D.C., area. MGA's Paolucci said the local glass industry is still recovering from the financial impact of COVID-19, and it's as yet unclear how some construction segments might recover, especially office space and retail. Restaurant space in particular continues taking a hit in downtown D.C., he says, since they depend heavily on commuters.
Uncertainty may also remain in capital investments; Matodi's White said he felt continued fears of recession by customers also caused a "surge and then drop-off" buying pattern for equipment.
Delivering high-performance products for an evolving industry
The good news is that exhibitors continued to offer a diverse range of sophisticated glass products, machinery and services.
Walker Glass showcased its bird-friendly glass, which continues to gain traction with both architects and code-writing organizations, said Harrison. Trulite displayed its digitally printed glass, created with a printer that allows 2880 dpi resolution, said Stacey McIntosh, account manager. She said she's seeing more demand for digitally printed railings, gradients, and privacy solutions, including for shower enclosures.
The tech supporting high-performance products also continues to gain traction in the industry. Mappi CEO Nancy Mammaro said she sees continued interest in automation, even from smaller fabricators.
Mark Haek, sales manager, Mainstreet Computers, said he's observed an increased interest in digital tools, especially as a new generation enters the workforce in the glass industry. As an example of that new generation, Steven Albert of S. Albert Glass debuted the new Glazier's Tool, a web app for the service glazing industry, at the show.
#MidAtlanticGlassExpo2022