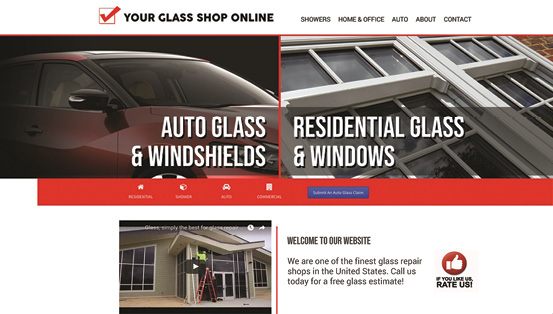 Mainstreet Computers offers glass industry clients a range of web services, including social media integration into its custom-built websites, as well as social media management. "The glass industry is very competitive and by ensuring a strong online presence you make yourself more visible, build your brand, and reach a further demographic," says Diane Staples, sales representative, Mainstreet Computers.
The company provides custom-built websites with SEO coding that can incorporate social media links. Mainstreet integrates social media links on the client's website that will then take the viewer to the company's social media platform. "Most people use some form of social media," says Staples. "By adding [the client's] link on their website, it gives more credibility and a more personal look into their business."
Staples says the company identified the need to integrate social media links to provide another means of accessing their business. "We found that many of the prospective clients we spoke with used Facebook as their primary means of online advertising but were not getting the opportunities they hoped for. We saw integrating their social media sites provided a secondary access into their business platform," says Staples.
In addition to connecting a client's social media sites to their websites, Mainstreet will also manage the client's platforms, including Facebook and LinkedIn, among others. "Our team will create daily posts, manage the accounts and give them the professional, current image they need for their business. We can also manage paid ads on social media platforms for clients who are looking for a little boost in their presence," says Staples. 
As part of their management service, the Mainstreet team will monitor incoming comments on platforms, and provide monthly reporting. Posts can be customized based on the information supplied by clients.